2011 Lexus CT 200h -- New details revealed
by
KBB.com Editors
|
September 13, 2010 1:55 PM
While presenting a good deal of basic information on the new 2011 Lexus CT 200h at the Geneva last March, the automaker has just released a more comprehensive overview of the car that will go on sale here early next year. Although some pertinent items -- specifically starting price and EPA stats -- won't be made public until closer to its arrival in showrooms, Lexus has confirmed that the first premium-compact hybrid will serve as the new "gateway" into its family as well a be the first in class to boast gas-electric power.
Originally developed with the European market in mind, Lexus is confident this front-drive five-door hatchback offers the size, style, packaging and green technology that will find favor with young, discerning and environmentally-conscientious buyers here, as well. Although sharing significant powertrain and platform technology with the Toyota Prius, the 2011 Lexus CT 200h gets its own exclusive body structure and bespoke suspension as well as a unique interior treatment.
Looking at the Lexus Hybrid Drive System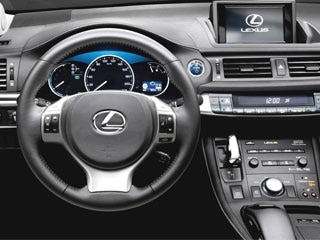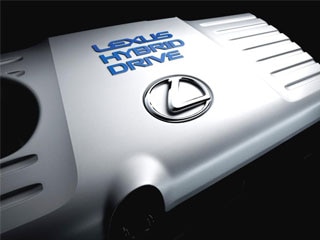 Beneath its handsome and relatively aerodynamic (0.29 coefficient of drag) L-Finesse-inspired bodywork, the 2011 Lexus CT 200h is fitted with the same 98-horsepower/1.8-liter Atkinson-cycle gasoline engine and 80-horse electric motor/generator as the Prius. Here, too, it produces an identical 134 ponies of total output and incorporates the same kind of energy saving/regenerating features. However, in Lexus Hybrid Drive System guise, the setup does get unique calibration to enhance the driving experience, whether operating in Normal, EV, ECO or Sport drive modes. Its 27 kW nickel-metal hydride (Ni-MH) battery pack will allow the CT 200h to drive up to one mile at speeds of up to 28 mph on electric power alone and Lexus says it can run 0-60 mph in 9.8 seconds and reach a top speed of 112 mph. Backed by an electronically-controlled continuously variable automatic transmission (ECVT), the 2011 Lexus CT 200h also earns an EPA combined rating of 42 mpg.
Light makes right
To help this hybrid hatch live up to its sporting hype, Lexus designed and engineered the package to be as mass efficient as possible, matching an impressively low overall center of gravity with a relatively long (102.4 inches) wheelbase and short overhangs. The aluminum-intensive suspension in the 2011 CT 200h was tuned to optimize comfort and control while further trimming unsprung weight and incorporates a unique "lateral performance damping system," the first use on any Lexus. One supplemental shock absorber connects the left and right front suspension towers while another links the left and right sides of the rear structural frame, effectively absorbing vibrations that normally would be transmitted up into the cabin to improve ride comfort and steering feel while further minimizing flex moments in the ultra-rigid body shell. As a final detail of note, Lexus also opted to use aluminum for the CT 200h's hood, liftback and bumper reinforcements -- components furthest from the car's center of gravity -- to help reduce yaw interia moments and improve its handling response.
Green to the core
Although scaled for five and offering 14.3 cubic feet of cargo space behind its fold-down rear seat, the well-finished cabin of the 2011 Lexus CT 200h is a driver-centric environment that complements its multifunction sport steering wheel and highly supportive front buckets with tech touches like an 8.0-inch LCD central display and Remote Touch integrated function controller. But here, too, this new Lexus hybrid champions the Eco cause with a host of other interesting efficiency enhancing features as well as extensive use of bio-friendly materials throughout its passenger compartment.
Topping the trick-tech charts, both the standard six-speaker and optional 10-speaker premium audio systems in the 2011 Lexus CT 200h feature bamboo charcoal-based resin diaphragm speakers. These not only offer superior sound quality and response but use diaphragms that weigh 10-15 percent less than a conventional resin counterpart. The top-end setup also employs a new digital sound processor that requires 50 percent less power to operate than an analog processor and is 26 percent lighter.
Less visible but equally clever, the Lexus CT 200h is fitted with super-efficient climate control system that works with an engine heat management/recovery system to speed cabin heating times as well as boost the efficiency of the hybrid system itself. As in any Lexus, the 2011 CT200 h comes with a full range of safety features, including electronic stability/traction control, anti-lock brakes with Brake Assist and eight airbags. Key options include a navigation system with 40GB hard drive, a rear-view monitor and the Lexus Pre-Collision Safety System with Adaptive Cruise Control.