2011 Kia Optima - First Drive Review
by
KBB.com Editors
|
December 14, 2010 1:13 PM
If mid-size sedans were contestants on a dating show, the previous-generation Kia Optima would have been among the first would-be suitors kicked off. Bland to behold inside and out, and generally uncompetitive in every category but average selling price, the old Optima was easy to overlook. But things have changed in a big way for the 2011 model year. The Kia Optima is now one of the most stylish, most amenity-laden mid-size sedans available, and qualifies as a viable, attractive alternative to the segment's heaviest hitters.
What's New this Year
The 2011 Kia Optima is as all-new as it gets, offering sharper interior and exterior styling, new engine options (including a turbocharged variant) and new tech-savvy features.
You Might Like this Vehicle If...
The 2011 Kia Optima backs up its standout styling with driving dynamics and an equipment list that outclass most of its competitors'. And price is still a strong suit.
>The 2011 Kia Optima was a 2011 Best Redesigned Vehicle finalist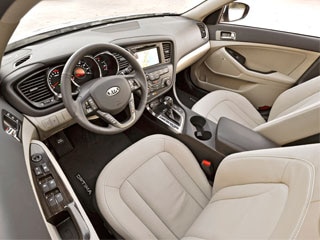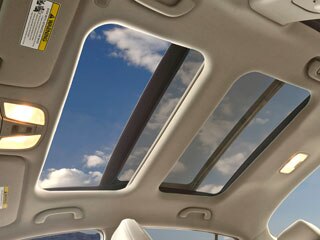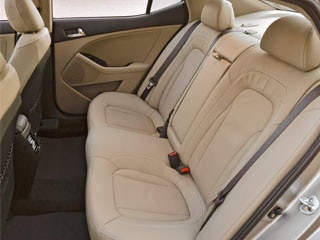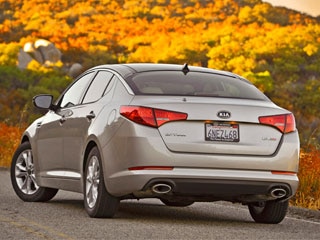 You Might Not Like this Vehicle If...
Kia resale values are improving at a rapid rate, but the 2011 Kia Optima isn't predicted to prove as resilient as stalwarts like the Honda Accord and Toyota Camry.
Exterior
We call it "futuristically bold," but most would call just plain "different." From the cross-hatch front grille sandwiched between wrap-around headlights to the sweeping chrome arc that extends back to the sleekly styled rear end, the car exudes a luxurious feel that makes it look more expensive than it is. What makes it more interesting is the high beltline and sloping roofline that give the car a sporty profile. Depending on the trim, the Optima is equipped with a choice of 16-, 17- or 18-inch wheels.
Interior
The interior of the 2011 Kia Optima takes a different approach than other cars in the segment as its driver-focused center stack gives a cockpit-like feel. Leather touches abound - on leather-equipped models - and we appreciated the soft-touch materials on the dash and door panels. Taller passengers might take issue with the Optima's rear headroom.
What you get for under $20,000...
Every 2011 Kia Optima offers Bluetooth phone connectivity, iPod/USB audio connectivity, steering wheel-mounted audio controls and a cooling glove box that keeps drinks chilled. As for safety, the Optima comes with an impressive array of features including six airbags and electronic stability control. Like other base-priced models in its class, the entry-level Optima comes with 16-inch steel wheels and six-speed manual transmission.
What you get for closer to $30,000...
Optional equipment highlights include a panoramic sunroof, heated/cooled front seats, heated rear seats, Infinity sound system, touch-screen navigation system and back-up camera. In addition to a turbocharged 2.0-liter four-cylinder engine, the top-of-the-line 2011 Kia Optima SX offers a lightly sport-tuned suspension and more aggressive styling cues.
KBB value analysis
The 2011 Kia Optima starts at a Manufacturer's Suggested Retail Price (MSRP) of under $20,000 and stretches past $31,000 when fully loaded. Feature for feature, the Optima offers more for the money than competitors like the Honda Accord, Toyota Camry and Ford Fusion. As for resale value, we expect the new redesigned Optima to hold its value much better than the previous generation, if not on par with segment standouts like Accord and Camry.
Driving impressions
We were impressed with the 2011 Kia Optima's balance of sport and comfort. Smooth and quiet on the highway, the Optima also corners as confidently as most anything you'll find in the category. We were only able to drive the EX trim level with the naturally aspirated 2.4-liter engine, but it did not disappoint. The engine was responsive and very smooth with more than enough power for passing and going up steep hills; its fuel-sipping qualities are an added plus. On the inside, the seats remained comfortable over long stretches, and the driver-centric dash was a welcome arrangement for making climate/audio adjustments on the fly.
Features of note
Exterior Styling:
If the 2011 Kia Optima isn't the sportiest, most stylish mid-size sedan out there, it's pretty close.
Turbocharged 2.0-liter engine:
Who needs a V6 anyway? This four-cylinder has 274-horspower and an EPA highway estimate of 34 mpg.
Under the Hood
Offering more horsepower than the previous-generation Optima's V6 -- and far better fuel economy -- the new 2.4-liter engine is a welcome addition. It boasts more power and better fuel-economy than other cars in the category, while those wanting more power can opt for a turbocharged 2.0-liter (EX Turbo and SX trims only). Both engines are offered with a six-speed automatic, while the base-trim (LX) offers a six-speed manual.
2.4-liter in-line four cylinder
200 horsepower @ 6300 rpm
186 lb.-ft. of torque @ 4250 rpm
EPA city/highway fuel economy: 24/35 (manual), 24/34 (automatic)
2.0-liter turbocharged four cylinder
274 horsepower @ 6000 rpm
269 lb.-ft. of torque @ 1750 - 4500 rpm
EPA city/highway fuel economy: 22/34