2011 Jeep Compass First Drive - 2011 Detroit Auto Show
by
KBB.com Editors
|
January 10, 2011 12:37 PM
We would have been less surprised to hear Jeep was discontinuing the Compass than we were to learn the automaker was facelifting the less appealing of its mostly redundant compact SUVs. Not only does the virtually identical Jeep Patriot handily outsell the Compass, but it would pick up a huge portion of Compass sales should that option disappear from Jeep lots.
>See more new cars unveiled at the 2011 Detroit Auto Show
But at a driving preview of the revamped 2011 Jeep Compass a few weeks ahead of its official debut at the 2011 Detroit Auto Show, Jeep brand CEO Mike Manley made a case for the Compass as an important player in Jeep's international sales. So, instead of pulling the plug on the Compass, Jeep sent it to the plastic surgery wing. Here are the before-and-after shots:
Side-by-side comparison: 2010 Jeep Compass vs. 2011 Jeep Compass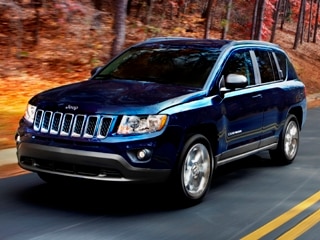 More than once have we compared what is now the "old" Jeep Compass (left) to Pontiac's famously awkward Aztek. But Jeep designers have righted some wrongs in refreshing the Compass for 2011, most notably up front. In place of beady eyes and chipmunk cheeks, the freshened Compass gets a new face fashioned to mimic the newest Grand Cherokee's - even utilizing the same headlights.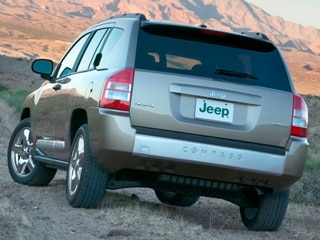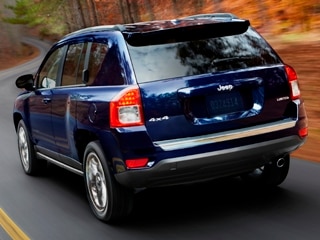 The more complex rear fascia leads the design changes to the rear of the 2011 Jeep Compass (right). Limited models include LED tail lamps.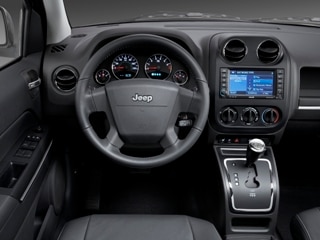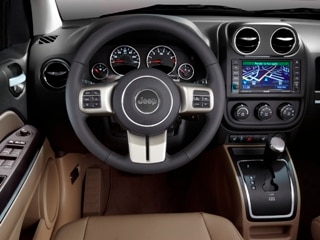 Fresh off a comprehensive interior makeover for the 2010 model year, the 2011 Jeep Compass (right) is further upgraded with softer door surfaces, a new multifunction steering wheel and new lock-, window- and mirror-controls backlighting.
Behind the New Face
The exterior and interior improvements are perhaps the most important changes, but they're not the only notable upgrades. The 2011 Jeep Compass is also the first to offer Jeep's Freedom Drive II Off-Road package, earning Jeep's Trail Rated badge and delivering off-road capabilities that are surprising in such a vehicle.
Whereas Freedom Drive I is your basic light-duty four-wheel drive system, Freedom Drive II incorporates a continuously variable transmission with an off-road-focused low range, 17-inch all-terrain tires, one-inch higher ride height, a fullsize spare tire, skid plates, tow hooks, fog lamps and manual seat height adjuster.
We drove a range of Trail Rated Jeep models on a snowy, rocky, undulating off-road trail, and while all were able to successfully navigate the loop without difficulty (the loop was chosen and vetted by the Jeep folks, after all), the Compass was the most fun to drive because of its underdog stat sheet.
Other changes for the 2011 Jeep Compass include revised steering and suspension systems that improve upon the surprisingly pleasant highway manners of the outgoing model. A little Jeep with a moderately refined powertrain doesn't sound like it would be a comfortable or quiet cruiser, but it manages to be both. Merging and overtaking aren't as relaxed -- especially with the smaller, 158-horsepower engine -- but Jeep would counter that the 2011 Compass delivers highway fuel economy up to 29 miles per gallon.
2011 Jeep Compass Standard Equipment Highlights
The 2011 Jeep Compass starts right about $20,000 and includes air conditioning, power windows, power locks, power/heated exterior mirrors, keyless entry, aluminum wheels, fog lamps, cruise control and a list of safety equipment that includes electronic stability control, Hill-start Assist and two-row side-curtain air bags. The base powertrain comprises a 158-horsepower, 2.0-liter four-cylinder engine, front-wheel drive and a five-speed manual transmission.
2011 Jeep Compass Optional Equipment Highlights
A loaded 2011 Jeep Compass stretches into the low $30,000 range and includes leather seats, a power sunroof, Uconnect iPod interface, SIRIUS Satellite Radio, navigation with traffic info, nine-speaker premium audio system, illuminated cup holders, liftgate speakers and fold-flat rear seats. The top-shelf powertrain features a 172-horsepower, 2.4-liter four-cylinder engine, continuously variable automatic transmission with low range and four-wheel drive. Max towing capacity for the 2011 Jeep Compass is 2,000 pounds.
Worth Keeping Around?
On one hand, the 2011 Jeep Compass is a more justifiable entity based strictly on its improved aesthetics alone. On the other hand, now that it offers Freedom Drive II, the Patriot and Compass are even more redundant. We're still not convinced Jeep wouldn't be better off with just one compact SUV in its lineup - at least in the U.S. - but at least there's a new face in the mix.
The 2011 Jeep Compass began arriving in showrooms at the end of 2010.
>All Auto Shows , >Past Detroit Auto Shows , >Detroit Auto Show 2011