2011 Honda CR-Z -- Recent Drive
by
KBB.com Editors
|
September 13, 2010 1:29 PM
Remember the Honda CRX? It was a nifty little two-seater compact sports car that handled better than it accelerated and, although it wouldn't be considered fast by today's standards, it was definitely fun to drive -- and it delivered good fuel economy. Honda stopped making the CRX in 1991, but the car maintains a cult following to this day. Enter the all-new 2011 Honda CR-Z. It's what the CRX might have evolved into had Honda kept it around all these years. Like its predecessor, it's not fast but it is fun to drive and, with a hybrid heart and sport-compact footwork, this new entry brings something different to the table.
So what's so special about it?
The 2011 Honda CR-Z is the only two-seat hybrid in the market today and the only hybrid available with a six-speed manual transmission. And while there isn't a specific class for sporty hybrids, the CR-Z loosely competes with a diverse group of cars that ranges from the sporty Mini Cooper to the mileage-maxing Toyota Prius.
You might like it if...
Although space is limited to two people and it's not as powerful as other competitors, the CR-Z's main draw is its ability to achieve hybrid-car fuel efficiency while delivering sporty driving dynamics.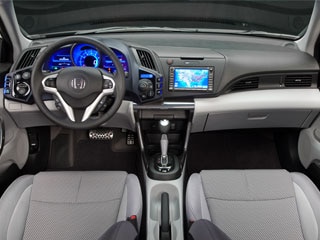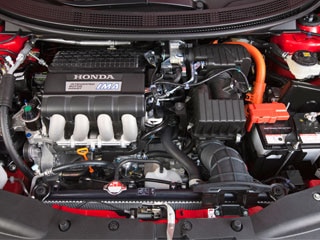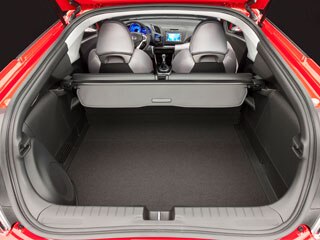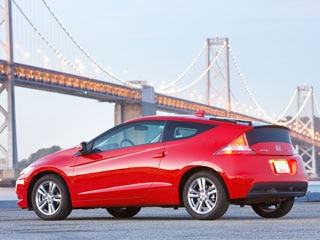 You might not like it if...
If you want something that can offer a more thrilling ride for spirited weekend drives, then a Mazda MX-5 or Mini Cooper might be a better fit. Also, there are bigger, more practical hybrids that deliver better fuel economy than the CR-Z.
What does it come with?
The 2011 Honda CR-Z has a standard 122-horsepower, 1.5-liter gasoline/electric hybrid powertrain and a six-speed manual transmission. As for interior amenities, the base CR-Z is pleasantly well equipped with convenient features, including a 160-watt, six-speaker audio system with auxiliary and USB inputs, steering wheel-mounted controls, automatic climate control, automatic headlights and remote keyless entry. Safety features include six airbags, anti-lock brakes (ABS) and Vehicle Stability Assist (VSA).
Is that it?
In addition to an available Continuously Variable Transmission (CVT) with paddle shifters, the Honda CR-Z also offers a higher EX trim level which adds an upgraded 360-watt sound system with seven speakers, fog lights, leather-wrapped steering wheel and shift knob, Bluetooth, HID headlights, foot-well lights, alloy pedals, heated power mirrors and illuminated vanity mirrors. A navigation system is optionally available.
So how does it drive?
While it might not exude sports car like prowess in the acceleration or top speed departments, the Honda CR-Z does feel spritely for the daily drive and can get to highway speeds without any hesitation. Those willing to forgive the tame performance will appreciate the car's exceptional handling and responsive brakes, characteristics not perhaps expected in a hybrid vehicle. Three different driving modes -- efficiency-friendly Econ mode, balanced Normal mode and responsive Sport mode -- allow for a custom driving experience. Accelerator-pedal response is dampened and the steering feel is lighter in Econ mode, while Sport mode makes the steering feel tighter and acceleration quicker for a "sportier" experience.
Features we liked:
Sporty Aesthetics
The CR-Z's design is futuristic and aggressive and we can only hope that it's a glimpse into what Honda has in store for products to come.
Six-speed Manual Transmission
Although it comes with a fuel mileage penalty, we liked the crisp shifts and close ratios of the standard six-speed transmission.
How much does it cost?
A base 2011 Honda CR-Z has a starting Manufacturer's Suggested Retail Price (MSRP) under $20,000. Opting for the CVT transmission adds about $650, the higher EX trim level starts at about $21,500 and adding a navigation system bumps the price up to a little over $23,000. We like that it's well-equipped at base price and barely reaches into the mid-$20,000 range when fully loaded. As far as residuals go, the CR-Z is expected to perform above average over time, just as Honda products have traditionally done so in the past.