2011 Goodwood Festival of Speed -- Quick takes
by
KBB.com Editors
|
July 5, 2011 12:27 PM
The focal point of the 2011 Goodwood Festival of Speed held over the weekend was a 50th birthday celebration for the iconic Jaguar E-type. To reinforce that theme, the centerpiece for the 19th annual exhibition on the estate of Lord March was a 150-ton art installation constructed from steel tubes and configured to resemble this evergreen sports car. While Jag hauled out a selection of its classic and classic-to-be offerings from C-Type and D-Type models to the C-X75 supercar, loads of other landmark vehicles made the three-day epic gathering a must-visit destination for auto aficionados from around the world. As always, Goodwood drew a virtual Who's Who of high-profile personalities from Formula One star Lewis Hamilton to TV star Jay Leno -- who managed to grab seat time in a pair of historic racing Big Cats. In case you weren't among the more than 180,000 in attendance, here are just a few of the many memorable moments you missed.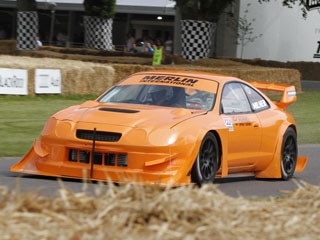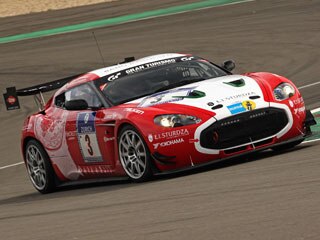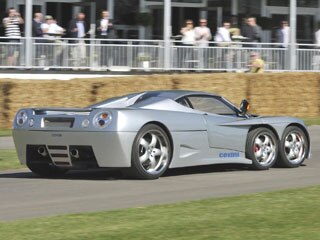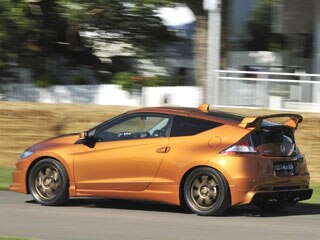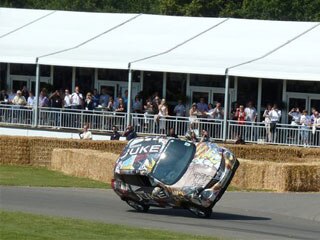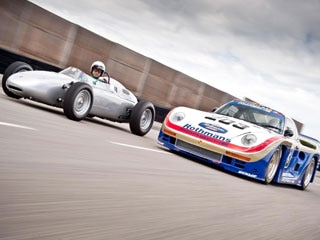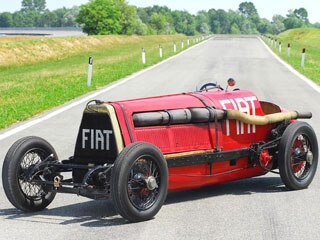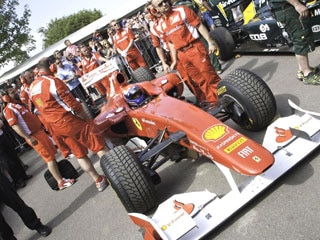 A heavily modified Toyota Celica rally car built and driven by former British Rally Champion Jonny Milner set the pace for all competitors at this year's Festival of Speed. Fitted with an 800-horsepower supercharged/turbocharged/nitrous-abetted 2.0-liter four from a Corolla World Rally Championship car, Milner took his bright-orange Toyota Celica up the 1.6-mile paved drive that leads to Goodwood House in 48.07 seconds, bettering the times of everything from dedicated Hillclimb specials to veteran Sports Prototype and Formula One cars.
Fresh from completing last-week's grueling 24 Hours of Nurburgring enduro, the Aston Martin V12 Zagato turned up to give the crowds a thrill at Goodwood and have the factory officially confirm that 150 street-spec versions of this lightweight Vantage Coupe variant would indeed be produced by the gang at Gaydon, each commanding a cool £330,000 ($500,000). Joining the V12 Zagato was the new Aston Martin Virage as well as the Aston Martin One-77 supercar, a carbon-fiber GT fitted with a 7.3-liter/750-horsepower V12 and limited to just 77 copies worldwide.
Arguably the strangest of the supercars to appear at this year's Festival of Speed, the six-wheeled Covini C3A borrows a design pioneered by the '70s-era Tyrrell P34 Formula One car: Four steerable front wheels -- an element that its makers claim helps enhance the car's stability, comfort and braking capabilities, particularly over poor road surfaces. The steel-frame/composite-bodied C3A Spyder is powered by rear-mounted, 4.2-liter Audi V8 that makes nearly 500 horses and is mated to a six-speed manual transaxle. With a curb weight of 2,535 pounds, it can hit a top speed of 190 mph. For the record, the Covini C3A is shod with 205/45 tires on 15-inch alloys up front and wears 345/20 boots on its 20-inch rear-drive wheels.
Just a one-off exercise in possibility thinking at the moment, the latest take on Honda's hybrid sports coupe turned up at Goodwood ready to rock. Tuned by the factory's official performance group, the Mugen CR-Z "RR" concept is an even more road racing-focused variation spun from the original Mugen CR-Z show car. Although no word as to whether any changes have been made to the 197-horsepower supercharged 1.5-liter four and Honda Integrated Motor Assist package found in its predecessor, the RR iteration arrived wearing a bolder body kit, revised rear wing and diffuser plus new 18-inch alloy wheels.
Nissan brought several serious competition cars to Goodwood, including a GT1-spec GT-R and the NISMO LEAF RC racer. But the automaker was out to set records with a pair of far less exotic offerings: A standard issue LEAF and a Juke. Show officials quashed the LEAF's bid for glory by deeming its attempt to set a speed mark for electric vehicles running the Hillclimb course in reverse too dangerous given the lack of practice. However the Juke came through as expected, becoming the fastest -- and only -- four-wheel-drive vehicle to complete the entire 1.6-mile run on just two wheels with precision stunt driver Terry Grant behind the wheel.
Porsche helped raise its profile at Goodwood with a massive gathering of new and vintage vehicles, from the first UK showing of the 1900 Porsche Semper Vivus hybrid reproduction to the British public debut of its 550-horsepower twin-turbo Panamera S. In addition to trotting out the awesome 1200-horsepower 917/30 Spyder that dominated Can-Am racing and once set a closed-course speed mark of 220.98 mph at Talladega Raceway, the factory museum also delivered up two other striking competition machines: The 1960 Porsche 718 and the 1986 Porsche 961. The former is a supremely successful single-seat Formula Two racer spun from the two-passenger 718 RSK Spyder while the latter is a derivative of Porsche's famed 959 rally/raid car and the only all-wheel drive Porsche model ever to contest the 24 hours of Le Mans -- where it finished 7th overall and won its class.
Even the devil got his due at this year's Goodwood gathering. While the event did mark the first public appearance of a new Gucci-spec Fiat 500 trim package, it was this 1923 Land Speed Record holder named "Mephistopheles" that grabbed the most attendee attention. Part of a group dubbed "Pioneering Giants," this massive racer is based on a 1908 Fiat SB8 Corsa model and gets its motivation from a WWI-era Fiat A12 aircraft engine modified to deliver 320 horses. On July 12, 1924, Mephistopheles set a new absolute speed mark of 234.97 kph (146.01 mph). Part of the factory's historical collection since 1969, it recently completed an extensive restoration process prior to its memorable weekend outing.
Numerous Ferraris also made the trek to Goodwood, including a rare 1953 375 MM and the latest car to join the lineup from Maranello, the all-wheel drive Ferrari FF. Fastest of the Scuderia's offerings was the 2010 F10 Formula One car driven to victory by Fernando Alonso at Grands Prix in Bahrain, Germany, Italy, Singapore and Korea. It was put through is paces at Goodwood by the team's test driver Marc Gene, and duly chronicled in video form.