2011 Ford Fiesta Review: You're not gonna believe this
by
KBB.com Editors
|
April 30, 2010 12:09 PM
Have you heard the story about the domestic auto industry that kept claiming its products were as good as Japan's best? It's a twist on the tale of the boy who cried wolf. In Aesop's original, nobody believes the boy when things really do go bad. In our update, people are skeptical when things really do go good. That's the battle Ford faces in selling America on the most impressive, most recommendable, most buyable lineup a domestic automaker has offered in many drivers' lifetimes. Do we think the 2011 Ford Fiesta is as good as Japan's category best (the Honda Fit)? It's better. And if you don't believe us, blame the past practices of the domestic auto industry.
What's the big deal?
Two things everyone knows: (1) America can't make good small cars and (2) Americans don't like small cars. The 2011 Ford Fiesta is good enough to change both perception and reality.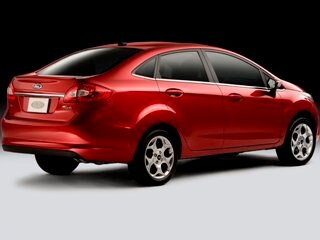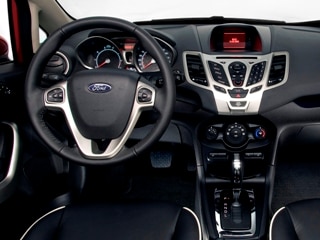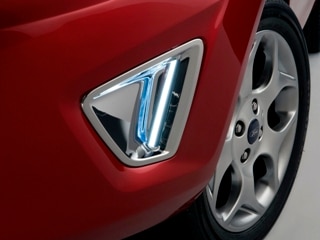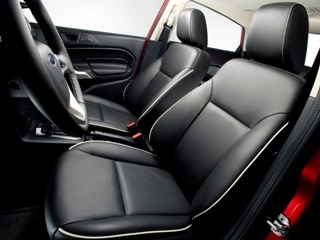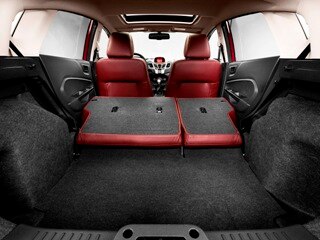 Maybe your favorite if...
If you're searching the sub-compact segment for style, interior quality, driving dynamics and/or fuel efficiency, just put the 2011 Ford Fiesta at the top of your list and then try to beat it.
Maybe look elsewhere if...
The Honda Fit is both roomier and more flexible than the Ford Fiesta, the Nissan Versa offers a softer ride and there are several competitors with lower sticker prices (although the Fiesta still compares favorably from a "you get what you pay for" perspective).
On the road (to recovery)
Many months before we drove the first U.S.-spec Fiesta, Ford gave us a week behind the wheel of the European version. Some of us were impressed, others blown away, and everyone shared the same sentiment: "I hope they don't ruin the U.S. version." Hallelujah, they didn't. The Fiesta is comfortable and quiet on the highway, fun when you work the wheel and just feels pricier and more substantial -- more European, really -- than any of its competitors. Shortcomings? The fun part requires a little planning because there's not a lot of juice available at the bottom of the rev range, we think the dual-clutch auto deserves a manual control option, and some of us have reservations about long-haul seat comfort. But when you're talking about the best car in the class, that's really just nitpicking.
Even the base model looks good
The 2011 Ford Fiesta is available in two styles: four-door sedan and five-door hatchback. We're partial to the hatchback, which is the only style offered in Europe, but America still prefers sedans. Kudos to Ford for not crippling entry-priced Fiesta models with black bumpers and door handles and such; the 15-inch covered steel wheels are about as cheap as it gets, and the covers are decent. Still, the more you pay the better you look, and loaded models feature things like chrome-bezeled LED parking lamps and 17-inch aluminum wheels. Every 2011 Ford Fiesta comes with Ford's cool capless fuel filler.
Soft to the touch
The 2011 Ford Fiesta boasts not only the sharpest sheetmetal in the category, it also has the most stylish and refined interior. Soft-touch materials and top-notch design permeate all trims, and you can outfit the Fiesta with features like heated leather seats, push-button start and selectable seven-color ambient lighting. A navigation system is the only glaring omission from the Fiesta's options list and instrument panel, but a four-inch multifunction LCD display carries some of that load.
The standard stuff
A 2011 Ford Fiesta S Sedan starts just under $14,000 and includes air conditioning, four-speaker AM/FM audio system with auxiliary audio input jack, four-way adjustable steering wheel, a five-speed manual transmission and the same fun suspension and powertrain found in every Fiesta. It also gets all the safety goodies, like electronic stability control and seven airbags -- including the category's first driver's-side knee airbag. Also, in the upper, outside corner of the side mirrors is a small secondary mirror that finds cars hiding in that nebulous area between peripheral vision and mirror coverage. Base model shortcomings include 15-inch covered steel wheels, roll-'em-up windows and not even the option of SYNC or SIRIUS.
Luxury-like options
A fully loaded 2011 Ford Fiesta includes a six-speed automatic transmission, leather seats, moonroof, keyless entry and start, voice-controlled SYNC smartphone integration, steering wheel-mounted audio and cruise controls, heated seats, satellite radio and a trip computer. Step back five or 10 years, read that list again, and try to imagine the price -- and badge -- on such a car.
Under the hood
The 2011 Ford Fiesta's four-cylinder engine is relatively smooth and strong, but it's more notable for its fuel efficiency than its power. Transmission choices include a five-speed manual and Ford's first dual-clutch automatic transmission. Compared to a traditional automatic, the six-speed "PowerShift" unit delivers more direct engagement, faster shifts and greater fuel economy. We're not big fans of electric power steering systems, which generally deliver better fuel economy at the expense of driving feel, but the Fiesta's qualifies as one of the less compromised units. To attain Ford's much-hyped 40 mpg highway fuel economy rating, you have to pay for the Super Fuel Economy (SFE) Package, which makes the car a bit more aerodynamic, a tad lighter and probably compromises handling to some degree, thanks to special mileage-maxing tires.
1.6-liter four-cylinder
120 horsepower @ 6,350 rpm
112 lb.-ft. of torque @ 5,000 rpm
EPA city/highway fuel economy: 29/38 (manual), 30/38 (auto), 30/40 (auto w/SFE package)
KBB value analysis
The 2011 Ford Fiesta Sedan starts at a Manufacturer's Suggested Retail Price (MSRP) just shy of $14,000. The hatchback, which isn't available in base "S" trim, starts under $16,000. Skipping dealer-installed accessories like exterior graphics and remote start, a fully loaded 2011 Fiesta SES Hatchback (leather, moonroof, auto, all the other goodies) tops out north of $21,000. The 2010 Honda Fit, the Ford Fiesta's most direct competitor, tops out just shy of $20,000, which includes navigation but doesn't include many desirable features found on a loaded Fiesta. We expect Fair Purchase Prices to reflect real-world transaction prices right around sticker price while the Fiesta remains the hot new kid on the block. As for resale value, we expect the Fiesta to prove resilient, if not as strong as the proven Honda Fit.
>2011 Ford Fiesta vs. 2010 Honda Fit: Compare the numbers side by side