2011 Chevrolet Volt -- Facts and features at a glance
by
KBB.com Editors
|
September 28, 2010 8:31 AM
First shot in the E-REV revolution
Initially seen in concept form back in 2007, the 2011 Chevrolet Volt is set to become the industry's first extended-range electric vehicle (E-REV). It carries that name because while it runs on pure electric power, a small gasoline engine can generate additional real-time energy to keep it going when the charge in the car's primary battery is depleted. Chevrolet pointedly emphasizes that this compact, front-drive hatchback sedan is an E-REV and not a conventional hybrid, because unlike any other vehicle currently fitted with an internal combustion/electric combo pack, the Volt's wheels are always primarily and almost exclusively powered by its electric motor. However, at speeds in excess of 30 mph and when its switched into extended-range mode, both the Volt's electric motor and its gasoline engine/generator can work together to provide optimum motive force and up to a 10-15 percent increase in range.
Powertrain and performance 101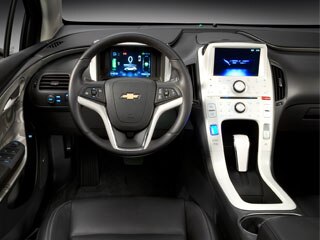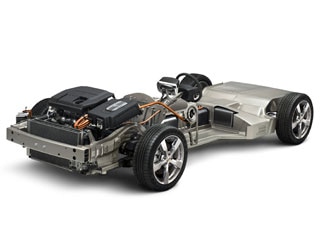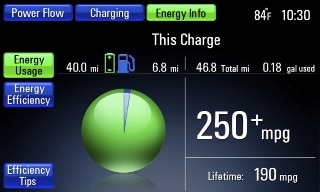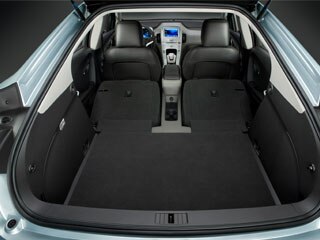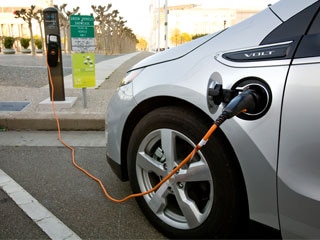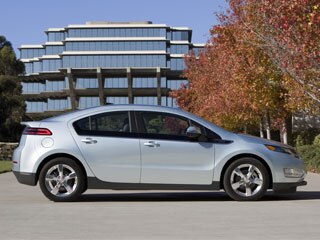 GM's groundbreaking Voltec electric propulsion technology lies at the motivational heart of the 2011 Chevy Volt. Here, it consists of an advanced, liquid-cooled 16kWh lithium-ion battery pack, an electric drive unit and a 1.4-liter inline-four cylinder gasoline engine/generator. Developing 149 horsepower and 273 lb-ft of torque, the motor has sufficient muscle to let the Volt run 0-60 mph in 8.5-9.0 seconds and reach a top speed of 101 mph. The system is scaled to allow the Volt to travel from 25-50 miles in zero-emissions mode --depending on terrain, driving techniques and temperature -- using battery power alone, at which point the engine/generator seamlessly swings into action. With a full tank of gasoline, it can deliver up to 310 additional miles worth of direct electric power before a refill is required or the battery needs to be recharged. One set of salient stats still remains unknown at this point, as the EPA has yet to issue official fuel economy numbers for the new Volt.
The rundown on recharging
On the plug-in side of the ledger, the 2011 Chevrolet Volt comes with a standard 120V on-board recharger cord that can top off a fully-depleted battery pack in about 10 hours using a conventional electrical outlet. However, Chevy dealers also will sell an optional 240V hard-wired home unit that cuts the interval to roughly four hours. Up to 4,400 early Volt buyers may qualify for a free 240V charging station under provisions of a program authorized by the Department of Energy.
People-centric technology
Beyond its commendable ability to help reduce CO2 emissions and trim dependence on foreign oil, the 2011 Chevrolet Volt also introduces a new level of interactive technology to its extensive list of comfort and convenience touches. In place of conventional gauges, the Volt is fitted with a 7.0-inch LCD display that provides basic information on vehicle speed and range but also allows the driver to bring up other bits of pertinent data using controls on the multifunction steering wheel. A second, centrally-positioned 7.0-inch multifunction touch-screen affords full control over the Volt's standard navigation system -- that includes a 30Gb hard drive and XM NavTraffic capabilities -- as well as its Bose audio system, energy-efficient auto climate-control system and a full range of user-selectable powertrain-status information readouts. Additional access is provided by an array of touch-sensitive "virtual buttons" that are positioned immediately below the screen.
The ultimate in OnStar functionality
To further reinforce the 2011 Chevrolet Volt as a true techno trailblazer, it also boasts the latest and greatest version of GM's highly-regarded OnStar telematics. For the first time on any GM vehicle, the Volt package brings five years of the Directions and Connections service that includes Automatic Crash Response, stolen vehicle assistance and connected navigation. The Volt also offers its own dedicated version of OnStar's new mobile app for the iPhone or Motorola Android smartphone. This software facilitates everything from scheduling or checking the status of remote-activated charging to viewing the most recent -- or cumulative -- data on miles driven using gas and/or electric power as well calculating average mpg. The recent announcement regarding plans to expand that already formidable list with a host of new services and capabilities promise to make OnStar an even more integral part of the Volt experience in the months ahead.
Playing it safe
As adventurous as its E-REV powertrain may be, the Volt's design team relied on well-proven "inside the box" thinking when engineering and equipping the rest of the vehicle. Beneath its aerodynamically optimized bodywork is an exceptionally robust and rigid structure made from 80-percent high-strength steel and complemented by a suite of eight -- front/front-side/side curtain and knee -- air bags. Doing their part on the vehicle dynamics front are StabiliTrak electronic stability control with Traction Control, energy-efficient electrically-assisted power steering and antilock brakes that incorporate range-enhancing regenerative circuitry.
Guaranteed to go the distance
While it carries the same basic overall vehicle warranty and roadside-assistance coverage as its conventional Chevrolet kin, the Volt does add an extra measure of buyer assurance in the most critical area of its E-REV design: the Li-ion battery pack and Voltec propulsion system. To that end, the Volt's comprehensive and fully-transferrable battery warranty covers all 161 of its battery components as well as the entire thermal management system, charging system and electric drive components, and does it for an industry-leading eight years/100,000 miles.
Pricing and Availability
The 2011 Chevrolet Volt has a manufacturer's suggested retail price (MSRP) of $41,000, although it qualifies for up to $7,500 in Federal income tax credit, which can effectively drop that figure down to $33,500. In a number of states, additional tax credits and rebates may apply that will further reduce the ultimate pricepoint -- and could also earn privileged access to their respective high-occupancy vehicle (HOV) lanes. For those who find leasing more appealing, Chevy is offering a 36-month program with payments of $350 after an initial $2,500 paydown. However, when the vehicle is leased, that $7,500 federal tax break goes to the lessor.
Given its intentionally feature-rich basic formula, options for the Volt are minimal. Heading the list are the Premium Trim Package that brings leather upholstery, a leather-wrapped steering wheel and heated front seats and the Rear Camera and Park Assist package that, true to its name, adds a rearview camera and front/rear parking sensors. Seventeen-inch polished rather than painted forged-aluminum wheels also are available.
The first 2011 Chevrolet Volt models will be delivered starting late this year to customers living in select locations within California, Connecticut, Michigan, New Jersey, New York, Texas and the Washington D.C. area. A measured national rollout will follow during the ensuing 12-18 months. Production is projected to reach about 10,000 units by the end of 2011 with that number ramping up to 45,000 vehicles during the following year. For more specific market and purchase information, call 1-888-VOLT-4-YOU (1-888-865-8496) or register at www.chevrolet.com/volt.
Chevrolet Volt versus Nissan LEAF
The largest and highest-profile de facto rival to the 2011 Chevrolet Volt is the equally new 2011 Nissan LEAF, which also will commence its own market-specific rollout by year's end. Each vehicle offers an interesting, innovative and extremely sophisticated take on green motoring, but there are two key differences to consider. First and foremost, the Nissan LEAF is a pure electric vehicle, which limits its potential as a primary daily transport choice to people with predictable and moderate usage requirements. While Nissan estimates the LEAF's per-charge range at a nominal 100 miles, it also admits that individual driving styles and ambient temperature conditions can have a fairly large (up to 40 percent in extreme cases) impact on that figure. Although even GM cites government data indicating that over 75 percent of all daily commutes fall within a 40-mile round-trip distance, the LEAF's inherent limitations to deal with unexpected changes in travel plans does make range anxiety a legitimate issue for some individuals.
The second significant variation between the Volt and the LEAF lies in price; but here, it's Nissan's turn to claim at least some bragging rights. Where the Volt bases at $41,000, the LEAF opens at $33,600 and the upline SL version starts at $34,540. Although both vehicles qualify for the Federal income tax credit, only the Nissan will be eligible for the cash rebates being offered by the state of California. Two other lesser points of differentiation: the Nissan LEAF offers room for five and comes with six standard airbags while the Chevy Volt seats only four but does feature eight inflatable restraints.
Updated October 12 to reflect GM's announcment that the engine/generator can indeed provide motive force in certain situations.
Updated October 15 to change from 70 mph to 30 mph the minimum speed at which the engine/generator might contribute motive force.