2011 Chevrolet Orlando -- Paris Auto Show
by
KBB.com Editors
|
August 31, 2010 2:14 PM
Finally moving from one-off concept to full-production status, the 2011 Chevrolet Orlando is one of four world debuts GM's high-volume division will hold in Paris. On sale early next year -- but only in Europe and Canada -- this compact minivan marks GM's first foray into the Euro MPV segment. Matching aggressive crossover styling cues with seven-passenger capability, the Orlando is expected to play a key role in raising Chevrolet's profile on the Continent as well as North of our border while offering impressive driving dynamics and a strong value story.
Based on a version of GM's Delta platform also found under the Chevrolet Cruze andVolt, the Orlando will be available in three trim levels and offer a trio of fuel-efficient engines including a 1.8-liter/141-horsepower gasoline-fired four and two versions of Chevrolet's latest 2.0-liter diesel four, with outputs of 131 and 163 horses, respectively. At some point in the future, Chevy sources have hinted that the Orlando also may turn up with the Volt's Voltec E-REV package.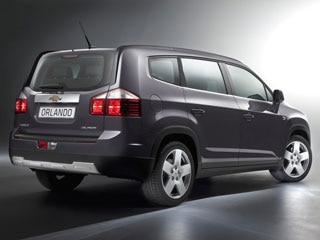 Inside, the 2011 Chevy Orlando boasts one of the largest and more accommodating interiors in its class, which complements its driver-oriented cockpit/dash cockpit with three rows of easily reconfigurable theatre-style elevated seating plus loads of open and closed storage spaces. It also retains one of the slickest features seen on the original Orlando Concept that appeared at the 2008 Paris Auto Show: a large concealed storage area tucked away behind the flip-up fascia of the audio system's head unit. This handy hideaway is big enough to keep sunglasses, iPod/MP3 players and other valuables away from prying eyes and also houses a convenient USB/recharging port.