2011 Chevrolet Cruze First Drive
by
KBB.com Editors
|
May 3, 2010 8:43 AM
"People get Ready," a famous old song title, applies today to a soon-to-come onslaught of new small cars unlike any North America has known before. Get ready for smoother, roomier, quieter, more comfortable, better looking, better equipped, more fun, more fuel efficient -- and, unfortunately, more expensive -- small cars from every corner of the automotive globe.
The problem has been that small cars don't cost much (if any) less to design, develop, build and sell than larger cars and trucks. Yet American buyers long addicted to room, ride, comfort, safety and features have been unwilling to pay very much for them. As a result, most available here have been cheap, tinny, noisy, slow, boring and poorly equipped.
They have competed mostly on price and fuel economy and have never sold well when times were good and fuel was cheap. Few in recent years have been built in high-cost U.S. plants, and fewer still have turned a profit for their makers. They have served mostly to attract entry-level buyers and boost Corporate Average Fuel Economy (CAFE) scores to enable sales of larger, more profitable cars and trucks.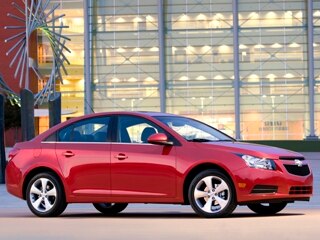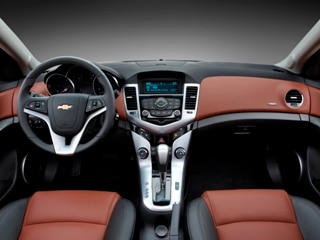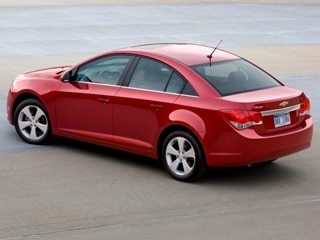 Domestics lead
But now that federal CAFE requirements are about to accelerate rapidly, automakers will have no choice but to substantially increase small-car sales despite prices driven ever higher by the technology it will take to make them increasingly fuel-efficient. To do that, they will have to make them substantially more desirable regardless of the price of gas, which no one can predict or control. And U.S. makers Chevrolet and Ford will lead the way. During a recent early media preview of Chevrolet's all-new 2011 compact Cruze, we found it amazingly good. And it will be built in the USA (at Lordstown, Ohio) and will turn, Chevy believes, a reasonable profit.
Provided it sells.
While we won't get extended time until closer to its fall arrival, and we don't yet know its pricing, we're confident that it will indeed find buyers. For one thing, Cruze is a global car that is selling extremely well in 60 countries where it has already been launched, including Korea, China, Australia and most of Europe. For another, Chevy designers and engineers have worked very hard to ensure that it will overcome every negative perception -- and reality -- about small cars.
Comfort and quiet
The 2011 Cruze is dimensionally large for a "compact" and brings an impressive list of "mid-size" features and attributes to its class. Its total interior volume is 110.0 cubic feet (which the EPA classifies as "mid-size") vs. 104.3 and 102.9 for the current Toyota Corolla and Honda Civic, respectively. Its front seats have a long range of fore-aft travel, its back seat is surprisingly roomy, and its trunk is a huge 15.4 cubic feet (vs. 12.3 and 12.0).
Chevy listed numerous sound-deadening treatments -- including an acoustic laminated windshield, nylon baffles filled with sound-absorbing foam in the body structure and door headers, a five layer thermal fiber acoustic headliner and triple-sealed doors with fiberglass "blankets" as water, airflow and noise barriers -- that it thinks will make the Cruze the quietest small car on the American road. And the three engineering development cars we drove (which Chevy said were 85-90 percent production representative) were indeed amazingly quiet on the rough and winding "Ride and Handling" test road at GM's Milford Proving Grounds in Michigan.
Design and aerodynamics
The 2011 Cruze's exterior -- intentionally conservative but handsome and well proportioned -- should be at least as appealing to family-sedan buyers as its popular mid-size Malibu stablemate, and its interior is beautifully designed and crafted. Drag-reducing, aerodynamic features include a lower front fascia extension and a belly pan to smooth undercar airflow, front and rear tire blockers and wheel well liner extensions. The high-efficiency Eco model, which Chevy says will deliver hybrid-like 40-mpg EPA highway fuel economy, carries its aero package further with a lowered suspension, a deeper front air dam, a decklid spoiler, mid-body panels to complete the under-car shielding, a blade to deflect air around the fuel tank and suspension, and a motorized lower grille shutter that closes at 37 mph.
Performance
All three development cars we drove were powered by a new global 1.4-liter DOHC 16-valve, dual variable-valve-timing (VVT), turbocharged 4-cylinder, a version of the same high-efficiency four that will drive the Chevy Volt's range-extending generator. Jointly designed and developed in Europe and the U.S., this 138-horsepower turbo version will be standard in all but the base LS model, which will get a 1.8-liter naturally aspirated four good for the same 138 horsepower but 25 fewer pound-feet of torque. Chevy says the 1.4 Turbo will deliver low-nine-second zero-to-60 mph acceleration, which doesn't sound like much but feels like more. Driving through the optional 6-speed automatic, it was a tad slow off the mark but quickly gathered steam and outran the larger non-turbo fours in the Corolla and Civic due to its strong (148 pound-feet) mid-range torque. It also came across as pleasingly torquey and lively in a 6-speed manual-equipped Eco model.
Dynamics
The 2011 Cruze's unibody structure is substantially stiffer than the outgoing Cobalt's, which is good for ride, handling, safety and noise control. Its front suspension is MacPherson struts with their "load paths" decoupled to enable separate tuning of each, so crisp handling doesn't work against quiet or comfortable ride. Its rear suspension is a patented compact, low-mass design combining a torsion beam (Chevy calls it "Compound Crank") rear axle with a "Z-link" (dual Watts links) for lateral control. This very flexible design allows independent tuning of ride and handling and easy adjustment for different vehicle weights, engines, body styles and chassis control systems.
All this is important to chassis development engineers who have made this new Cruze quite possibly the best ride/handling-balanced small car we have ever driven. The energy-efficient, dual-pinion, speed-sensitive electric rack-and-pinion power steering has a rack-mounted motor for precise response and on-center feel, and the ABS brakes use front-to-rear brake force distribution to taylor their stopping power to conditions. Most impressive was the rear suspension's calm composure while cornering hard over the same rough washboard surfaces that set the Corolla's and Civic's rear axles skittering laterally at comparable speeds.
Safety
One criticism of small cars is that they can be less safe in collisions with larger, heavier vehicles, which is basically true due to immutable laws of physics. But Chevrolet has loaded its 2011 Cruze with every conceivable safety feature to make it safest in its class. During a tour of GM's Milford safety facility, we witnessed an angle crash test of a production-representative Cruze into a concrete pole that hit the driver's side at the driver's head -- with no serious injury to the instrumented crash dummy. And a severely frontal-crashed Cruze on hand retained easy opening of all four doors with nary a creak.
Alone in its class, the 2011 Cruze will protect its occupants with no fewer than 10 airbags: dual front and front knee, front-seat side, outside rear side and side curtain with rollover protection. It has been engineered, developed and exhaustively tested to achieve U.S. five-star safety ratings and already has achieved them in Europe, Korea, China, India and Australia. Electronic stability control with rollover sensing, traction control, ABS braking, a break-away pedal assembly and OnStar with advanced crash notification are also standard.
GM Product Development Vice Chairman Bob Lutz, making his last official appearance at a press event prior to retirement, said GM during his tenure shifted from designing and developing "good enough" vehicles to creating undisputed segment leaders. "Cruze is the latest result of our dedicated 'best in class' philosophy and processes," he said. "Our goal has been to achieve a noticeable difference between it and any other compact available."
We haven't driven Ford's 2012 Focus, the Civic is near the end of its lifecycle and the Corolla is a few years along, but we're convinced the Cruze will indeed be the undisputed segment leader when it goes on sale later this year.