2011 Bentley Continental GT -- Paris Auto Show (part two)
by
KBB.com Editors
|
September 7, 2010 2:01 PM
Due to make its public debut at the Paris Show later this month, the 2011 Bentley Continental GT got an official online reveal today following its earlier teaser release. Seen in its full, undisguised glory, this striking grand tourer carries on the premium-motoring tradition of its highly regarded predecessor, but boasts significant gains in style, comfort, performance and efficiency.
Recasting the body beautiful
While clearly retaining the visual flair and proportions of its predecessor, this latest Continental GT is wrapped in all-new bodywork which uses a super-forming process that yields even more precise panel fits. The car's cleaner crisper lines are highlighted by a more upright grille, bolder, LED-accented front and rear lighting elements plus a decklid and exhaust treatment inspired by Bentley's Mulsanne line. Extensive aerodynamic tweaking -- including new underbody fairings and a more aggressive rear diffuser -- helped cut the 2011 Continental GT's drag coefficient to 0.33 and reduces high-speed lift on both the front and rear axles, all critical concerns on a vehicle capable of nearly 200 mph.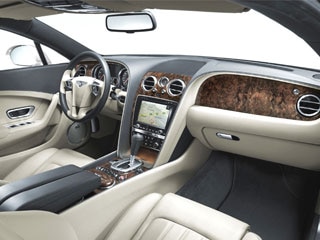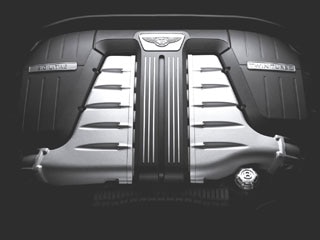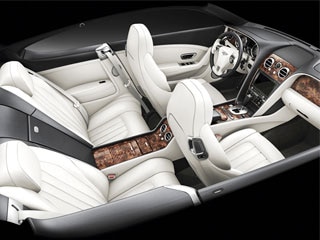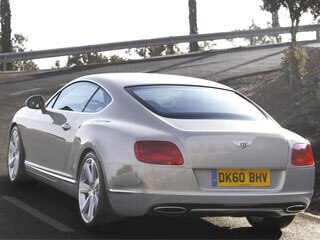 The same kind of major makeover can be found inside the new 2011 Bentley Continental, which retains all of the classic hand-crafted luxury cues but gains a new level of contemporary style and functionality. Complementing the fine wood and hand-sewn leather that appears throughout the cabin is a new dash whose design echoes the twin wings of the Bentley logo. While white-on-black analog main gauges remain, a new 8.0-inch center touchscreen display serves as the Continental's main control center for its state-of-the-art navigation, climate-control and audio systems. The latter, an 11-speaker infotainment wonder with industry-first "Dirac Dimensions" digital processing, was created especially for the car by British audio specialists Naim. Another key upgrade in the passenger compartment of this stunning 2+2 coupe are its "Cobra" design bucket seats. Beyond providing even better comfort and support for those seated up front, their new thin-shell contoured backs result in 1.8-inches of much-needed additional legroom for those in the still-modest aft quarters.
Taking a responsible approach to power
The launch of the 2011 Bentley Continental GT also heralds a new era of enlightened performance for the venerable prestige marque. In addition to shedding some 143 pounds of curb weight, output of the car's standard 6.0-liter twin-turbocharged W12 engine has been raised from 552 to 567 horsepower and peak torque popped from 479 to 516 lb-ft courtesy of new low-inertia turbo units, additional friction-reduction measures and improved computer management programming. The paddle-shifted ZF six-speed automatic transmission has been fitted with "Quickshift" circuitry that can reduce change-interval times by 50 percent, which in turn, helps trim the Continental GT's 0-60 mph time to 4.4 seconds.
The biggest news on the underhood front won't come until late next year, when Bentley will begin offering its new supercoupe with a super-efficient 4.0-liter V8 that's being developed as part of its promise to improve fuel efficiency and cut greenhouse gas emissions by 40 percent across the entire lineup. Although the automaker provided no mechanical details on the engine, it did confirm that this high-tech V8 will offer class-leading CO2-emission to power ratio and, like the 6.0-liter W12, be fully E85 capable.
In keeping with its performance pedigree, the new 2011 Bentley Continental GT also benefits from a series of focused chassis upgrades. Although its basic architecture carries over, the engineering team expanded the front/rear track dimensions, revamped the Continuous Damping Control adjustable suspension and revised the stability system. It also bolstered the all-wheel drive package by fitting the same Torsen center differential introduced on the firm's ultra-spec Continental Supersport model that uses a 40/60 rear torque bias to help overall handling capabilities and reduce understeer when powering out of corners.
The 2011 Bentley Continental GT goes on sale in January in Europe and will arrive in showrooms here sometime in the spring. Pricing is scheduled to be released at the Paris show.