2010 Dodge Viper ACR sets production-car lap record at Nurburgring
by
KBB.com Editors
|
September 28, 2011 8:06 AM
Less than two weeks after a Lexus LFA Nürburgring Edition had its moment of high-speed glory at one of the world's most demanding race tracks, a 2010 Dodge Viper ACR took on the tortuous 12.9-mile Nordschleife circuit and reclaimed the production-car lap record with a 7:12.13 clocking on that bested the LFA's time by 2.5 seconds.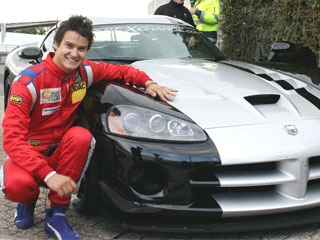 Veteran GT driver Dominik Farnbacher piloted the 600-horsepower street-legal Viper ACR to this latest benchmark on that fabled venue as the culmination of a collaborative effort that involved Chrysler's SRT (Street and Racing Technology) group, the Viper Club of America and ViperExchange by Tomball Dodge, a dealer in Tomball, Texas, that supplied two new Viper ACR's out of its showroom.
"We're extremely proud to set the lap record for a second time at the famed Nürburgring Nordschleife," said Ralph Gilles, President and CEO -- SRT Brand and Motorsports, Chrysler Group LLC. "Our team returned to Germany knowing we'd left some time on the track when we set our first lap record, so this effort shows the incredible depth and capability the Viper ACR has by running a full 10 seconds faster than we did in 2008."
On that initial outing, the then-newly launched Viper ACR driven by Tom Coronel set a new production car mark of 7:22.1. That record remained until April 2010 when it was bettered by a Porsche GT2 RS that turned a 7:18.10 lap which was eclipsed earlier this month by the Lexus LFA.