2009 Top 10 Road Trip Cars
By KBB.com Editors on January 19, 2011 7:18 AM
Ah, the lure of the open road. There is a magic about it that stirs the soul and brightens the senses. In this era of doom-and-gloom, when we are threatened by everything from pirates, to pigs to pecuniary disaster, the ability to climb into a car, stab the gas and get out of town looms larger than ever. Happily, there are those gems among the current crop of cars and trucks that make doing just that not only fun, but, in some instances, close to a religious experience.

With hundreds of thousands of miles under our collective tires, we at Kelley Blue Book have taken more than our share of road trips, and we can attest that not all are created equal. Some involve the transport of numerous people and literally tons of stuff; others involve nothing but the oneness of car and driver. In an effort to reveal the best vehicle for each journey you might take, we have combined our collective wisdom to deliver to you this list of the Top 10 Road Trip Cars of 2009. Travel safely, our friends.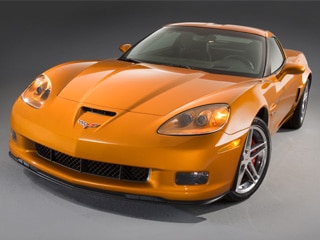 Chevy Corvette Z06
, Best Road Trip: Driver's Trip
On the way to your favorite twisty road or racetrack, the 505-horsepower Corvette Z06 pleases with an unexpectedly supple highway ride and a convenient top speed of 198 miles per hour. Once the perfect stretch of pavement lies before you, that's when the wide stance, fat tires and 3,180-pound curb weight kick in and make it hard to return home.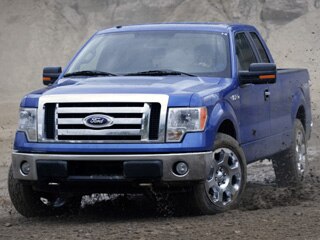 Ford F-150 SuperCrew Cab
, Best Road Trip: Towing Trip
When hitting the open road includes bringing something along that requires a hitch, look to the Ford F-150 to deliver. With a max tow rating exceeding 11,000 pounds and an integrated tow system, this truck meets the needs of even the most hard-core towing fanatics. Couple its rugged capabilities with a handsome exterior, refined interior and an available SuperCrew Cab offering limo-like legroom, and you're ready for the long haul.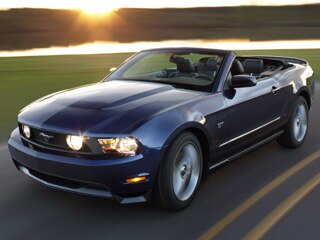 Ford Mustang Convertible
, Best Road Trip: Spring Break
You already know the Ford Mustang is an automotive icon that says "fun". Now add to that a convertible top and four college students on spring break, and it spells a rousing good time. You can get attention by cruising the beach with music booming from the SYNC-equipped Shaker audio system, and if that isn't enough, the sexy styling will definitely have the beach babes swooning.
Honda Odyssey
, Best Road Trip: Family Outing
Whether you're taking the family to grandma's house or a favorite amusement park, the Honda Odyssey is well equipped to appease parents and kids alike, and it has the ability to haul everything they need. The van's satellite-linked navigation system and Bluetooth technology let mom and dad focus on the road, while the rear entertainment system should keep the kids quiet -- but we can't guarantee it will eliminate that perennial question: "Are we there yet?"
Honda Element
, Best Road Trip: Camping Trip
If you're looking for a vehicle capable of not only reaching a campsite, but can also provide for you when you get there, the Honda Element is the perfect choice. The real-time four-wheel-drive is helpful for traversing tricky terrain, and the versatile interior -- which includes a fold-flat rear seat, table and available privacy screen -- is useful in case you need to sleep in the car rather than in the tent you so masterfully erected.
Jaguar XKR Convertible
, Best Road Trip: Trip for Two
Sometimes you just want to get away with your sweetie and leave the world behind you. Enter the Jaguar XKR Convertible. If the supple leather and stylish chrome-clad interior doesn't stimulate your senses, the 420-horsepower V8 surely will. And nothing puts you in the mood faster than speed and the wind whipping through your hair.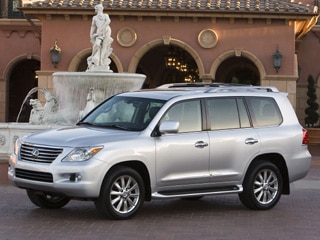 Lexus LX 570
, Best Road Trip: Ski Trip
A lot of SUVs can get you to the mountains for a day of skiing, but few do as good a job of pampering you in the process as the Lexus LX 570. This big SUV offers seating for eight, a luxury-class interior, loads of cargo space and a truly capable four-wheel-drive system that turns unforeseen weather into a minor inconvenience. It also won't look out of place at even the poshest lodge. Vail, anyone?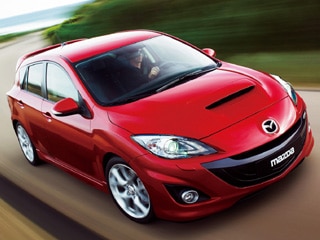 Mazda Mazda3
, Best Road Trip: New Grad Trip
Taking to the road after accepting your degree? Bridge the gap between your carefree college days and a respectable adult life by hitting the asphalt with your friends in the Mazda3. The kid in you will appreciate its stellar driving dynamics and stand-out-in-a-crowd exterior styling, while the grown-up in you will welcome its under $16k starting price and thrifty 33 mpg highway EPA rating.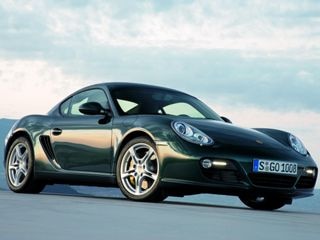 Porsche Cayman S
, Best Road Trip: Solo Flight
The beautifully balanced, mid-engine Cayman S doesn't have lane departure warning or a voice-controlled infotainment system or any of the other technologies that might be valuable on a long journey without a co-pilot, but the vehicle itself is entertainment enough for us. When you don't have to answer to a passenger and the inevitable baggage, we think it makes sense to spend some quality time with one of the purest driver's cars in the world.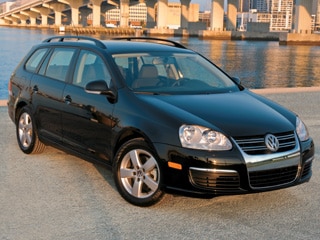 VW Jetta SportWagen TDI
, Best Road Trip: Cross Country
When the nation's interstate highway system beckons, a prime choice is the Jetta SportWagen TDI. With ample room for the inevitable "stuff" a long-distance trip ensures, a frugal 41 mpg highway EPA rating, and available features like a 30GB hard drive navigation system, the journey to find that giant ball of twine can be -- dare we say -- fun, ecological and economical.