by KBB.com Editors | June 22, 2011 3:14 PM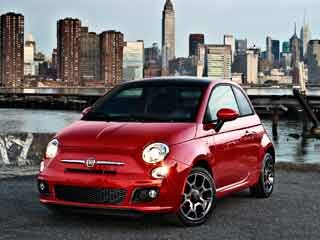 Regardless of what the Hello Kitty mafia would like to believe, cute isn't cool. Not usually, anyway. But that's because cute is rarely backed up by substance, as it is in the 2012 Fiat 500. It's seven inches shorter than a Mini Cooper and positively adorable, but spend a day driving Fiat's first U.S. offering in 28 years and you'll discover a comfortable, livable, well-built sub-compact car that just happens to have 10 times the personality of some of its cookie-cutter competitors.

Which of the 10 Coolest Cars Under $18,000 would you choose? Find your favorite below to take a peek inside, check current prices and get a step closer to making it your own.
1. 2012 Fiat 500 (48 Photos)

2. 2012 Mazda Mazda3 (45 Photos)

3. 2012 Ford Fiesta (45 Photos)

4. 2012 Honda Fit (51 Photos)

5. 2011 Kia Forte Koup (48 Photos)

6. 2012 Honda Civic (50 Photos)

7. 2012 Ford Focus (45 Photos)

8. 2012 Volkswagen Jetta (51 Photos)

9. 2011 Nissan Cube (49 Photos)

10. 2012 Hyundai Elantra (51 Photos)