10 Best Car Creations from the 2013 SEMA Show
by
Zach Vlasuk
|
November 8, 2013 6:59 PM
The automotive aftermarket descends upon Las Vegas every fall -- in an almost tangible cloud of implied tire smoke - to demonstrate to the world how they can make perfectly good cars and trucks even better. The annual SEMA Show, organized by the Specialty Equipment Market Association, is the Consumer Electronic Show, Comic-Con and Detroit Auto Show of the vehicle modification industry.
That's the background, now onto the cars.
In the gallery above you'll find a collection of augmented vehicles ranging from customized Corvettes and race-ready ragers to a Hyundai Veloster prepped for the zombie apocalypse and a Toyota Highlander inspired by SpongeBob SquarePants.
But this is a show of excess, so let's start with desert and get right to our picks for the 10 most noteworthy cars from the show. Although the event is home to nearly 1,000 specialty vehicles from around the world, we've narrowed our focus to official automaker project cars and sanctioned aftermarket mock-ups. Many of these modifications are simply fanciful buildups, while others become manufacturer-supported add-ons that can be optioned at the time of purchase.

1. Greddy Racing Scion FR-S
The affordable, lightweight, rear-wheel drive platform on which the FR-S is built has opened the door for the next generation of street tuners. Blending old muscle with new metal, the Greddy Racing Scion FR-S features the Toyota Supra Mark IV's legendary 2JZ-GTE 6-cylinder engine. In typical SEMA fashion, the Greddy FR-S churns out an earth-moving 750 horsepower and 730 lb-ft of torque.

2. Ford F-350 by EcoTrek
Able to run on diesel, biodiesel, or futuristic algae-based biodiesel, Ford's EcoTrek F-350 is truly a marvel in automotive engineering. What's more, the EcoTrek F-350's rooftop shelter, refrigerator, stove, flexible solar panels, and 1,800 mile driving range will be put to the test in real world disaster relief missions.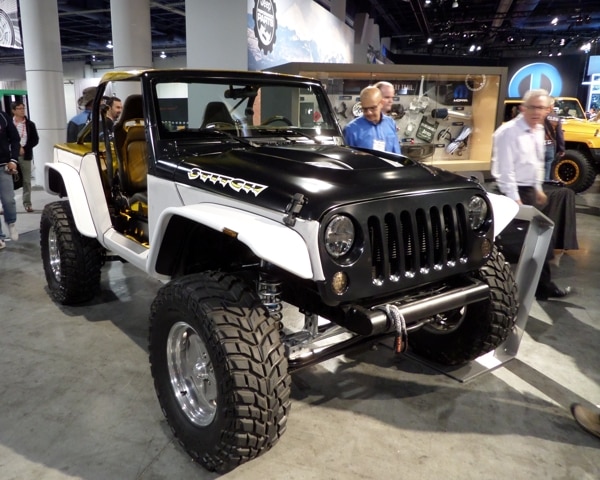 3. Jeep Wrangler Stitch
Extensive use of aluminum and carbon fiber along with the removal of various body sections and creature comforts give the Jeep Wrangler Stitch concept a power-to-weight ratio similar to that of a 470-horsepower Jeep Grand Cherokee SRT.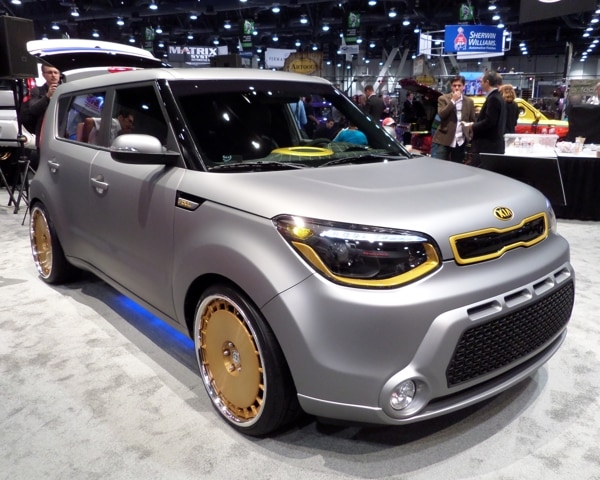 4. Music Memorabilia Kia Soul
One of five music-inspired Kia Souls to bow at this year's Sema Show, this Music Memorabilia rendition has been fitted with a guitar signed by Slash, a Jimi Hendrix gold album, a G-Unit sneaker signed by 50 Cent, and a microphone autographed by John Legend.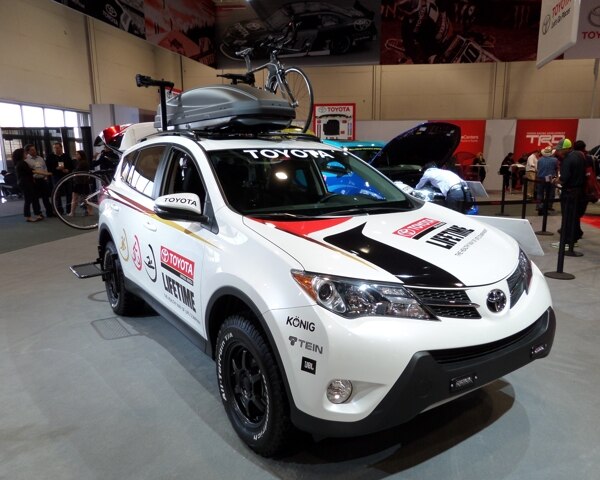 5. Lifetime Fitness Toyota RAV4
Designed for triathletes, the Lifetime Fitness RAV4 is equipped with a 5-gallon tank for hot water showers, a spin dryer, refrigerator, blender, supplemental storage compartments located in the cargo area, and a shiatsu massager for the driver's seat.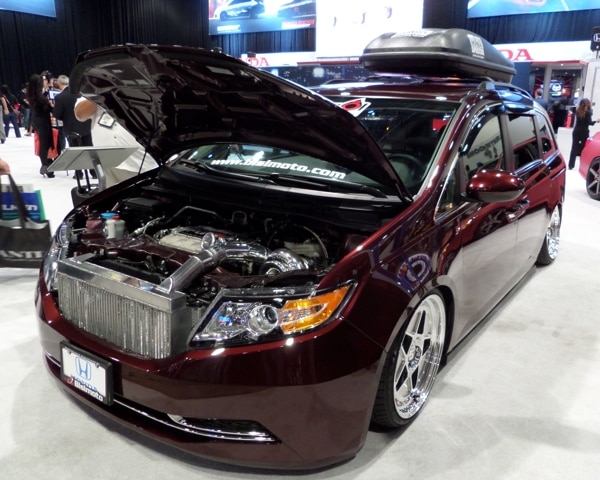 6. Bisimoto Honda Odyssey
Why did Bisimoto cram 1,029 horsepower into a minivan? Because they could. And, just like the off-the-shelf Odyssey, all power is directed to the front wheels. Can you say torque steer?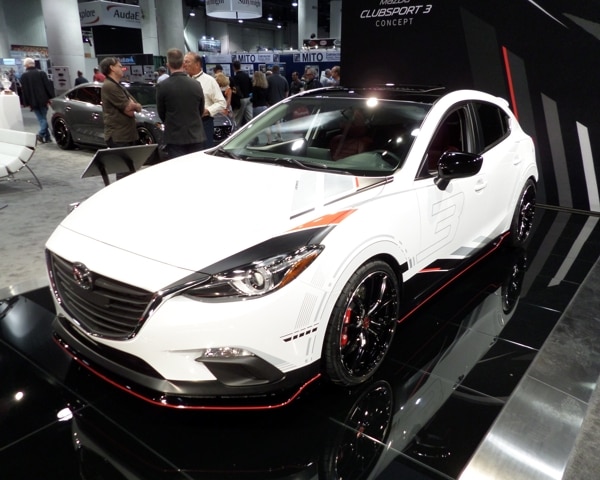 7. Mazda Clubsport 3
While its Wavetrac limited-slip differential, Cusco coilover suspension, and oversized Brembo brakes are strictly intended for demonstrational purposes, the Mazda Club Sport 3's aerodynamic bodywork comprised of front, rear, and side diffusers will be available worldwide later this year.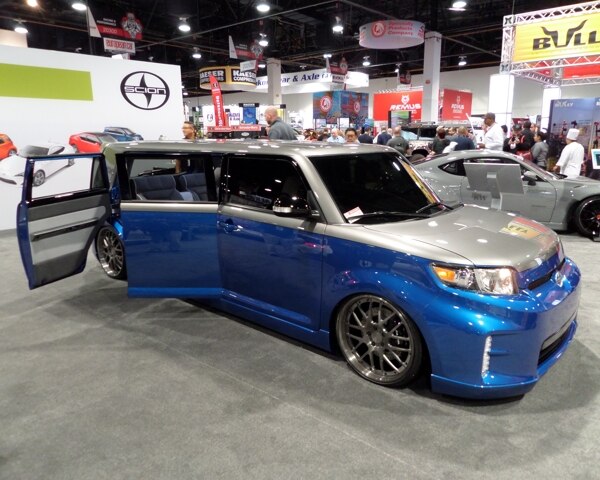 8. Strictly Business Cartel Scion xB
Boasting a stretched wheelbase, on-board Wi-Fi, an Apple Mac Mini computer, and a wireless keyboard and mouse, this one-of-a-kind Scion xB represents a modern interpretation of dedicated business coaches.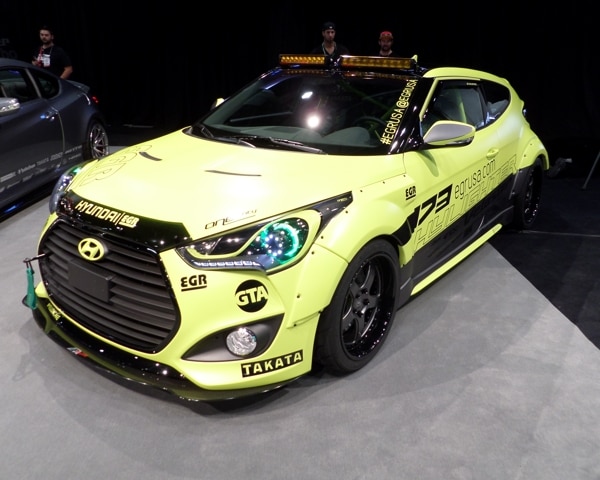 9. Hyundai "Yellowcake" Night Racer Veloster Turbo by EGR Group
Designed specifically for time attack races at night, the Yellowcake Veloster Turbo features a 49-horsepower increase over the standard version, a custom roll cage, a roof-mounted LED light bar, and, as you can plainly see, a high-visibility yellow paint scheme.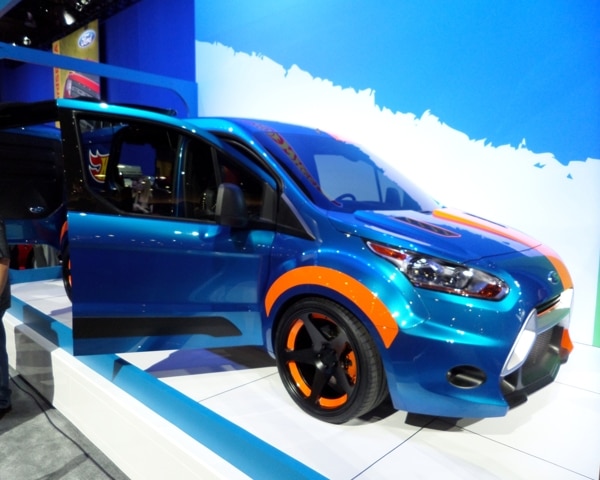 10. Ford Hot Wheels Transit Connect
Dubbed the "hot rod van," Ford's Hot Wheels-inspired Transit Connect brings about the outrageous side of utility by way of gullwing doors, a pair of 18-inch tablets, a 55-inch LCD TV, and an integrated Hot Wheels drag strip.
Ready for a dose of reality? Every year the Los Angeles Auto Show follows the SEMA Show a few weeks later and a few hundred miles west. This year's debuts include a redesigned Mini Cooper, a coupe version of the new Jaguar F-Type and the new Porsche Macan crossover. Your instant ticket from Vegas to LA is right here.