2017 Buick LaCrosse teased for Los Angeles Auto Show
by
Bob Nagy
|
September 22, 2015 12:43 PM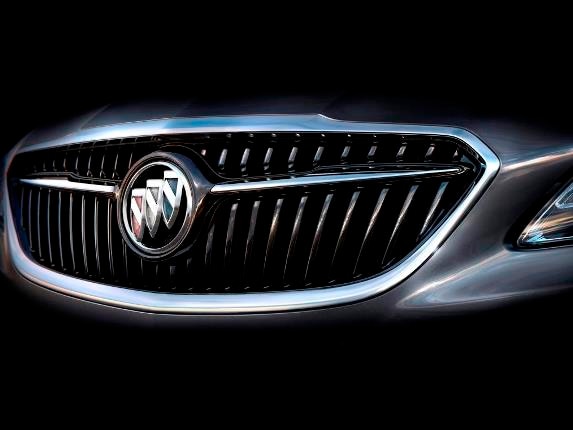 An all-new 2017 Buick LaCrosse will debut the Los Angeles Auto Show and initial teaser shows only the grille of Buick's next full-size sedan. The shape closely reprises the look of the striking Buick Avenir, a show car revealed last January in Detroit and inspired by the 1954 Buick Wildcat II Concept.
Also: Class of 2016 -- New Cars Ready to Roll
This new grille, which complements the classic Buick waterfall design with a new tri-color/tri-shield badge suspended on a full-width wing-shaped element, is said to "emphasize LaCrosse's new sculptural surfacing." It's part of the division's new design cues that will appear on all models by 2018. "The Avenir shattered expectations of what a Buick could be and the 2017 LaCrosse promises to do the same," said Duncan Aldred, vice president of Buick. "Its expressive design represents a break from convention and highlights the progressiveness in all new Buick models."
Also: Kelley Blue Book Best Buy Awards of 2015
While technical details are limited, Buick has confirmed the 2017 LaCross will be based on an all-new chassis - almost certain to be a variation on GM's new Omega II platform also found beneath the new Cadillac CT6 - that will make the upcoming LaCrosse both stronger and lighter than the existing model. With a more sophisticated suspension system and further advances in the division's Quiet Tuning technology, Buick intends to move the 2017 LaCrosse further upmarket, which entails major upgrades to its interior appointments and powertrain.
More Buick News...
The new 2016 Buick Cascada is the division's first convertible in the last 25 years
2016 Buick Enclave Tuscan Edition adds exclusive cosmetic and comfort touches
POPULAR AT KBB.COM