2016 Honda Ridgeline pickup teased
by
Bob Nagy
|
December 12, 2013 5:04 AM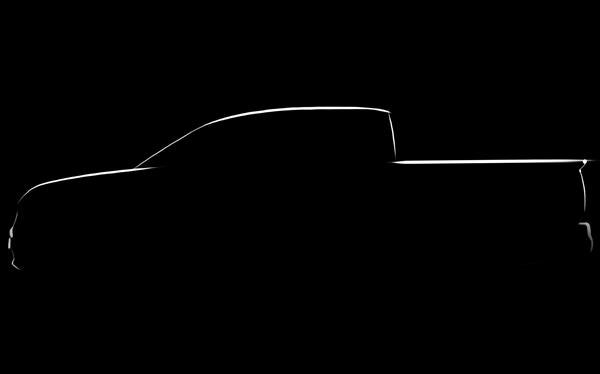 Although not yet ready to provide any details, Honda has released this initial sketch representing what it says embodies the "styling direction" of its next-generation Ridgeline pickup. As previously confirmed, the current Honda Ridgeline is scheduled to go out of production in the middle of 2014. This fully recast replacement will be arriving in showrooms "within two years."
Based on the shadowy silhouette illo, the next-gen Ridgeline appears to represent a more traditional take on the genre, particularly in the look of its upright C-pillar and bed shape. However, the less-boxy nose and more steeply raked windshield should pay significant dividends when it comes to optimizing overall aerodynamics. Like the current Ridgeline, this successor is being designed and styled by Honda R&D Americas, Inc. at its centers in Los Angeles and Ohio.
Built on a unitized platform - a design feature that is expected to carry over into the new iteration - the Ridgeline had seen its sales dip below 10,000 units in 2011 which led to speculation that Honda might consider dropping it from the lineup. But it made a comeback in 2012 and sales are up by 29 percent through the first 11 months of this year helped by the introduction of a new Ridgeline Special Edition model. However, execs promised it had a future and according to Michael Accavitti, senior vice president of automobile operations for American Honda Motor Co., Inc., it promises to be brighter than ever.
"The next generation Ridgeline will build on Honda's role in creating new value with a new take on advancing form and function in the truck segment," noted Accavitti. "With a clear path forward, Ridgeline will play an even more important role in our future product portfolio and strengthen an already class-leading lineup of light trucks."
More Pickups and SUVs...
The Ford Atlas Concept hints at what you'll see in the 2015 F-150 redesign
The 2014 Chevy Silverado/GMC Sierra 1500 pickups have earned NHTSA 5-star safety ratings
The Toyota Tundra gets a comprehensive mid-life revamp for 2014
Popular at KBB.com