2015 Audi A3: Entry Audi now shaped for America
by
Jason Allan
|
March 10, 2014 6:00 AM
New A3 trades hatchback versatility for sedan stardom
The Audi A3 hatchback has been something of a niche player in America since it first made its way to our shores for the 2006 model year, but that's about to change with the introduction of the all-new 2015 Audi A3. Not only is the new A3 a sedan -- the shape preferred by more American car buyers -- but with the recent introduction of the Mercedes-Benz CLA and planned BMW 1 Series sedan, the entry-level Audi will now be part of a more defined and growing segment.
We cover a lot of ground in the video above (or here), but the gist is that we like the new A3 quite a bit. It feels like a small Audi, not a cheap one, and even at its $30,000 base price it includes impressive levels of equipment and amenities.
We've always liked the A3, and even if we're a bit sad to see form trump function for the sake of broader appeal, we're also happy to see a good car on the verge of bigger success.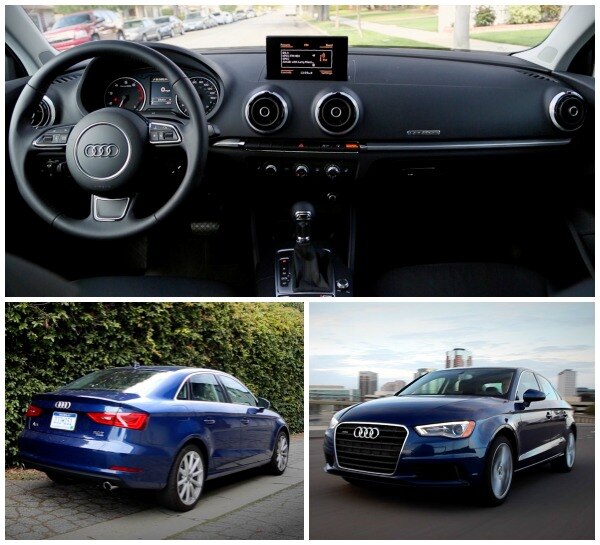 Small in a Good Way

More than just a fancy badge, taut lines and a premium interior, Audi's smallest sedan even drives like a luxury car. "The A3 is agile, but its suspension is never abusive," we observe in the video. In our written review we look at it from the other side: "Despite its stable, pleasant demeanor on the freeway, the A3 remains impressively agile in the corners."
The $30,000 Audi A3
At its starting sticker price of $29,900 plus destination, the 2015 Audi A3 has a turbocharged 1.8-liter, 170-horsepower engine, 7-speed dual-clutch automatic transmission, front-wheel drive, leather seats, panoramic moonroof, Bluetooth connectivity and a retractable 7-inch display with Audi MMI control. Audi is hoping to attract mainstream midsize sedan shoppers with the rethought A3 -- a loaded Honda Accord or Toyota Camry can climb into the low $30,000 range -- and its impressive list of standard features helps.
And the $45,000 Audi A3
A fully loaded 2015 Audi A3 tops out around $45,000 with a more powerful 220-horsepower turbocharged 4-cylinder engine, Quattro all-wheel drive, navigation with voice control and handwriting recognition, higher-resolution retractable display, remote-sensing unlock and start, dual-zone automatic climate control, heated front seats, adaptive cruise control, 705-watt Bang & Olufsen audio system (sorry, no rectractable tweeters like in some other Audi vehicles) and USB device connectivity.
Apples to Apples: Audi A3 vs Mercedes-Benz CLA
The Audi A3 and Mercedes-Benz CLA are the clearest competitors in this nascent segment, right down to their identical starting prices: $29,900. At that price, the CLA offers more horsepower (208 vs. 170), while the A3 boasts a panoramic moonroof and real leather seats.
Best Under $40,000?
Will the 2015 Audi A3 make our next list of the 10 Best Luxury Cars Under $40,000? It's too soon to say for sure, but after our first week in the car we like its chances.
More to Come

If you like the 2015 Audi A3 but were looking for more power, greater efficiency or less roof, you'll only have to wait a few months. In August the A3 lineup is set to grow to include an A3 TDI diesel, a 296-horsepower, sport-tuned S3 variant and a two-door, soft-top A3 Cabriolet. And if you want more flexibility, look for the all-new Q3 SUV around the same time. If you like efficiency of the electric variety, the A3 plug-in hybrid is currently set to arrive in March of 2015.
Build and Price
Is a $30,000 A3 enough for you, or do you need all the extras of a $45,000 model? Maybe something in between? Build and price your own 2015 Audi A3 to find out.
2015 Audi A3 Gallery