11 Most Useful In-Car Technologies
by
Zach Vlasuk
|
September 3, 2015 12:53 PM
The future keeps getting more affordable
Underneath the sea of acronyms, ambiguous descriptions and confusing marketing messages lies the true essence of in-vehicle infotainment and electronics: Better living through technology. But keeping up to speed on the most recent advancements in consumer technology can be exhausting, particularly in the automotive realm. To help cut through the clutter, we've detailed the latest and greatest tech features designed to make your driving experience more fun, safe and efficient. And whether you're an early adopter or a staunch holdout, in-vehicle tech will almost certainly play a key role in your next vehicle purchase. Not only that, but the trickle-down effect applies to technology in all its forms, meaning the majority of features listed below are available on new vehicles costing less than $25,000.
1. Apple CarPlay and Android Auto
Availability: Select GM, Kia, Hyundai, Audi, Mercedes-Benz, Volkswagen and Honda models (limited availability for 2015/2016 model-year vehicles)
Apple and Google, in partnership with automotive software developers, have proven once again that the simplest solution is usually the best one. Since the dawn of the smartphone age, drivers have been wondering, "Why can't my car's multimedia interface simply imitate that of my phone?" Now it can. Simply plug in your phone via a USB cable (wireless functionality is on the way) and voilà! The digital interface with which you're most familiar is now accessible through your vehicle's audio display. As you might expect, the layout is optimized for automotive use, meaning both CarPlay and Android Auto employ large, easily discernable icons, a heavy reliance on voice control and, because playing Candy Crush Saga at 70 mph is a recipe for disaster, access only to apps deemed appropriate for use behind the wheel.
In terms of content, fans of either system can use third-party apps like Spotify, iHeartRadio and Stitcher, along with helpful native features like hands-free text messaging and directions. Speaking of the latter, navigation services are determined by your phone's operating system (CarPlay uses Apple Maps, Android Auto uses Google Maps). If you're not in the market for a new vehicle, the aftermarket offers in-dash CarPlay and/or Android Auto solutions for about $700. Perhaps best of all is the fact that, like your smartphone, both systems are updateable. In other words, Android Auto and Apple CarPlay might just be the future-proof infotainment systems we've all been waiting for.
2. Expanded Bluetooth
Availability: Most subcompact cars and up
While Bluetooth has become synonymous with hands-free calling, this short-range wireless technology has a lot more to offer in the way of smartphone connectivity. If you own an Android, Blackberry or Windows phone, chances are your device contains the Bluetooth specification called the Message Access Profile. MAP, as it's commonly known, lets you compose and send text messages from a list of customizable canned responses or, in some cases, allows for on-the-fly messages through the use of off-board voice recognition (a dedicated Internet server that converts your words into text). Apple users can leverage their iPhone's virtual assistant through the factory- or dealer-installed Siri Eyes Free feature, which can be activated through the voice recognition button located on the steering wheel. When called into action, Siri Eyes Free lets you send and receive text messages, make phone calls, select and play music, set reminders and access Apple maps for spoken turn-by-turn directions.
Virtually all vehicles fitted with Bluetooth bundle hands-free phone capability with a music streaming function. This type of connection lets you stream any form of audio from a Bluetooth-enabled device through the vehicle's sound system. As a bonus, Bluetooth audio can be controlled through the vehicle's original audio controls, so there's no need to fiddle with your phone when it's time to switch tracks. The music streaming feature also shows the current track, album and artist info on your vehicle's audio display.
3. USB Ports
Availability: Most subcompact cars and up
USB ports are a great way to charge accessories and listen to music through audio devices without a wireless function, such as older iPods, USB flash drives and maybe the Microsoft Zune. USB audio also offers several advantages over Bluetooth. For instance, Bluetooth compresses audio signals so as to transmit data wirelessly, degrading sound quality. Conversely, USB transfers music from your device to the audio system at a lossless rate, resulting in unaffected sound quality. And, until automakers adopt the Bluetooth specification known as AVRC 1.4, USB is the only means of browsing your music via the vehicle's audio display.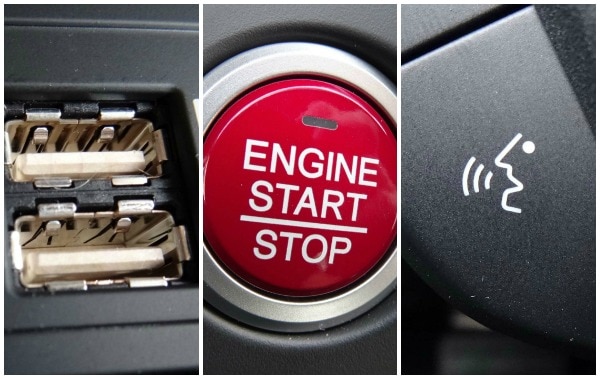 4. Keyless Access and Start
Availability: Select subcompacts, most compact cars and up
You've got better things to do than dig around in your pockets or purse for the keys. Keyless access utilizes radio signals to wirelessly communicate with your key fob when it comes within close proximity of your vehicle. Using a button or touch sensor on the door handle, you can lock and unlock your car without ever removing the key fob from your pocket or bag. These encrypted radio signals disengage the vehicle's theft immobilizer as well, allowing you to start the vehicle with the push of a button.
5. App Integration
Availability: Select subcompact cars and up
Smartphone users prefer to be connected to their content at all times. Most automakers took note of this rising demand for connectivity on the go and responded by offering in-vehicle access to a number of popular mobile apps. Most infotainment systems on the market leverage the user's smartphone data connection, while the remainder draw on an embedded cellular modem to send and receive data. The latter carries a monthly service fee of roughly $30 - $40 per month. "Piggyback" systems from Chevrolet, Toyota, Lexus, Mazda and Honda leverage your smartphone's data plan for app connectivity, and thus do not carry supplemental service charges. In terms of available product, common apps across most carlines include Pandora radio, Bing Local Search, Stitcher Radio, The Weather Channel, Movietickets.com, OpenTable, Aha Radio and Glympse location sharing.
6. Natural Speech Voice Recognition
Availability: Most compact cars and up equipped with navigation and/or Android Auto and CarPlay
Interacting with first-generation voice-recognition software was an exercise in frustration. Luckily, many of today's navigation systems incorporate advanced voice recognition processors that take the guesswork out of verbal requests. Whereas earlier systems would respond only to preset commands, conversational voice recognition can acknowledge a number of unique requests. Have a look at the example below for a clearer picture:
Basic VR Command: "Tune to SiriusXM channel 36"
Advanced VR Commands: "SiriusXM 36," "Let's hear satellite channel 36," "Switch to channel 36" or "Go back to satellite 36."
Another handy feature packaged together with most advanced voice recognition systems goes by the name of one-shot destination entry. Rather than following a series of voice prompts for the city, state, and house number search fields, one-shot allows you to speak an entire address at once. And, thanks to its less-distracting nature, automakers permit one-shot destination entries while the vehicle is in motion.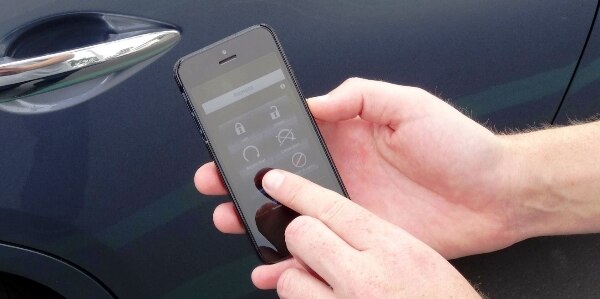 7. Remote Vehicle Management
Availability: Select GM, Chrysler, Volvo, Mercedes-Benz, BMW and Hyundai models
Ever wish you could monitor and control essential vehicle functions through your smartphone? With remote vehicle control, now you can. After downloading the appropriate application from the App Store or Google Play, you have the power to lock, unlock and start your vehicle from virtually anywhere. Some systems even let you control climate settings, view pertinent diagnostic data like fuel/charge levels and transfer a business listing or address directly to your car's navigation system.
8. Blind Spot Monitoring and Cross Traffic Alert
Availability: Select compact cars and up
Studies indicate blind spots are responsible for hundreds of thousands of accidents in the U.S. each year. In an effort to stop this epidemic in its tracks, many of today's new cars now offer a sensor-based system designed to alert you to vehicles in your blind spot with either a lighted icon located in the side mirror, an aural warning or both. Most blind spot monitors also incorporate a rear cross traffic alert function, which warns the driver of impending traffic while backing out of a parking spot. In some upmarket vehicles, rear cross traffic systems will automatically apply the brakes when a possible collision is detected.
9. Lane Keeping Assists
Availability: Most midsize sedans/compact SUVs and up
Lane keeping assist is a technology that recognizes painted lines or reflectors on the road to alert drivers to unintentional lane changes by means of visual, aural or tactile warnings. Systems found in recently updated Acura, Mercedes-Benz and Audi models take lane departure mitigation to the next level with corrective action. If you drift out of your lane without signaling, the system will gently tug the steering wheel and guide the car back into the center of the lane.
10. Embedded Telematics
Availability: Select midsize sedans/compact SUVs and up
As we mentioned earlier, there are telematics systems that leverage a smartphone's data connection and others with data connections built into the vehicle. If you currently own a smartphone, outfitting your next vehicle with an infotainment system that piggybacks off your phone's data plan will carry a lower operating cost than an integrated system with a built-in cellular modem that requires a separate data plan. On the other hand, technology holdouts who sneer at the complexity of smartphones will likely appreciate the simplicity of an embedded telematics system. With such helpful features as automatic crash response, stolen vehicle notification, live concierge services and roadside assistance, we'd go as far to say that embedded telematics is the automotive equivalent of a guardian angel. Plus, most new vehicles equipped with integrated telematics offer a lengthy trial period, which means you have plenty of time to determine whether the service costs outweigh the benefits.
11. Adaptive Cruise Control and Pre-Collision Systems
Availability: Select midsize sedans/compact SUVs and up
Taking to heart the old adage of "the best accident is the one you never have," today's pre-collision systems are considered by many to represent the most significant development in automotive safety technology since the airbag. Through the use of millimeter wave radar or more cost effective stereoscopic cameras, pre-collision systems constantly observe the vehicle's surroundings for potential hazards. When an obstruction is identified, the system will alert the driver via an audible or visual warning, depending on the vehicle type. More advanced versions can actually apply the brakes for you if the system determines a collision is unavoidable.
Which brings us to what is arguably our favorite tech feature on this list: Adaptive cruise control. Making use of these same stereoscopic cameras and radar sensors, adaptive cruise control maintains a driver-selected speed and following distance from the vehicle ahead. If the car in front of you begins to slow, the system will reduce power and/or apply the brakes until the preset gap is restored. When the coast is clear, the system will return the vehicle to the preselected cruising speed. While mainstream iterations of adaptive cruise control generally operate within parameters of 25 mph to 90 mph, a growing number of luxury vehicles employ a more sophisticated version dubbed full-range adaptive cruise control that works in stop-and-go traffic. The days of autonomous driving are upon us.