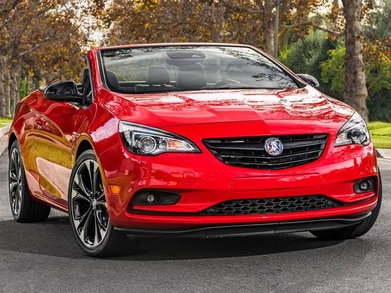 Combined Fuel Economy
24 MPG
Pros
Blue sky. Your favorite road, maybe it's along the coast or through farm country past red barns and grazing horses. Top down. Wind in your hair. Sun on your face. Life, work, the city, it's all in your rearview mirror. If this sounds good, you'll like the 2018 Buick Cascada.
Cons
If an all-wheel-drive (AWD) convertible is on your wish list, Buick does not have what you're looking for; the Cascada is only available with front-wheel drive (FWD). BMW and Audi, however, offer AWD on the 2 Series and the A3 Cabriolet. Those looking for razor-sharp handling will likely be happier in the BMW or Audi as well.
What's New For 2018
For 2018, Buick hasn't messed with success. Improvements to the Cascada are limited to a few new colors including Darkmoon Blue Metallic. Also, the popular Dark Effects Package is now available on two more exterior colors in addition to Sport Red.
Read less
2018 Buick Cascada Pricing
Get Kelley Blue Book® Pricing
See how style, options and other factors can impact pricing in your area.
2018 Buick Cascada Expert Review
A stylish 4-passenger convertible, the 2018 Buick Cascada is a sporty and luxurious ride for sun-worshipers looking for some fresh air. Buick's first convertible in 25 years competes with the BMW 2 Series, Audi A3 as well as soft-top versions of the Ford Mustang and Chevy Camaro. The front-wheel-drive Cascada is powered by a 1.6-liter turbocharged 4-cylinder engine making 200 horsepower, which is less than you'll find in a BMW 230i but it out-muscles the standard engine in the Audi. The Buick beats them both on price. Three trim levels are available, the base, Premium and Sport Touring with prices starting around $34,000. That's about $7,000 less than the BMW and about $4,000 under the Audi. Standard equipment includes a 6-speed automatic transmission, 20-inch aluminum wheels, onboard Wi-Fi and a power top, which opens in 17 seconds.
Driving the 2018 Buick Cascada
This is the perfect car for that lazy Sunday drive up the coast. With top down you can feel the sun on your face, hear the waves crashing into the sand and smell the salty sea air. The 2018 Buick Cascada is sporty, but it isn't a sports car. It's a cruiser, not a bruiser. At 4,000 pounds, the 200-horsepower convertible is adequately spunky, delivering good acceleration with only the faintest hint of turbo lag. Its 6-speed automatic transmission isn't exactly state-of-the-art, but its gear changes are smooth. Still, the Buick is slower than its rivals with a 0-60-mph time of over 8.0 seconds. We also wouldn't pit it against a BMW 2 Series in the corners, despite its standard 20-inch wheels and tires. But the roomy and comfortable Buick Cascada is a fantastic Sunday drive companion, with a smooth ride, a rigid structure and lightly weighted and responsive steering.
Favorite Features
AUTOMATIC ROLL-OVER POP-UP BARS
Some buyers shy away from convertibles because they worry about safety in a roll-over accident. Buick has addressed this with hidden spring-loaded, pyrotechnically activated rollbars behind the rear seats. Linked to the car's airbag system, when deployed the rollbars, which are made of high-strength steel, extend approximately 14 inches to match the height of the windshield and protect the car's occupants.

DRIVER CONFIDENCE PACKAGE
Although optional on the base model, this safety-focused package is standard on the Cascada Premium and Sport Touring models. It adds Forward Collision Alert, Lane Departure Warning, Front and Rear Park Assist, rain-sensing windshield wipers and automatic high-beam control. An adaptive-cruise-control system is not offered on the Cascada.

2018 Buick Cascada Interior
Impressively roomy for a drop-top this size, the 2018 Buick Cascada can seat four average-size adults. Seat comfort is high, and the rest of the interior is well finished and nicely detailed. Unfortunately there are a few dated design details like a bazillion buttons on the dash and a smallish infotainment screen. Buick's signature Quiet Tuning is evident with the top up, and sound levels and wind buffeting remain commendably low even when the Cascada is running in al fresco mode. However, flipping its lid does trim the car's generous 13.4-cubic-foot trunk capacity to a still-serviceable 9.8 cubic feet.
2018 Buick Cascada Exterior
This is not a small car. At 184.9 inches long, the 2018 Buick Cascada is 10 inches longer than a BMW 2 Series. The Buick is also several inches wider than the BMW. But the Cascada wears its size well, with a radically raked windshield, nicely flared wheel arches and a stubby well-tapered proboscis. Certainly the Buick looks best with its fabric top stowed away underneath the cleanly designed hard boot, but its curb appeal isn't completely sabotaged with it up either. In fact, the Cascada looks downright sexy with its top up but its four windows rolled down, giving the Buick a classic hardtop profile.
2018 Buick Cascada Standard Features
To enhance the new Buick Cascada's appeal, both base and the Premium variants come with a bounty of up-line features that complement the excellent soft top, and a full range of power assists. Highlighting that formidable roster are auto-controlled high-intensity headlights, heat-reflective leather upholstery, a heated steering wheel and seats, Buick's IntelliLink system with a 7.0-inch color display, OnStar with 4G LTE and Wi-Fi hotspot, Siri Eyes Free for iOS phones, a navigation system, dual-zone climate control, a rearview camera, Rear Park Assist, electric seatbelt presenters, dual 12V powerpoints, and spring-loaded/pyrotechnically activated pop-up roll-over bars behind the rear seat linked to the car's seatbelt system.
2018 Buick Cascada Options
Options are a relatively rare commodity on the 2018 Cascada. Save for a few extra-cost exterior colors, all versions of the Cascada convertible are mono-spec offerings. The only upgrades included on the Cascada Premium and Sport Touring models add Forward Collision Alert, Lane Departure Warning, front as well as rear Park Assist, tunnel detection for the automatic-headlight control, Rainsense automatic wipers, front/rear air deflectors, and a unique "diamond-graphic" finish on the wheels on the Premium and a Sterling Silver finish on the Sport Touring. The popular Dark Effects Package adds dark exterior trim, red interior stitching and piano-black interior trim.
2018 Buick Cascada Engine
There's just one powertrain for all three variants of the 2018 Buick Cascada: a 1.6-liter turbocharged 4-cylinder that drives the front wheels through a 6-speed automatic transmission. Part of GM's new-generation Ecotec family, this free-revving four boasts direct injection and continuously variable-valve timing that help it turn out 200 horsepower -- a heady 125 horsepower per liter. It also develops 207 lb-ft of torque from 1,800-4,500 rpm, which can be cranked up to 221 lb-ft in 10-second bursts thanks to an overboost function. A remapping of throttle response also helps enhance the car's pleasantly brisk acceleration. The modest downside to that enthusiasm is fuel economy. With EPA ratings of 20/27 city/highway mpg, the Cascada falls well shy of best in class.

1.6-liter turbocharged inline-4
200 horsepower @ 5,500 rpm
207 lb-ft of torque @ 1,800-4,500 rpm (221 lb-ft @ 2,200-4,000 rpm w/overboost)
EPA city/highway fuel economy: 21/29 mpg
How Much Does the 2018 Buick Cascada Cost?
The 2018 Buick Cascada in base 1SV trim has a Manufacturer's Suggested Retail Price (MSRP) just under $34,000, while the Premium model with its active/passive driver assists opens at the slightest nudge under $37,000. The Sport Touring adds another $1,000 to the bottom line. The Premium's price is roughly where the Audi A3 and BMW 2 Series convertibles commence and while domestic drop-top alternatives like the Ford Mustang and Chevy Camaro start lower, neither of those models includes standards like leather, power seats and navigation, items that further burnish the Cascada's overall value story. Before you set out to purchase, be sure to check KBB's Fair Purchase Price to see what others are paying for the 2018 Buick Cascada in your area. We expect the Cascada to hold average values a few points below the BMW 2 Series and Ford Mustang, but on par with the Audi A3 Cabriolet.
Read less
2018 Buick Cascada Consumer Reviews
---
Robert
07/14/2018
2016 Buick Cascada
"terrific fun car2 drive.convertible top excellent"
great car for the money, very enjoyable to drive
Nav updates n a larger screen.. push button start
ragtop material is excellent , also the mechanics of it excellent. Terrific radio even with the top down.handles like a euro car, great suspension.great drive for the money.
---
freedomhouston
05/30/2018
2016 Buick Cascada
"Same lux as a BMW - Best affordable convertible"
Exterior Look, and all features included, Rims 19+
Handle Radio its tricky cause of the touch screen
When I drive it most of the people give me thumbs up on the street when the roof is down, they say it looks like a Mbenz from the front and BMW series 7 from the Back, its really awesome!!! it gives 310 miles per tank, (23 mpg)
---
mghurle
04/11/2017
2016 Buick Cascada
"This isnt a Roadmaster or Park Avenue..."
Unique. Smiles for miles. An Opel!
Park with room to open the barn doors!
After seeing this model sitting at my local Buick dealer all winter, I finally made the effort to LOOK at this car and made a great last-of-the-month deal! I had read everything I could about the car, including the gripes and complaints of the car reviewers, versus what the actual owners were saying. Because of this disparity, Im actually doing a review to maybe help someone else. First off, if you can remember the Pontiac G6, or Volkswagen Eos, youre looking at an updated version, of their driving experience. The Cascada isnt some light
aluminum thing, and those heavy doors will shut (not close!) with a THUNK. I read about the shaking and vibration of the cowl on some sites, and then the lack of movement on others. Mine doesnt shake or rattle, top up or down. Now, about the buttons... Yes, there are alot. Kinda like a Saab, theyre there and they do have a purpose. One good thing, you can use a button on the dash, push a button on the navigation screen, or maybe use the steering wheel controls. Usually, youve got three ways to make one entry, its just what youre used to. In one day, I got used to using them, and dont have to think about it. The seats are great! Support in the right places, and yeah, whatever theyre putting on the seats doesnt have them hot in the sun. If you touch the vinyl on the sides, versus the leather youll see the difference! Fit and finish are good, and keep in mind that this car is going to have its insides exposed to the sun. Yes, there is hard vinyl that has to stand up to the elements. If you want soft supple leather everywhere, skip the Cascada and buy a Lacrosse. I took a road trip last weekend, and averaged 29.2mpg with a steady 80mph cruise control setting. In town, Im averaging 26.2mpg, and dont believe in easing up on the gas pedal. Acceleration is good, and will keep up with traffic. Not sure about the moaning about the acceleration is about? I can merge easy on the interstate and hit 60-65 without breaking a sweat. The one negative I did encounter is the insurance. It was quite higher than my Passat or F150. Not sure why? Driving the Cascade gives you a smile. End of story.
Read less
---
PAUL
03/19/2017
2017 Buick Cascada
---
Tom
01/14/2017
2016 Buick Cascada
Fun to drive, lots of useful features, affordable
Front wheel drive vs all weel drive
I saw the Buick Cascada advertised during the Super Bowl last year. Liked its look, so I went to a Buick dealer to check it out and if possible test drive one. There was only one dealer who had one available, and they agreed to the test drive. Right after the test drive I ordered a fully equipped Cascada. By ordering I was able to get exactly what I wanted; the exterior color,(flip chip silver metallic, the wheel style and the interior color (light neutral). Everything else was standard. Took three month to get the Cascada, it is manufactured b
y the German automaker Opel. Once it arrived, it looked better than I remembered, and from the very first day, I enjoy driving the car more and more each day. The major features have been addressed by previous reviews, so I am not going to revisit, but I would like to address the poor visibility with the top up comment. By spending a bit of time adjusting the side and rear view mirrors a poor visibility can be overcome. Because of the curvature of the side view mirrors, once adjusted correctly, almost half of the road behind you together with what's next to you is visible in each side view mirror. There are numerous other small, but well thought out features that I came to appreciate. As an example, all the gages are back lit, but the pointer or needle of the gauges acts as a fiber optic device and projects a red dot on the scale of the gauge making it easy to read at dusk. An other feature that I like is that you can have the navigation instructions displayed on the small screen between the gauges, thus leaving the large touch screen available for other uses. Yes the display is small so there is no map, but your next turn and instructions are displayed together with a decreasing bar chart indicating how close you are to the turn. In conclusion I would like to say that I am very happy with the Buick Cascada, it handles extremely well (sure footed); it is solid and has more than enough acceleration when needed. The fun factor of driving a great looking convertible is a given.
Read less
---
2018 Buick Cascada Specs & Features
Based on lowest-priced style.
Technology
Bluetooth Wireless Technology

Cruise Control

Hands Free Phone

Navigation System

Remote Keyless Entry

Telematics / Communication Brand - IntelliLink

Telematics / Communication Brand - OnStar

Telematics / Communication Brand - OnStar

Telematics / Communication Systems

Internet Access

Remote Engine Start

Smartphone Interface

Touch Screen Monitor

USB Port
Entertainment
AM/FM Radio

MP3 Player

Satellite Radio

Auxiliary Input Jack

Bluetooth Streaming Audio

CD Player

Front DVD Entertainment System
Seating
Folding Rear Seat

Dual Power Front Seats

Dual Power Lumbar Support Front Seats

Heated Front Seats

Leather Seats

Power Driver's Lumbar Support Seat

Power Driver's Seat

Power Passenger's Seat
Comfort & Convenience
Front Air Conditioning

Auto-Dimming Interior Mirror

Automatic Air Conditioning

Dual-Zone Automatic Air Conditioning

Heated Steering Wheel
Fuel Economy
EPA City - 21 mpg

EPA Class - Sub Compact Cars

EPA Hwy - 29 mpg

EPA Combined - 24 mpg
Performance
Horsepower - 200 hp

Horsepower RPM - 5500 rpm

Stroke - 3.20 inches

Torque - 207 foot pounds

Torque RPM - 1800 rpm
Interior
Leather-Wrapped Steering Wheel

Rear Window Defroster

12V Power Outlet

Power Outlet

Steering Wheel Controls

Tilt Steering Wheel

Tilt/Telescoping Steering Wheel
Exterior
Alloy Wheels

Automatic Headlights

Conventional Spare

Heated Mirrors

HID Headlights

Number of Doors - 2 doors

Power Mirrors

Spare Tire Type - Conventional

Tires / Wheel Size - P245/40R20

Wheel Type - Alloy

Sidewall Description - BSW

Automatic Leveling Headlights

LED Daytime Running Lights

LED Tail Lights

Power Retractable Soft Top
Warranty
Basic Miles - 50000 miles

Basic Years - 4 years

Corrosion/Rust Through Miles - 50000 miles

Corrosion/Rust Through Years - 4 years

Powertrain Miles - 70000 miles

Powertrain Years - 6 years

Roadside Assistance Miles - 70000 miles

Roadside Assistance Years - 6 years

Scheduled Maintenance Miles - 24000 miles

Scheduled Maintenance Years - 2 years
Mechanical
Alternator Amps - 140 amps

Axle Ratio - 3.53

Brakes: Front - Disc

Brakes: Rear - Disc

Braking System - Anti-Lock

Drivetrain - FWD

Engine Type - Gas

Engine Sub-Type - Turbo

Power Steering

Transmission Type - Automatic

Cylinders - 4 cylinders

Displacement - 1.6 liter

Bore - 3.11 inches

Compression Ratio - 9.5

Fuel Induction - Direct Injection

Total no. valves - 16 valves

Valve Train - Dual Overhead Cam

Engine Configuration - Inline

# of Speeds - 6 speed

Overdrive - w/Overdrive

CID - 98 cubic inches

CCAs (Cold Cranking Amps) - 801 amps

Recommended Fuel - Regular

4-Wheel Disc Brakes

Anti-Lock Brakes

Parking Assist System
Dimensions, Weights & Capacities
Curb Weight - 3979 pounds

Fuel Capacity - 14.3 gallons

Head Room: Front - 37.8 inches

Head Room: Rear - 36.1 inches

Height - 56.8 inches

Leg Room: Front - 42.2 inches

Leg Room: Rear - 32.8 inches

Max Seating Capacity - 4

Overall Length - 184.9 inches

Standard Seating Capacity - 4 passenger

Trunk or Cargo Capacity - 9.8 cubic feet

Turning Diameter - 38.7 feet

Wheel Base - 106.1 inches

Width with mirrors - 79.5 inches

Width without mirrors - 72.4 inches
See less
2018 Buick Cascada Safety
Provided by the National Highway Traffic Safety Administration
2018 Buick Cascada Safety Technology
Driver Airbag

Passenger Airbag

Stability Control

Traction Control

Driver Knee Airbag

Emergency & Security Services

Front Knee Airbag

Front Side Airbag

Rear Parking Sensors

Rear View Camera