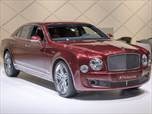 2015 sees the introduction of the Bentley Mulsanne Speed, which offers more power, sportier suspension tuning and its own exterior and interior aesthetics. The standard model also benefits from engine and transmission enhancements for a more refined driving experience.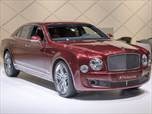 The 2014 Mulsanne receives updates to its rear-passenger area that include airline-style headrests, new footrests and seat cushions, and window curtains in place of the previous window shades. A new, U.K.-made entertainment package with in-car Wi-Fi also joins the feature list.
About Bentley Mulsanne
As Bentley's flagship sedan, the 2015 Mulsanne is one of the most opulent and expensive vehicles money can buy. To do that you'll need at least $310,000 lying around or just opt to sell your house. If the latter is the case, the Bentley might be an upgrade. Dressed in the finest furnishings, the Mulsanne's interior drips of opulence, while its majestic exterior size announces the arrival of royalty. Powering this 3-ton behemoth is an equally prodigious V8 engine that creates locomotive-type thrust. The new Mulsanne Speed model has sportier ambitions, but like its Rolls-Royce rivals this British ultra-luxury vehicle's best asset is its ability to pamper passengers. Other sedans offer more technology for less money, but they can't match the panache of the Bentley badge.