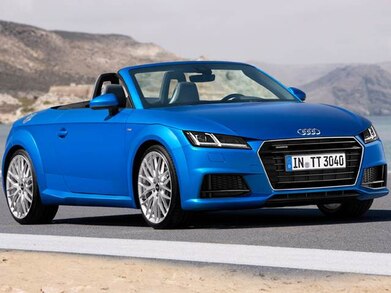 Combined Fuel Economy
26 MPG
Pros
From the base coupe to the TTS convertible, to the new TT RS coupe, the Audi TT offers a unique blend of style, technology and all-wheel drive. With a starting price in the mid-$40,000 range, you could even call it a sensible choice for a luxury-sports car.
Cons
The Audi TT doesn't come with rear-wheel drive, nor does it offer a manual transmission, which could kill the deal for some enthusiasts. If that's you, the 4 Series and Porsche Cayman and Boxster come with manual transmissions, as does the Chevrolet Corvette if you're willing to make the financial stretch.
What's New For 2018
The big news for 2018 is the new Audi TT RS. Available as a coupe only, this high-performance TT variant packs a turbocharged 5-cylinder engine that makes 400 horsepower. Base TT coupe and roadster models get standard parking sensors, and an updated technology package now includes a 12-speaker Bang & Olufsen audio system. A new S-line competition package adds high-gloss interior trim, brushed aluminum doorsills and other visual goodies.
Read less
2018 Audi TT Pricing
Get Kelley Blue Book® Pricing
See how style, options and other factors can impact pricing in your area.
2018 Audi TT Expert Review
The 2018 Audi TT is a counterpunch to sporty coupes and convertibles like the BMW Z4, Infiniti Q60 and Porsche Cayman and Boxster. Like virtually everything Audi makes, the 2018 TT seamlessly blends its performance, style and luxury, never favoring one aspect of its personality over the other. Under the hood is a superb 2.0-liter 4-cylinder engine, putting out 220 horsepower in the TT, 292 in the TTS, or a scorching 400 in the TT RS. Add in Audi's excellent quattro all-wheel-drive system and high-tech features like the so-cool "virtual cockpit," and you have a car that encapsulates 21st-century driving. It's brilliant fun at its limits, but it's also practical, with generous front-seat room and plenty of cargo space in coupe models, too.
Driving the 2018 Audi TT
Audi says it committed to making a pure sports car for this 3rd-generation TT, even going so far as to call it a "baby brother" to the vaunted Audi R8 exotic. That, to be honest, is a stretch, but there's no doubt that the 2018 Audi TT and 2018 TTS have the performance and handling chops to take on its rivals from Porsche and BMW. The way the Audi quattro all-wheel-drive system sends the 220 horsepower from the 2.0-liter 4-cylinder engine to the ground is like adding gravity, keeping the car pinned in hairpin turns and high-speed sweepers. There's no lack of power; the TT coupe gets to 60 mph in about 5.3 seconds, and the TTS gets there in s 4.6. Yet, despite all this sports-car talk, the TT and TTS remain surprisingly livable in quiet and relaxed driving. The new, super performance TT RS, however, does bring Audi's coupe closer in spirit to the R8. Its unique turbocharged 5-cylinder is like nothing else out there, in both performance and even the sounds it makes. In a word, it's intoxicating. This is a serious performance machine, obliterating the 60 mph barrier in just 3.6 seconds on its way up to 174 mph if you opt for the Dynamics plus power. As is the story with the TT in general, the RS' straight-line performance merely complements its talent in the cornering department.
Favorite Features
VIRTUAL COCKPIT
This is a must-have feature on a new Audi. It replaces the physical gauges with a 12.3-inch digital display running at 60 frames per second, powered by an NVIDIA quad-core computer processor. The upshot is that you get a flicker-free experience, with multiple levels of information available right in front of you.

QUATTRO
Audi didn't invent all-wheel drive, but its quattro system is so intrinsic to the brand's DNA that you could be forgiven for thinking it had. Proven on rally cars around the world, the system not only improves grip on slick roads, but on dry roads as well.
2018 Audi TT Interior
The air vents in the 2018 Audi TT cabin don't just aim the air. The elegant design incorporates the controls as well, showing the climate readout in the vent dial, and using the housing to control adjust temperature, seat heat and more. That kind of simplicity and elegance permeates the TT's cabin, whether it's the vents, the Virtual Cockpit, or the excellent ergonomics and comfortable front seats. It's an excellent experience for the driver and front passenger, but the coupe's rear seats aren't really fit for people. Better to fold and forget them. We wish the TT's sun visors offered more adjustments.
2018 Audi TT Exterior
The 1st-generation TT boasted an "upside-down bathtub" shape, most of which is gone on the newest version, with the rounded wheel arches and central exhaust the only vestiges of that iconic styling. However, the TT coupe and convertible are still distinctive cars. The hatch on the coupe models blends neatly into the tail, while the roadster's fabric roof opens and closes in 10 seconds, at speeds up to 31 mph. The squat and muscular shape of its immediate predecessor remains, but with taut lines, a trapezoidal grille, and full LED headlights adding distinctive touches. TTS models can be distinguished by their quad tailpipe outlets, while the new TT RS replaces those with a pair of large oval finishers. The TT RS also distinguishes itself with a fixed rear wing spoiler and available OLED (organic light-emitting diode) rear taillights, a first for a production-series car.
2018 Audi TT Standard Features
Newly standard on the 2018 TT and TTS are parking sensors, which combine with the standard rearview camera to make backing up a snap. Also standard are power-folding and automatically dimming heated exterior mirrors, the Virtual Cockpit, MMI touch-based infotainment system, and a 9-speaker/155-watt AM/FM/CD/HD Radio with two USB inputs and Bluetooth connectivity. There's automatic climate control and full LED headlights. Leather upholstery comes standard, as do the 12-way power-adjustable heated front seats. Roadsters come with an electric wind blocker along with its power-operated top, while the higher-performing 2018 Audi TTS comes with adjustable suspension, larger wheels and tires, and TTS-specific styling. In addition to its high-performance engine and other hardware, the Audi TT RS features magnetic ride control, Nappa leather seats, 19-inch wheels, and RS-specific interior and exterior aesthetics.
2018 Audi TT Options
Along with Apple CarPlay and Android Auto, a 12-speaker 680-watt Bang & Olufsen audio system is available for the 2018 Audi TT and TTS. It's all part of the Technology package, which also adds navigation, Audi Connect 4G LTE service with Wi-Fi, and a side-assist blind-spot monitoring system. An S-line competition package adds glossy interior accents, aluminum doorsills and inlays, red brake calipers, suspension upgrades, and unique seats and leather. The TTS Coupe offers Nappa leather-trimmed seats with contrast diamond stitching and three color options, including an eye-catching Calendula Yellow. One way to get even more performance out of the new 2018 Audi TT RS is to opt for the front carbon-ceramic brakes, which are 8 pounds lighter than the standard rotors and better at resisting fade in track use.
2018 Audi TT Engine
The 2018 Audi TT and TTS come with different versions of the same 2.0-liter turbocharged 4-cylinder engine. In the TT it puts out 220 horsepower and 258 lb-ft of torque, rushing the TT Coupe from a standstill to 60 mph in only 5.3 seconds, with plenty in reserve. The Audi TTS uses a high-output version of that engine that puts out 292 horsepower and 280 lb-ft of torque, enough to blast the TTS from 0-60 in just 4.6 seconds. The new TT RS coupe is even more extreme. It produces an even 400 horsepower from Audi's unique 5-cylinder engine, and can do 0-60 mph in just 3.6 seconds. Regardless of model, the TT comes standard with quattro all-wheel drive and Audi drive select for different drive modes ranging from relaxed to sporty. The Audi TT and TTS use an excellent 6-speed dual-clutch automatic transmission, while the TT RS has a 7-speed dual-clutch. Fuel economy is also decent, with the TT getting an EPA-estimated 30 mpg.

2.0-liter turbocharged inline-4 (TT coupe & roadster)
220 horsepower @ 4,500 rpm
258 lb-ft of torque @ 1,600 rpm
EPA city/highway fuel economy: 23/30 mpg

2.0-liter turbocharged inline-4 (TTS coupe)
292 horsepower @ 4,500 rpm
280 lb-ft of torque @ 1,600 rpm
EPA city/highway fuel economy: 23/27 mpg

2.5-liter turbocharged inline-5 (TT RS coupe)
400 horsepower @ 5,850-7,000 rpm
354 lb-ft of torque @ 1,700-5,850 rpm
EPA city/highway fuel economy: 19/29 mpg
How Much Does the 2018 Audi TT Cost?
With a Manufacturer's Suggested Retail Price (MSRP) of just under $45,000 when you include the $975 destination charge, we're tempted to call the standard 2018 Audi TT coupe a bargain. Even the drop-top Roadster isn't bad, coming in at about the $48,500 mark. The high-performance TTS coupe starts at a little under $54,000, which is still a decent price for a high-performance luxury-sports coupe. The new, high-performance TT RS is also the priciest of the bunch, starting just under $66,000. With options a standard TT coupe will come in at about $50,000, give or take, easily undercutting the likes of the Porsche Cayman and Boxster, and the BMW Z4. Those prices are more in line with the Lexus RC 350, Infiniti Q60, BMW 4 Series, and Mercedes-Benz SLK roadster. Before buying, check the KBB.com Fair Purchase Price to see what others in your area are paying. The Audi TT's resale value has traditionally held up very well over the years.
Read less
2018 Audi TT Consumer Reviews
---
Kevin L.
04/27/2019
2017 Audi TT
"Excellent AWD sports car"
Fast, great handling and excellent looking.
My Mythos Black Metallic TTS has the Black Optic Package, red interior and all available options. Love the appearance of the car and have had several strangers comment on how good the car looks or give me a thumbs-up. Once I set-up the Bang & Olufsen sound system to my preferences it sounded great. Materials and build quality are excellent. Ride is firm, but not uncomfortable. Car has great handling response and I like the steering feel which I keep in the Dynamic setting. First time I ran the car on the drag strip using launch mode it recor
ded a 12.8 second quarter mile. Gets around 24-26 MPG in mixed daily driving.
Read less
---
"Sporty, great interior and exterior design and fun"
Fun, luxury, great interior and exterior design
Ride a bit bumpy if compared to sedan
Blessed to also own a mid-size SUV, and found the TTS while considering the Audi S5 and realized a back seat wasnt even close to my top considerations...and fell in love with the interior layout, virtual cockpit, clean center console and overall leg and headroom for this 6 2 driver. Its my daily driver and the trunk space is plenty adequate for short trips and can hold larger golf bags for two when I lay the rear seats down. The overall performance, acceleration, braking and driving dynamics are awesome and plenty, I suspect, except possibly
for the racing crowd. While seeing reviews say rear visibility is limited...well, so are most cars these days and I find this one very good and the side assist gives an added level of comfort for approaching vehicles. The MMI Navigation and Infotainment Center is pretty intuitive and with a little practice I find it so much more friendly and with an array of options other vehicles should aspire to. Frankly, its gorgeous and so driver friendly. The ride is a bit bouncy in dynamic (sport) mode...but it should be. The comfort set up is just that on longer trips and freeway driving. If youre looking for cushy, this isnt your car...but the balance between overall luxury, sport, great looks, thoughtful design and just plain fun is what makes me look forward to getting in it each day.
Read less
---
CKBOSTON
11/15/2017
2016 Audi TT
Fast, sharp looking, fun to drive
Limited visibility, expensive parts.
The Audi TT 2016 is a super handsome car. People take notice when I drive by them. Compare to gen1 and gen2 of TTs this is one is defiantly more sporty and wayyy faster. It handles so well that sometimes I feel it boosts my confidence way beyond my actual abilities as a driver (lol). My TT accelerates smoothly so passing other cars and changing lanes is a breeze. The interior is pretty and sporty without a lot of busy buttons and the virtual cockpit is easy to use once you get used to it. It took me a couple months to adjust looking at the stee
ring wheel instead of looking in the middle of the dash for the navigation and entertainment (cd/radio/phone) info. The seats are comfortable and the materials used look expensive. Visibility is good but limited at the back due to the curvy design (especially at the back corners). I recommend keeping the Audi connect because Google maps allows you to see the terrain in great detail when you zoom in and because you can use many more voice commands with Audi connect than without one. Overall I love my TT , I love everything about it and I have zero issues so far.
Read less
---
REHATLGA
07/26/2017
2016 Audi TT
Great fun, hugs the road, can really move out
Needs seat position memory, could use a 7th gear
I am still loving my TTS. It is a real blast to drive and it gets a lot of notice when you drive down the road. Once you get used to its size and not having a usable rear seat, you will enjoy the TTS for what it is, a really great car to drive. It handles well. It handles so well, it inspires confidence. It gets up to speed really quickly and the brakes slow it down pretty quickly, too. It hugs the road and goes where you point it. The TTS feels competent at most any speed and situation. You cant ask for much more than that. I have taken
the TTS on several long distance runs and it has proven to be a comfortable and fun highway car. Although it is small and light, it is not affected by large trucks passing by (although most of the time I am passing the trucks). I have also tried it out on the twisty mountain roads of Georgia and it has proven to be quite capable. It has more capability than I think I will likely ever use. I dont have any real complaints. I do think that the TTS could use a 7th gear. At 75 MPH the 2.0T engine is turning at 3,000 RPMs. I think that a 7th gear would bring down the RPMs a little on the highway and result in better gas mileage. Although, 28+ MPG on the highway while cruising at 75 MPH is not bad at all. I do wish the TTS had drivers seat memory. The seats are very comfortable (my wife loves the adjustable side bolsters), but it takes me a little time to find my preferred seating position after someone else moves the drivers seat. Also, I wish Audi offered a moon roof as an option. Sports car purists would probably prefer a Porsche Boxster. However, the TTS is certainly a very capable road car and it is probably a little more practical as an every day driver. All in all, the TTS is a great car to own and drive.
Read less
---
2018 Audi TT Specs & Features
Based on lowest-priced style.
Technology
Bluetooth Wireless Technology

Cruise Control

Hands Free Phone

Navigation System

Remote Keyless Entry

Telematics / Communication Systems

Internet Access

Proximity Sensing Keyless Entry

Push-Button Engine Start

Remote Engine Start

Smartphone Interface

Voice Recognition System
Entertainment
AM/FM Radio

iPod Connector

MP3 Player

Premium Radio

Satellite Radio

Auxiliary Input Jack

Bluetooth Streaming Audio

CD Player

HD Radio

iPod Interface

Subwoofer
Seating
Dual Power Front Seats

Dual Power Lumbar Support Front Seats

Heated Front Seats

Leather Seats

Power Driver's Lumbar Support Seat

Power Driver's Seat

Power Passenger's Seat
Comfort & Convenience
Front Air Conditioning

Power Locks

Auto-Dimming Interior Mirror

Automatic Air Conditioning

Integrated Garage Door Opener

Power Liftgate/Trunk Release
Fuel Economy
EPA City - 23 mpg

EPA Hwy - 30 mpg

EPA Combined - 26 mpg
Performance
Horsepower - 220 hp

Horsepower RPM - 4500 rpm

Stroke - 3.65 inches

Torque - 258 foot pounds

Torque RPM - 1600 rpm

0 to 60 - 5.6 seconds

Top Speed - 130 mph
Interior
Cup Holder

Power Windows

Rear Window Defroster

12V Power Outlet

Aluminum Interior Trim

Compass

Power Outlet

Steering Wheel Controls

Tilt Steering Wheel

Tilt/Telescoping Steering Wheel
Exterior
Alloy Wheels

Automatic Headlights

Heated Mirrors

Limited Use Spare

Number of Doors - 2 doors

Power Mirrors

Spare Tire Type - Limited Use

Tires / Wheel Size - P245/40R18

Upgraded Wheels

Wheel Type - Alloy

Tire Type - Performance

Auto-Dimming Exterior Mirrors

Fog Lights

LED Daytime Running Lights

LED Headlights

LED Tail Lights

Power Folding Exterior Mirrors

Power Retractable Soft Top

Rain Sensing Windshield Wipers

Rear Spoiler
Warranty
Basic Miles - 50000 miles

Basic Years - 4 years

Corrosion/Rust Through Miles - Unlimited miles

Corrosion/Rust Through Years - 12 years

Powertrain Miles - 50000 miles

Powertrain Years - 4 years

Roadside Assistance Miles - Unlimited miles

Roadside Assistance Years - 4 years

Scheduled Maintenance Miles - 5000 miles

Scheduled Maintenance Years - 1 years
Mechanical
Alternator Amps - 140 amps

Axle Ratio - 4.77

Brakes: Front - Disc

Brakes: Rear - Disc

Braking System - Anti-Lock

Drivetrain - AWD

Engine Immobilizer

Engine Type - Gas

Engine Sub-Type - Turbo

Power Steering

Tachometer

Transmission Type - Automatic

Cylinders - 4 cylinders

Displacement - 2.0 liter

Bore - 3.25 inches

Compression Ratio - 9.6

Fuel Induction - Direct Injection

Total no. valves - 16 valves

Valve Train - Dual Overhead Cam

Engine Configuration - Inline

Emissions Rating - ULEV

# of Speeds - 6 speed

CID - 121 cubic inches

Amps - 80 amps

Recommended Fuel - Premium

Manual Mode - S tronic

4-Wheel Disc Brakes

Anti-Lock Brakes

Dual-Clutch Automatic Transmission

Paddle Shifters
Dimensions, Weights & Capacities
Curb Weight - 3373 pounds

Fuel Capacity - 14.5 gallons

Head Room: Front - 36.6 inches

Height - 53.2 inches

Leg Room: Front - 41.1 inches

Max Seating Capacity - 2

Overall Length - 164.7 inches

Shoulder Room: Front - 53.6 inches

Standard Seating Capacity - 2 passenger

Towing Capacity, Maximum - Not Recommended

Turning Diameter - 34.8 feet

Wheel Base - 98.6 inches

Width without mirrors - 72.1 inches
See less
2018 Audi TT Safety
Crash Test Rating
Safety information is currently not available for this vehicle.
Please check back in the future.
2018 Audi TT Safety Technology
Driver Airbag

Passenger Airbag

Stability Control

Traction Control

Blind-Spot Alert

Driver Knee Airbag

Front & Rear Parking Sensors

Front Knee Airbag

Front Side Airbag

Rear Parking Sensors

Rear View Camera
2018 Audi TT Rankings
Consumer Ratings
5.0 Rating