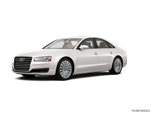 Updates for the 2015 Audi A8 include new front and rear design, an available head-up display with night-vision warning information, and a safety system to keep you from drifting lanes. The 4.0-liter V8 engine increases horsepower from 420 to 435.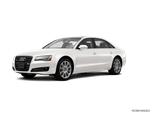 The 2014 A8 L is the latest addition to the ever expanding A8 lineup. Achieving an impressive EPA-estimated 24/36 city/highway rating, the A8 L TDI ushers in a new era of fuel efficiency to the full-size luxury segment. There are also several new option packages across the line.
About Audi A8
The 2015 Audi A8 is the German luxury automaker's flagship sedan, meant to take on executive haulers like the Mercedes-Benz S-Class, BMW 7 Series and Lexus LS. The A8 has traditionally flown a bit lower on the radar compared to those 5-passenger high-end sedans, but it has more than enough power and pomp to play with the best. In addition to being the only full-size luxury sedan equipped with standard all-wheel drive, the A8 offers a variety of trims and two lengths, standard or the long-wheelbase A8 L. Several engines are also available, including a turbodiesel that earns the A8 class-leading fuel economy of up to 36 mpg or, at the other end, a 12-cylinder behemoth. For the performance-minded, the S8 takes this sedan to another level.