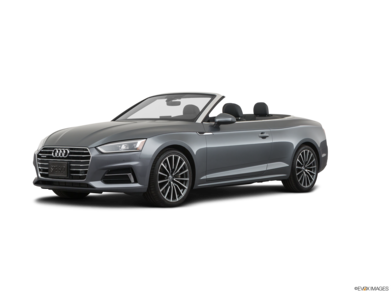 Combined Fuel Economy
27 MPG
Pros
The A5 hits the sweet spot whether you're just starting a family or ready for retirement. It's athletic yet fuel-efficient, with progressive technology not so advanced as not to be non-user-friendly. The A5 and S5 Sportback are ideal choices for those unimpressed by the coming SUV apocalypse.
Cons
You can get similar or better performance from the liftback Kia Stinger, while convertible fans might like something more brutish such as a Chevy Camaro SS or Ford Mustang GT. Styling is always subjective, but those looking for a less conservative design might like the Lexus RC or Jaguar F-Type.
What's New For 2019
For 2019, the Audi A5 and S5 line add more trims, features and wheel options. A Black optic plus package is offered on the Coupe and Sportback, while an updated Convenience package adds Audi side-assist and pre-sense technologies rear. The manual transmission has been dropped from the lineup.
Read less
2019 Audi A5 Pricing
Get Kelley Blue Book® Pricing
2019 Audi A5 Expert Review
The 2019 Audi A5 takes all that is good about the A4 sedan and adds a bit more flair, with a model range that includes the sporty Coupe, open-air Cabriolet and fun but functional 5-door Sportback, as well as S5 performance versions of all three. Like German rivals the BMW 4 Series and Mercedes-Benz C-Class coupe, the A5 Coupe and Cabriolet are really just 2-person affairs, with a tiny rear seat and modest trunk that says to friends and relatives, "Why don't you just meet us there." Those who don't mind company will find the 5-door Sportback more to their liking. Regardless of model, every A5 comes filled with luxury and technology juxtaposed with a nice balance of performance and ride comfort.
Driving the 2019 Audi A5
The 2019 Audi A5 and Audi S5 are more than just beautiful designs. They hold a special skill set combining advanced luxury features, a team of powerful engines and standard quattro all-wheel drive that helps them ride and drive like no other cars in this class. With a zero-to-60-mph run taking just 5.6 seconds, the A5's 2.0-liter turbocharged 4-cylinder is more than capable, but for those seeking even more punch, the S5's 349-horsepower V6 knocks that time down to a scant 4.5 seconds. Audi's adjustable drive-mode system allows the driver to vary the degree of urgency in the steering and throttle response, and includes an Auto mode that lets the car's computer brain make all the hard decisions. With the turbo-4, we did experience a moment of turbo lag after hitting the accelerator hard, but it's not annoyingly late and the A5 quickly gets itself up to speed. The 7-speed dual-clutch automatic is one of the best in the business, smooth, fast and responsive. Sadly, last year's manual-transmission option is no more.
Favorite Features
VIRTUAL COCKPIT
Probably one of the coolest and most defining features of the Audi A5/S5, the Virtual Cockpit replaces the traditional analog gauge cluster with a configurable 12.3-inch TFT (thin-film transistor) display. Paired with Google Earth, the entire thing becomes a 3D navigation screen displaying crystal-clear maps.

A5 SPORTBACK
Feel like jumping on the SUV bandwagon but just can't do the whole tall ride-height and annoying blind-spot thing? The A5 Sportback is the solution. Low and lean like a car but with a massive rear hatch, the Sportback is as versatile as it is gorgeous.

2019 Audi A5 Interior
Audi's A5 and S5 for 2019 continue the company's anthem of sleek, angular lines with only enough buttons and knobs to justify their existence. We love the feel of quality. The A5's front seats are well supported and grant an excellent driving position. The pair of rear seats in coupe and convertible models are small and cumbersome to enter and exit for the less-than-agile. The rear seats do fold, and combined with the large trunk open up commendable cargo space. The A5 Sportback has rear doors and a 3-across bench like a sedan, and 35 cubic feet of cargo space with the seats folded.
2019 Audi A5 Exterior
The A5 has more conservative lines compared to the more rounded and/or flowing shape of rivals like the Lexus RC, Infiniti Q60 and Mercedes-Benz C-Class. Restrained as it may be, the A5 is elegant, with one of its biggest splashes being up front with a large trapezoidal grille. Unlike a BMW 4 Series (and like the new Mercedes C-Class convertible), the A5 convertible has a fabric roof instead of a folding hardtop. The A5 Sportback is essentially a smaller version of the captivating A7, blending a 4-door-coupe silhouette with an upward-rising power liftgate that hides a good-sized rear cargo bay.
2019 Audi A5 Standard Features
All A5 and S5 variants come in three trims: Premium, Premium Plus and Prestige. Base models of each have leather interior, power front seats, tri-zone automatic climate control, rearview camera, and 18-inch wheels. The basic infotainment system includes a 7-inch display, AM/FM/CD/HD Radio, two USB ports, Bluetooth connectivity, and Apple CarPlay and Android Auto compatibility. Coupe models come with a panoramic sunroof; the A5 cabriolet with a power-operated fabric roof. Included is Audi Pre Sense Basic and City. The first instantaneously prepares the car if a collision appears imminent, while the second aims to prevent one by detecting other cars and pedestrians and automatically braking.
2019 Audi A5 Options
We think the mid-trim Premium Plus A5 is worth the extra $4,500 as it adds safety features like blind-spot monitoring with rear cross-traffic, and will even alert you of a coming vehicle when exiting the A5. Also included are full LED headlights, heated front seats and hands-free trunk/tailgate release. Prestige trims add the Virtual Cockpit, 8.3-inch display with navigation, park assist and a superb 19-speaker Bang & Olufsen system. Other options include a heated steering wheel, ventilated front seats, head-up display and Driver Assistance package with adaptive cruise control, lane-keeping assist and traffic-sign recognition. Audi Connect Prime grants 4G LTE connectivity.
2019 Audi A5 Engine
The 2019 A5 uses a 2.0-liter turbocharged 4-cylinder engine that makes 252 horsepower, enough to zip each model to 60 mph in six seconds or less. The S5 gets a more potent twin-scroll turbocharged 3.0-liter V6 good for 349 horsepower. All A5/S5 variants come equipped with Audi's quattro all-wheel drive as standard and employ a 7-speed dual-clutch automatic transmission. At up to 34 mpg, the A5 is surprisingly efficient given its potency. Helping that is a start/stop system that cuts engine power at idle and which can be defeated with the press of a button. If you're power delirious, opt for the 2019 Audi RS 5, which packs a 444-horsepower biturbo V6.

2.0-liter turbocharged inline-4 (A5)
252 horsepower @ 5,000-6,000 rpm
273 lb-ft of torque @ 1,600-4,500 rpm
EPA city/highway fuel economy: 23/34 mpg

3.0-liter twin-turbocharged V6 (S5)
349 horsepower @ 5,400-6,400 rpm
369 lb-ft of torque @ 1,370-4,500 rpm
EPA city/highway fuel economy: 21/30 mpg (S5, S5 Sportback), 21/29 mpg (S5 Cabriolet)
How Much Does the 2019 Audi A5 Cost?
The 2019 Audi A5 Coupe and Sportback have a Manufacturer's Suggested Retail Price (MSRP) of $45,195. Starting at $52,195, the Cabriolet sits atop the A5 social ladder. From here, prices only go up. A loaded A5 Coupe or Sportback can reach beyond $55,000, while the A5 convertible can reach into the $60,000 range. The S5 Sportback starts at $53,395, while the S5 Cabriolet pushes the price to a hefty $66,095. At these prices, the A5 is in line with the BMW 4 Series and Mercedes-Benz C-Class coupes, and above the starting marks of the Lexus RC, Infiniti Q60 and Cadillac ATS coupe. Before buying, be sure to check the KBB.com Fair Purchase Price to see what others in your area are paying for their new Audi. The A5's resale value is expected to hold up very well in the years ahead.
Read less
2019 Audi A5 Consumer Reviews
---
Jnaga
01/20/2019
2018 Audi A5
"First time Audi owner, now BIG time Audi fan, but"
Fun to drive; great tech features and sound system
Poor rear/side visibility; minimal upfront storage
With the exception of my very first car, a used '67 VW Bug, I've exclusively purchased Japanese cars all my life. I have done so primarily because I'm a Consumer Reports kind of nerd and have always placed a high premium on reliability, practicality and affordability. But after several methodical test drives, I was absolutely wowed by and ultimately fell in love with the new A5 Sportback. Even now, after 14 months of ownership, I still get that boyish sense of exhilaration nearly every time I get behind the wheel. But, in the spirit of full d
isclosure, I do have a few small quibbles that I will dispense with prior to elaborating on my many likes. First, rear and side visibility leaves something to be desired, an issue that is further exacerbated by its sloped rear window design. In addition, the side view mirrors are also fairly small and the view out the rear side passenger windows is similarly compromised. Luckily, it has a well-designed blind spot monitoring system to help compensate for those deficiencies. Nevertheless, when making lane changes, I often feel like I'm executing them more on faith than on confident visibility of a clear and safe travel path. Second, upfront interior storage is nearly nonexistent. There appears to have been only a halfhearted attempt to provide in-console storage, which amounts to a tiny, shallow bin that has only a partially enclosing lid—one that doesn't fully conceal the few articles one is able to fit in it. And unlike other cars in this class, there's no dedicated compartment in which to store sunglasses, forcing you to be creative with where you choose to stow them. On top of all that, the cup holders are placed so close to the center dash controls that they can barely hold anything larger than a small water bottle or a medium size drink before interfering with the use of those controls. So no Big Gulps allowed in this A5's cozy cockpit! The interior is sleek and stylish, if not a bit spartan. And while definitely upscale, it doesn't seem to me to have quite the same luxurious feel of its Japanese or domestic rivals. Just the same, it's easy to find a comfortable driving position and the leather seats are pleasantly supportive, if not a bit on the firm side. The moonroof has a mesh screen closure that lets filtered sunlight through, which on occasion can be both annoying and a bit uncomfortable when the sun is hovering directly overhead in the summer. Personally, I would have preferred something completely opaque. Now for the positives. I absolutely love driving it! For a 2.0 liter 4-cylinder turbo, it has plenty of pep yet gets commendable gas mileage for a car in this class. It grips the road exceptionally well, moves smoothly and effortlessly through traffic and is supremely confident in its handling. Aesthetically, this is a sublimely beautiful car, especially in the Brilliant Black exterior finish I opted for, which has subtle metallic overtones. In my opinion, the hatchback version of the A5 is one of the sharpest looking vehicles in Audi's current "accessibly priced" lineup, save perhaps for the A7, which was unfortunately out of my personal price range. Admittedly, a lot of my interior quibbles would likely have been addressed in the A7, but that would have set me back another $25-30k! As for rear storage, this hatchback is amazing! The rear seats lay nearly complely flat (no large transitional hump, as with most other sedans) and the rear opening is cavernous, making our frequent trips to Sam's Club, and the attendant need to stuff various jumbo-sized items in the back, a real breeze. Rear storage in the hatchback version of the A5 is truly amazing for a car this size and really helped to bridge my craving for the svelte aesthetics of a sports sedan while appeasing my desire for the practicality of an SUV. One small quibble here is that you can't close the rear hatch from inside the cabin. A peculiar oversight to be sure, especially since such functionality is commonplace in virtually all SUVs outfitted with a power lift gate. As for the optional Bang and Olufsen sound system, I have just two words to say to you fellow audiophiles out there—GET IT! It sounds absolutely amazing! I don't recall how much I paid for it, but I don't really care, because whatever it cost, it was worth it. It turns my commute to and from work as well as our frequent long car trips around east Texas into truly joyful listening experiences. My only beef here, and it's small, is that there is no midrange control for the equalizer—yet, curiously, the Audi sound engineers saw it fit to incorporate separate controls for both the bass and subwoofer. Go figure. In addition to an adjustable control to finely modulate the surround sound effect, it also has an additional sound modification feature known as "3D Effect", which allows you to further augment the ambiance of your music and give it even more of a concert hall feel. At least I think that was its purpose. Lastly, the tech in this car, including the "virtual cockpit" option (which I highly recommend!), is fantastic! Those Audi design engineers have thoroughly thought this car through and made it one of the most forward thinking cars on the market today. One peculiar oversight, however, and for me this was more than a bit of an annoyance considering the price point of this car, is the lack of a digital readout for tire PSI. A bit disappointing for a car that seems to address nearly every conceivable technophile's whim—and then some. For lack of time and space, I can't do justice to all the amazing and worthwhile tech and safety features this car has incorporated into it, but trust me, it's mind boggling! It has truly been an awe-inspiring journey of discovery. In point of fact, the tech features in this car can sometimes be so engrossing that it can be downright distracting—if you let it. Just the same, if you're in the market for a performance-oriented sports sedan yet yearn for the greater practicality of an SUV, I would highly encourage you to test drive this car—repeatedly. It'll take more than a casual romp or two to truly appreciate the wealth of features this exceptional vehicle has to offer. But be sure to find a knowledgeable salesperson who can properly demonstrate the myriad thoughtful design features this car has to offer. Then, compare it to other similarly priced Japanese, German and domestic sports sedans out there. I promise, you won't be disappointed.
Read less
---
A5 sport back chad
03/07/2018
2018 Audi A5
"The perfecgt German engineered vehicle"
Handling, Tech and Gadgets, Gas Mileage power and
storage is limited no center console
I am a fan from the moment I sat in it I knew it was the car for me. It was different yet familiar. The interior with the wood trim and Nougat seats with a Moonlight Blue exterior is a perfect combo, as I did not like the aluminum trim. The car has a great 2.0 turbo that reacts well in all situations it is enough to get blood flowing and really drive it. it takes corners with a breeze and is good in the snow. The tech and gadgets are by far the best in the business the Nav and Audi cockpit are great features and they are engaging. The car
overall has great lines and I like it better than the RC350 which got lots looks or the Mercedes as I owned both. Overall A- score A sexy Hatchback
Read less
---
2019 Audi A5 Specs & Features
Based on lowest-priced style.
Technology
Bluetooth Wireless Technology

Cruise Control

Remote Keyless Entry

Telematics / Communication Systems

Proximity Sensing Keyless Entry

Remote Engine Start

Smartphone Interface

USB Port
Entertainment
AM/FM Radio

MP3 Player

Satellite Radio

# of Speakers - 10 speaker

Amp Power - 180 watts

Auxiliary Input Jack

Bluetooth Streaming Audio

CD Player
Seating
Folding Rear Seat

Dual Power Front Seats

Leather Seats

Memory Driver's Seat

Power Driver's Lumbar Support Seat

Power Driver's Seat

Power Passenger's Seat
Comfort & Convenience
Power Locks

Auto-Dimming Interior Mirror

Automatic Air Conditioning

Integrated Garage Door Opener

Interior Ambient Lighting
Fuel Economy
EPA City - 23 mpg

EPA Class - Sub Compact Cars

EPA Hwy - 34 mpg

EPA Combined - 27 mpg
Performance
Horsepower - 248 hp

Horsepower RPM - 5000 rpm

Stroke - 3.65 inches

Torque - 273 foot pounds

Torque RPM - 1600 rpm

0 to 60 - 6.0 seconds

Top Speed - 130 mph
Interior
Cup Holder

Leather-Wrapped Steering Wheel

Power Windows

Rear Window Defroster

12V Power Outlet

Aluminum Interior Trim

Compass

Power Outlet

Steering Wheel Controls

Tilt Steering Wheel

Tilt/Telescoping Steering Wheel
Exterior
Automatic Headlights

Heated Mirrors

Limited Use Spare

Number of Doors - 2 doors

Power Mirrors

Spare Tire Type - Limited Use

Tires / Wheel Size - P245/40R18

Auto-Dimming Exterior Mirrors

Fog Lights

LED Daytime Running Lights

LED Headlights

LED Tail Lights

Power Retractable Soft Top

Rain Sensing Windshield Wipers
Warranty
Basic Miles - 50000 miles

Basic Years - 4 years

Corrosion/Rust Through Miles - Unlimited miles

Corrosion/Rust Through Years - 12 years

Powertrain Miles - 50000 miles

Powertrain Years - 4 years

Roadside Assistance Miles - Unlimited miles

Roadside Assistance Years - 4 years

Scheduled Maintenance Miles - 10000 miles

Scheduled Maintenance Years - 1 years
Mechanical
Alternator Amps - 150 amps

Axle Ratio - 4.27

Brakes: Front - Disc

Brakes: Rear - Disc

Braking System - F&R Anti-Lock

Drivetrain - AWD

Engine Type - Gas

Engine Sub-Type - Turbo

Power Steering

Tachometer

Transmission Type - Automatic

Cylinders - 4 cylinders

Displacement - 2.0 liter

Bore - 3.25 inches

Compression Ratio - 9.6

Fuel Induction - Direct Injection

Total no. valves - 16 valves

Valve Train - Dual Overhead Cam

Engine Configuration - Inline

Emissions Rating - ULEV

# of Speeds - 7 speed

CID - 121 cubic inches

Amps - 75 amps

Recommended Fuel - Premium

Manual Mode - S tronic

4-Wheel Disc Brakes

Anti-Lock Brakes

Dual-Clutch Automatic Transmission

Hill Start Assist

Paddle Shifters
Dimensions, Weights & Capacities
Curb Weight - 3990 pounds

Fuel Capacity - 15.3 gallons

Head Room: Front - 40.0 inches

Head Room: Rear - 36.3 inches

Height - 54.4 inches

Leg Room: Front - 41.3 inches

Leg Room: Rear - 33.1 inches

Max Seating Capacity - 4

Overall Length - 184.0 inches

Shoulder Room: Front - 55.3 inches

Shoulder Room: Rear - 46.9 inches

Standard Seating Capacity - 4 passenger

Towing Capacity, Maximum - Not Recommended

Trunk or Cargo Capacity - 9.3 cubic feet

Turning Diameter - 37.7 feet

Wheel Base - 108.9 inches

Width with mirrors - 79.9 inches
See less
2019 Audi A5 Safety
Safety information is currently not available for this vehicle.
Please check back in the future.
2019 Audi A5 Safety Technology
Child Seat Anchors

Driver Airbag

Passenger Airbag

Stability Control

Traction Control

Blind-Spot Alert

Collision Preparation

Collision Warning System

Driver Knee Airbag

Front Knee Airbag

Front Side Airbag

Rear View Camera
2019 Audi A5 Rankings
Consumer Ratings
4.5 Rating