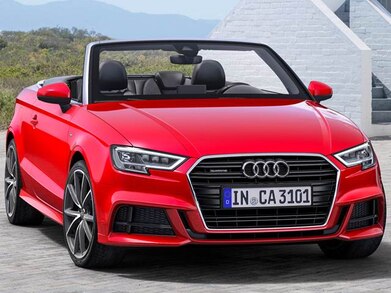 Combined Fuel Economy
28 MPG
Pros
With a base price starting around $33,000, it's easy to load up a 2018 Audi A3 Sedan or Cabriolet convertible with familiar Audi luxury features and still walk away for less than $40K. The sport-oriented S3 and RS 3 offer sizzling performance, but at a hefty price.
Cons
The 2018 Audi A3 doesn't have the same visual pop as a Mercedes-Benz CLA or an Infiniti QX30, and you'll find a better price and more legroom in an Acura ILX. Although its base price is attractive, once you start piling on options, the A3/S3 can easily approach the $50,000 mark.
What's New For 2018
Audi's 2018 A3 Sedan and Cabriolet gain standard heated front seats and two USB charging ports. The Premium Plus trim gains Audi Side Assist, while the Technology package now includes the Bang & Olufsen audio upgrade. The S3 gains a new S sport package and the e-tron, optional 18-inch wheels.
Read less
2018 Audi A3 Pricing
Get Kelley Blue Book® Pricing
See how style, options and other factors can impact pricing in your area.
2018 Audi A3 Expert Review
For 2018, Audi's A3 compact-luxury sports car is offered as a sedan, convertible and, in the A3 Sportback e-tron, a plug-in hybrid hatchback. Although small, the A3 contains all the requisite Audi parts, including a powerful engine lineup, a quality interior, loads of high-tech goodies, and the option of quattro all-wheel drive. This combination of features and performance gives the A3, and its high-performance S3 and RS 3 (reviewed separately) cousins, a leg up on rivals like the Infiniti QX30, Mercedes-Benz CLA and Acura ILX, all while keeping its pricing well below that of the BMW 2 Series. Audi's 2018 A3 Sportback e-tron plug-in hybrid is the line's fuel-economy leader, but sadly it doesn't offer the option of quattro all-wheel drive.
Driving the 2018 Audi A3
The 2018 Audi A3 compact sedan is offered in four flavors. At the base end, the A3 Sedan offers the perfect balance of performance, luxury and price, while the performance-oriented S3 gives more power and better handling. The 2018 A3 Cabriolet delivers similar performance as the sedan, but with the added benefit of a much larger sunroof. Priced less than many loaded family sedans, the Audi A3 delivers impressive performance, quality and technology, but is woefully lacking in rear-seat legroom. With nearly 300 horsepower on tap, the 2018 Audi S3 Sedan has no problem with acceleration, and its standard quattro all-wheel drive (AWD) makes it a dynamic performer both at the track and when driving through inclement weather. The A3 Sedan and Cabriolet come standard with Audi's 7-speed dual-clutch S-Tronic automatic, while the S3 and e-tron use a 6-speed version of the same transmission.
Favorite Features
BANG & OLUFSEN AUDIO
Exceptional sound reproduction is the hallmark of this 705-watt, 14-speaker Bang & Olufsen sound system, which is optional on the 2018 Audi A3 and standard on the S3. Now part of the Technology package, for an audiophile it's a $3,200 upgrade that's an easy investment.

AUDI ADAPTIVE CRUISE CONTROL WITH STOP & GO
The 2018 Audi A3's available adaptive cruise control is more than just a convenience option, it's a valuable safety asset that could one day save your life. Audi's radar and camera-based system can bring the car to a complete stop and then resume speed, the perfect companion during stop-and-go traffic.

2018 Audi A3 Interior
Audi has set a high bar with its interiors, with high-style design and immaculate fit and finish. Yet while the 2018 A3 scores well on materials and assembly, it's a little on the bland side compared with other Audi vehicles. That said, it is cleanly designed and suitably sporty, with simple audio and climate controls. We wish the MMI infotainment interface wasn't placed quite so low on the console though, as it makes it hard to see which button does what until you've learned it by touch. Not surprisingly, rear-seat accommodations are pretty tight, especially for three passengers.
2018 Audi A3 Exterior
If you like the Audi styling aesthetic, you'll love the 2018 A3's defining look. Looking a lot like a smaller Audi A6, its standard bi-xenon headlights, big sunroof and standard 17-inch aluminum-alloy wheels make even the least expensive A3 look great. Bigger 18- and 19-inch wheel-and-tire upgrades jazz up the exterior, and S3 models offer unique styling touches to emphasize the sportiness. Under the short rear deck is a 12.3-cubic-foot trunk, which reduces to 10 cubic feet in all-wheel-drive models. Convertibles of course offer two doors, and look especially sharp with the power soft-top lowered.
2018 Audi A3 Standard Features
Standard on every 2018 Audi A3 are a rearview camera and rear-parking sensors, along with heated mirrors, front seats and windshield-washer nozzles. Other standard equipment for the sedan includes leather seats, a panoramic sunroof, bi-xenon headlights, dual-zone automatic climate control, 12-way-power driver's seat with power lumbar, LED taillights, Bluetooth with audio streaming, 10-speaker audio with single CD player, sensors for automatic windshield wipers and headlights and a 7-inch audio/information screen controlled by Audi's MMI interface. Opt for the sporty S3 and you'll get more power, along with quattro AWD, 18-inch alloys, a flat-bottom steering wheel, and a sport-tuned suspension.
2018 Audi A3 Options
If you'd like to make Audi's inexpensive A3 as pricey as possible, Audi is perfectly happy to help. There are LED headlights, an excellent Bang & Olufsen audio system, and a navigation system with Google Earth map technology viewed through Audi's brilliant Virtual Cockpit. The last of those includes a clever touch pad atop the MMI knob that recognizes handwritten text entry. Dynamic safety features include active lane-keep assist, blind-zone warning and dynamic cruise control. Lastly, S3 models can be had with a $1,500 Magnetic Ride Control suspension system featuring three driving modes: Dynamic, Comfort and Individual.
2018 Audi A3 Engine
Multiple engine configurations confront prospective Audi A3 owners, although all displace the same 2.0 liters. Front-wheel-drive (FWD) models employ a 2.0-liter turbocharged 4-cylinder boasting 186 horsepower, which gets delivered through a dual-clutch 7-speed automatic transmission. If you want quattro AWD, you'll get an engine upgrade as well: a 2.0-liter turbocharged 4-cylinder with 220 horsepower, as well as a 6-speed dual-clutch automatic (which is also used in the econo-oriented A3 Sportback e-tron plug-in hybrid). Audi S3 models get a version of the 2.0-liter engine that sends its 292 horsepower to all four wheels. Note that both the A3 and S3 require premium fuel. The A3 Sportback e-tron plug-in hybrid diverges from its siblings, using a 1.4-liter turbocharged inline 4-cylinder paired with an electric motor/generator.

2.0-liter turbocharged inline-4 (FWD)
186 horsepower @ 4,400-6,000 rpm
221 lb-ft of torque @ 1,600-4,300 rpm
EPA city/highway fuel economy: 26/35 mpg (Sedan), 25/33 mpg (Cabriolet)

2.0-liter turbocharged inline-4 (AWD)
220 horsepower @ 4,500 rpm
258 lb-ft of torque @ 1,600 rpm
EPA city/highway fuel economy: 24/31 mpg (Sedan), 22/30 mpg (Cabriolet)

2.0-liter turbocharged inline-4 (S3)
292 horsepower @ 5,400-6,200 rpm
280 lb-ft of torque @ 1,900-5,300 rpm
EPA city/highway fuel economy: 21/28 mpg

1.4-liter turbocharged inline-4 + electric motor (A3 Sportback e-tron)
Engine:
150 horsepower @ 5,000-6,000 rpm
184 lb-ft of torque @ 1,600-3,500 rpm
Electric motor:
102 horsepower/243 lb-ft of torque
Net output: 204 horsepower/258 lb-ft of torque
EPA city/highway fuel economy, est.: 83 MPGe/34 mpg combined
How Much Does the 2018 Audi A3 Cost?
The base 2018 Audi A3 carries a Manufacturer's Suggested Retail Price (MSRP) just under $33,000. Opt for quattro AWD and the price jumps to just under $36,000. The 2018 A3 Cabriolet starts around $39,325 for FWD, or $42,000 if you want AWD. Greenies can get into a Sportback e-tron for just shy of $40,500, and the power-hungry will gravitate to the Audi S3 at just under $45,000. Options and trim levels can add considerably to the price tag, making your "cheap" Audi cost more than $50,000. The Mercedes-Benz CLA starts slightly lower, but with less standard equipment. The Acura ILX and Buick Verano are both thousands less, but without the pedigree brand or AWD option. Check KBB.com's Fair Purchase Price to see what others paid in your area. As for resale value, the A3 isn't expected to hold up over the long haul as well as the CLA, or even the ILX.
Read less
2018 Audi A3 Consumer Reviews
---
lexieeeee
07/01/2019
2015 Audi A3
"Most practical car I've ever owned!"
Fun to Drive, Great MPG, Practical, Sport Shift
This was my first purchase out of college in 2015, I had a 4 wheel drive Jeep with a huge engine and was looking for something more eco friendly for my beginner's wallet. I was looking at "affordable" cars and stumbled upon this beauty. It had been owned for 6 months (purchased new) as a fleet vehicle for a company that went under and had 15k miles on it, absolute mint condition basically brand new, but I got a deal because it was sitting at a Honda dealership. Firstly, I want to say, I have the "bottom of the line" model. The smallest e
ngine, no upgrades, just the base model...and WOW it still has all the upgrades of most premium domestic cars. Leather seats, really cool dash set up, power seats, sun roof, etc. It's a beautiful sleek car inside and out, and still has great pickup and control. I've owned this car for 4 years now, in a rural area and now a big city. The practicality of this car has only grown with me. It's a cute sporty car for young professional, but would also make a practical family car when the time comes. It's great in a big city, small enough to parallel park anywhere, handles the Boston snow with ease, and stops on a dime in traffic. Backseat is small, but large enough my 6'4" dad can fit. I also LOVE that I get anywhere from 35-45 MPG. On average I'm getting 430 miles on my 11~ gallon tank! The ONLY downside was going from a domestic car to a German. General maintenance can be a little pricey, you need a key to open oil pan (can't change yourself), and it takes extra oil during a change, but you can also go twice as long between oil changes per the maintenance guidelines. However, I will say, I have had ZERO issues with the car outside of scheduled maintenance. I had one recall (I never had an issue but my VIN was on the list) for the fuel sensor, took it to my local Audi and it was switched over in about 20 minutes. Overall a solid affordable car!
Read less
---
juju
04/16/2019
2015 Audi A3
fast, comfortable, stylish, fun to drive
Once you get into a German car you will always have one, the performance and styling of Audi has always been the best in my opinion. For 180HP geared to a dual clutch automatic DSG transmission you will feel like you are driving a luxury go kart with fancy wheels.
---
5H4RK
03/28/2019
2015 Audi A3
"Doing what it's supposed to do"
MPG, interior and general quality
No standard reversing camera
Bought this car used with 15K mikes and have owned it for about 6 months. Main goal was to reduce the amount of #x27;s I was spending on fuel. I went from a full size SUV (Escalade) to a tiny A3 - a bit of a shocker initially but I'm past that. My daily commute is about 50 miles round trip some on freeways and parts in heavy traffic. I'm averaging just above 45 mpg which is pretty good compared to the EPA estimates (and my Escalade at 14mpg). Car is quite luxurious and well bolted together. I'd far rather have the A3 than a similarly frugal
Golf or Jetta even if it would be a little cheaper.
Read less
---
Brownson458
02/19/2019
2018 Audi A3
"Quick, sleek, comfortable, efficient."
Small, efficient, sporty, good looks, tech loaded
Cramped back seat, jerky transmission when <32f
What's not to like? This car get's 30mpg in town if you drive right. Amazing efficiency. The car looks very sexy, as Audi's are known for. Power is right there when you need it, falls off slightly up top. Get it tuned and this car feels like it should have came from the factory. Bang and Olfsun sound system is incredible! Couldn't believe it's a factory system. A recall was issued for quick disconnect fuel lines in the engine bay that may cause a fire. My VIN checked out okay. Check this out before buying if possible :) Comfortable up fro
nt, cramped in back. It's Audi's smallest sedan. Look into OBD-Eleven, you can tweak the all-wheel drive system, braking system, vehicle dynamics, DRLs, add features to digital cluster, etc.
Read less
---
No Thanks Audi
11/30/2017
2018 Audi A3
"2018 package pricing is a huge let down!"
Too expensive for a small performance sedan
I love the S3. I test drove a few a couple of years ago and almost got one, but I decided to stick with BMW and got my 340i Msport instead. However, since having the 340i I keep remembering how much I loved the S3. So, I decided that in 3 years I would get an S3 and do a loan purchase. So, the 2018 S3 specs and pricing came out and I was excited to build what I want and check the pricing. I dont get a lot of options in my cars as I dont think most options in Euro, especially German cars, are worth the huge cost. My wants are a nice auto
trans, power leather seats, and a great audio system. I go to Audis website and try to configure the S3. I quickly discover that that excellent B&O audio that was about a 950 stand alone option is NO LONGER available as a stand-alone option. Now, Audi wants me to pay 3,200 more for their technology package, thats full of options I DO NOT need nor want, like navigation and virtual cockpit. This of course increases the once reasonable price of a nicely equipped S3 tremendously. And, the base price has gone up a good amount. When I priced a 2017 S3 with premium metallic paint and B&O audio the MSRP was 45,375. For 2018 MSRP is 47,825 because I have to get the tech pkg if I want the B&O audio. The S3 used to be a great small performance sedan for a decent price. Now, its a great small performance sedan that costs nearly 50K. Audi will lose sales with this poorly setup options packaging and increased base price. I can get a BMW M240i for nearly the same money and it will have a much better resale value when Im ready to sell or trade in 3 to 5 years. No thanks Audi.
Read less
---
2018 Audi A3 Specs & Features
Based on lowest-priced style.
Technology
Bluetooth Wireless Technology

Cruise Control

Remote Keyless Entry

Remote Engine Start

SD Card Slot

Smartphone Interface

USB Port
Entertainment
AM/FM Radio

Satellite Radio

# of Speakers - 9 speaker

Amp Power - 140 watts

Auxiliary Input Jack

Bluetooth Streaming Audio

CD Player

HD Radio
Seating
Folding Rear Seat

Dual Power Front Seats

Dual Power Lumbar Support Front Seats

Heated Front Seats

Leather Seats

Power Driver's Lumbar Support Seat

Power Driver's Seat

Power Passenger's Seat
Comfort & Convenience
Front Air Conditioning

Power Locks

Automatic Air Conditioning

Dual-Zone Automatic Air Conditioning

Interior Ambient Lighting

Remote Control Liftgate/Trunk Release
Fuel Economy
EPA City - 25 mpg

EPA Class - Sub Compact Cars

EPA Hwy - 33 mpg

EPA Combined - 28 mpg
Performance
Horsepower - 186 hp

Horsepower RPM - 4400 rpm

Stroke - 3.65 inches

Torque - 221 foot pounds

Torque RPM - 1600 rpm

0 to 60 - 6.9 seconds

Top Speed - 130 mph
Interior
Cup Holder

Leather-Wrapped Steering Wheel

Power Windows

Rear Window Defroster

12V Power Outlet

Power Outlet

Steering Wheel Controls

Tilt Steering Wheel

Tilt/Telescoping Steering Wheel
Exterior
Alloy Wheels

Automatic Headlights

Heated Mirrors

HID Headlights

Limited Use Spare

Number of Doors - 4 doors

Power Mirrors

Spare Tire Type - Limited Use

Tires / Wheel Size - P225/45R17

Upgraded Wheels

Wheel Type - Alloy

Fog Lights

LED Daytime Running Lights

LED Tail Lights

Power Retractable Soft Top

Rain Sensing Windshield Wipers

Rear Spoiler
Warranty
Basic Miles - 50000 miles

Basic Years - 4 years

Corrosion/Rust Through Miles - Unlimited miles

Corrosion/Rust Through Years - 12 years

Powertrain Miles - 50000 miles

Powertrain Years - 4 years

Roadside Assistance Miles - Unlimited miles

Roadside Assistance Years - 4 years

Scheduled Maintenance Miles - 5000 miles

Scheduled Maintenance Years - 1 years
Mechanical
Alternator Amps - 140 amps

Axle Ratio - 4.12

Brakes: Front - Disc

Brakes: Rear - Disc

Braking System - F&R Anti-Lock

Drivetrain - FWD

Engine Immobilizer

Engine Type - Gas

Engine Sub-Type - Turbo

Power Steering

Tachometer

Transmission Type - Automatic

Cylinders - 4 cylinders

Displacement - 2.0 liter

Bore - 3.25 inches

Compression Ratio - 9.6

Fuel Induction - Direct Injection

Total no. valves - 16 valves

Valve Train - Dual Overhead Cam

Engine Configuration - Inline

Emissions Rating - SULEV

# of Speeds - 7 speed

CID - 121 cubic inches

Recommended Fuel - Premium

Manual Mode - S tronic

4-Wheel Disc Brakes

Anti-Lock Brakes

Dual-Clutch Automatic Transmission

Hill Start Assist

Paddle Shifters
Dimensions, Weights & Capacities
Curb Weight - 3428 pounds

Fuel Capacity - 13.2 gallons

Head Room: Front - 37.4 inches

Head Room: Rear - 36.3 inches

Height - 55.5 inches

Leg Room: Front - 41.2 inches

Leg Room: Rear - 31.9 inches

Max Seating Capacity - 4

Overall Length - 174.1 inches

Shoulder Room: Front - 54.8 inches

Shoulder Room: Rear - 45.7 inches

Standard Seating Capacity - 4 passenger

Towing Capacity, Maximum - 3300 pounds

Trunk or Cargo Capacity - 9.9 cubic feet

Turning Diameter - 36.1 feet

Wheel Base - 102.2 inches

Width with mirrors - 77.2 inches
See less
2018 Audi A3 Safety
Crash Test Rating
Safety information is currently not available for this vehicle.
Please check back in the future.
2018 Audi A3 Safety Technology
Child Seat Anchors

Stability Control

Traction Control

Collision Warning System

Collision Warning System with Auto Brake

Rear View Camera