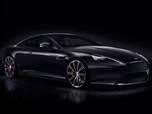 The 2015 Aston Martin DB9 Carbon Edition packages are optional styling enhancements to the standard DB9, giving both coupe and convertible ("Volante" in Aston-speak) models a visual upgrade, with carbon-fiber accents inside and out. Mechanically, however, nothing has changed.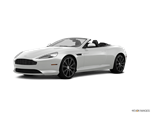 Automatic headlights, a rearview camera and rain-sensing windshield wipers become standard on 2014 DB9 models. New colors are also available this model year, as is a sports exhaust system.
About Aston Martin DB9
There are few cars like the Aston Martin DB9 coupes and convertibles, and arguably none more beautiful. More prestigious than luxury brands like Audi or BMW, and with a cachet nearly as impressive as Ferrari and Bentley, Aston Martin's cars are coveted. The DB9 is actually the middle child of AM's three coupes, slotting between the less expensive Aston Martin Vantage and the new Vanquish. But the DB9 is a grand tourer rather than a pure sports car, with striking design and a 6.0-liter V12 engine making more than 500 horsepower. Starting just below $200,000, it doesn't come cheap, but that price and the sparse dealer network give Aston Martin DB9 owners a level of exclusivity matched by few, and surpassed by even fewer.