Narrow year range (drag arrows to filter):
See photos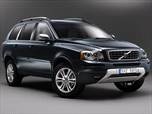 A new trim, dubbed R-Design, is available on both the base and V8 model. It adds a unique grille, wheels, suspension upgrades and interior trim, as well as R-Design embossed leather seating. Some of Volvo's more popular options are bundled into new packages, making it easier for consumers add equipment.
About Volvo XC90
With the increasing movement to smaller, more efficient vehicles, Volvo's XC90 strikes the perfect balance between car and SUV. Riding atop the previous-generation S80 chassis, the roomy and safe XC90 comes wrapped in a manageable size and equipped with a choice of a V6 or V8 engine. Although more expensive than similarly-sized vehicles from Nissan and Honda, Volvo's SUV is far more luxurious and is considered somewhat of a status symbol. Regardless of how you view the XC90, there is no arguing with the vehicle's rugged construction, all-weather capability, exemplary safety rating and strong resale value.