Narrow year range (drag arrows to filter):
See photos
Volvo has discontinued the optional V8 engine in the XC90, leaving the 3.2-liter inline 6-cylinder as the sole choice. The 2012 XC90 is offered in two forms: 3.2 or R-Design, with additional trim levels for each that are designated Premier Plus and Platinum. Unlike other Volvos available in R-Design form, here the XC90 does not add more horsepower, but instead differentiates itself with a sport-tuned suspension and interior and exterior upgrades.

All 2012 XC90s get Bluetooth music-streaming capability and a new exterior color choice, Caspian Blue. R-Design models receive big 20-inch alloy wheels and xenon headlights.
See photos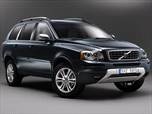 A new trim, dubbed R-Design, is available on both the base and V8 model. It adds a unique grille, wheels, suspension upgrades and interior trim, as well as R-Design embossed leather seating. Some of Volvo's more popular options are bundled into new packages, making it easier for consumers add equipment.
About Volvo XC90
With the increasing movement to smaller, more efficient vehicles, Volvo's XC90 strikes the perfect balance between car and SUV. Riding atop the previous-generation S80 chassis, the roomy and safe XC90 comes wrapped in a manageable size and equipped with a choice of a V6 or V8 engine. Although more expensive than similarly-sized vehicles from Nissan and Honda, Volvo's SUV is far more luxurious and is considered somewhat of a status symbol. Regardless of how you view the XC90, there is no arguing with the vehicle's rugged construction, all-weather capability, exemplary safety rating and strong resale value.