2015 Volvo XC60 Expert Review
By Keith Buglewicz
KBB Expert Rating: 6.9
The 2015 Volvo XC60 is in a tough competitive field. It has to deliver luxury like the Lexus RX, offer the power of the agile BMW X3 and Audi Q5, but be priced like the Acura RDX. Somehow, this Volvo delivers, and then the XC60 tosses in a big dose of styling, safety and individualism. This year, Volvo is introducing its all-new engine lineup to the XC60. Known as Drive-E, these engines will eventually replace the 5- and 6-cylinder engines in Volvo models across the board, offering the same or better performance, but with better fuel economy. Throw in the XC60's perfect 5-star crash-test ratings, an achievement no other SUV in this class can match, and the XC60 trumps any of its competitors for buyers who have children.
You'll Like This Car If...
The 2015 Volvo XC60 offers safety and exclusivity to the premium luxury SUV buyer. If those are the reasons you're looking to step up into the luxury end of the market, you'll be hard-pressed to do better than this Volvo.
You May Not Like This Car If...
While the new Drive-E engines are very fuel efficient, they're only available in front-wheel-drive (FWD) models, leaving the all-wheel-drive (AWD) economy crown to the Audi Q5 and Mercedes-Benz GLK diesels.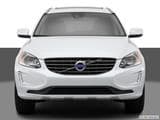 What's New for 2015
After a major restyling last year, the 2015 Volvo XC60 is almost entirely carryover, with the exception of the new Drive-E engine family. Available on FWD models, the engine comes in two flavors: a 240-horsepower turbocharged version, or a 302-hp turbocharged and supercharged model.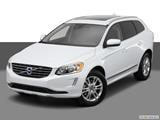 Driving Impressions
The new Drive-E engines liven up the FWD models of the 2015 Volvo XC60 considerably. Although the Drive-E T5 offers the same 240 horsepower as the previous 3.2-liter inline-6, the...
... XC60 is notably quicker, accelerating from a standstill to 60 mph in just under 7 seconds, rather than the 9-second time of the previous vehicle. It's even better with the turbocharged and supercharged Drive-E T6, which gets to 60 mph in just 6.5 seconds. A downside is that the Drive-E T6 also suffers from torque steer at full throttle, and the squirming steering wheel is nobody's idea of fun. Still, there's a lot to like from behind the wheel of the XC60. If you opt for an AWD model, we strongly suggest skipping the 3.2-liter engine and springing for the turbocharged T6; you'll thank us every time you pass someone on the freeway.
DRIVE-E
The Drive-E engines in the 2015 Volvo XC60 are the real deal. Fuel economy jumps from 18 mpg in the city to 24 mpg, and the XC60 is more than 2 seconds quicker to 60 mph, too. And that's for the T5; the T6 is even quicker, and still gets better economy.

CITY SAFE
This system provides a technological safety net for distracted drivers. At speeds of 19 mph or below, the system senses stopped or slow-moving objects ahead – other cars or pedestrians – and automatically applies the brakes if the driver does not, avoiding or reducing the severity of accidents.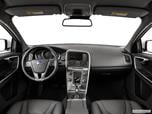 Interior
As befitting a Swedish automobile, the XC60's interior is sleek and understated. A new dash layout includes an available TFT adaptable digital instrument cluster that allows the driver to select different settings and colors. Still onboard is Volvo's clever ventilation control in the shape of a person sitting down. To direct air to your upper body, just hit the figure's "head"; touch the legs, and air moves to the foot-wells. Contrasting colors adorn seats and door panels, and the bucket-style front seats are very comfortable. On the downside, the manual lumbar controls are awkwardly placed and hard to operate.
Exterior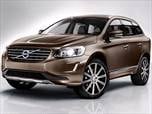 Today's Volvos look nothing like the blocky models of the past. Bucking the squared edges and boxy greenhouses of other SUVs, the XC60 has a wonderfully graceful profile. Lovely in form, the 2015 Volvo XC60 is still functional. The vehicle's roof rails are low to reduce wind noise, and an optional crossbar system can be attached to carry bikes, kayaks, skis and more. R-Design models have stylish 20-inch wheels that lessen the XC60's off-road abilities in favor of more pavement performance. If you regularly churn through snow or mud, we recommend the base models.
Standard Equipment
Base FWD 2015 Volvo XC60 T5 models come with a 2.0-liter turbocharged 4-cylinder, an 8-speed Aisin automatic transmission, skidplates on the front and rear, the City Safety system, a 5-year/50,000-mile warranty, complimentary factory scheduled maintenance for five years, and five years of roadside assistance. Also standard are steering-wheel-mounted audio controls, power windows, Bluetooth hands-free phone interface with audio streaming, 18-inch wheels, a 160-watt, 8-speaker sound system with CD/DVD player and HD Radio, and a tilt/telescoping steering wheel. FWD is standard. AWD models receive either the old 3.2-liter 6-cylinder or the turbocharged 3.0-liter 6-cylinder, both connected to a 6-speed automatic transmission.
Optional Equipment
The Tech Package bundles a series of safety technologies, including Adaptive Cruise Control, Lane Departure Warning, Collision Warning, Pedestrian and Cyclist Detection and the new Road Sign Information, which "sees" important road signs approaching and displays them on the driver information screen. Other available additions to the XC60 include in-dash navigation, dual-screen rear-entertainment system, 12-speaker premium sound system, integrated rear child safety seats, panoramic roof with power sunshade, and a walnut steering wheel. The Climate Package adds heated front and rear seats, heated windshield and a heated steering wheel. Options also include active HID headlights with heated washers and a Sport Package.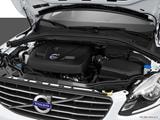 The big news for the 2015 Volvo XC60 is the 2.0-liter 4-cylinder Drive-E engine family. Front-wheel-drive models get the 240-hp turbocharged T5, or starting in May 2014, the 302-hp turbo- and supercharged T6; both come with an 8-speed automatic transmission. All-wheel-drive models still use the modest 3.2-liter inline-6, or the more powerful turbocharged 3.0-liter inline 6-cylinder engine that puts out 300 horsepower. R-Design models give a further boost to the turbo engine, raising output to 325 horsepower. AWD XC60 models are mated to a 6-speed automatic transmission and can run on regular unleaded gasoline. Towing capacity for all models is limited to 3,300 pounds.

2.0-liter turbocharged inline-4 (FWD only)
240 horsepower @ 5,600 rpm
258 lb-ft of torque @ 1,500-4,800 rpm
EPA city/highway fuel economy: 24/31 mpg

2.0-liter turbocharged and supercharged inline-4 (FWD only)
302 horsepower @ 5,700 rpm
295 lb-ft of torque @ 2,100-4,500 rpm
EPA city/highway fuel economy: 22/30 mpg

3.2-liter inline-6 (AWD only)
240 horsepower @ 6,400 rpm
236 lb-ft of torque @ 3,200 rpm
EPA city/highway fuel economy: 18/25 mpg

3.0-liter turbocharged inline-6 (AWD only)
300 horsepower @ 5,600 rpm
325 lb-ft of torque @ 2,100-4,200 rpm
EPA city/highway fuel economy: 17/24 mpg

3.0-liter turbocharged inline-6 (AWD only)
325 horsepower @ 5,400-6,500 rpm
354 lb-ft of torque @ 3,000-3,600 rpm
EPA city/highway fuel economy: 17/24 mpg
The FWD 2015 Volvo XC60 T5 has a Manufacturer's Suggested Retail Price (MSRP) starting at a bit over $36,500; a FWD XC60 T6 starts at just under $41,500. The base AWD Volvo XC60 3.2 starts off at a little more than $38,000. You'll pay about $42,475 for the AWD T6, and nearly $47,000 for the T6 R-Design; that price easily climbs to $57,000 with options. With such a wide-ranging price structure, the Volvo XC60 competes at the lower end with the Acura RDX (about $35,500) and the Infiniti QX50 (close to $35,000), and at the high end with the Mercedes-Benz GLK350 and Audi Q5 3.2 (both close to $60,000). To make your best deal, be sure to check the Kelley Blue Book Fair Purchase Price, which reflects what others in your area have paid for their XC60. As for resale, we expect the 2015 Volvo XC60 to retain slightly-better-than-average values, outperforming the Land Rover LR2 and Mercedes-Benz GLK350, but falling below the Audi Q5, Acura RDX and Lexus RX 350.
To compare current market prices, check out KBB.com's car classifieds to view the new and used Volvo XC60 vehicles for sale near you.