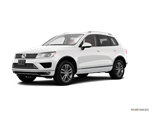 The 2015 VW Touareg adds a slight revision to the front and rear styling, new taillights, and revised wheel designs. More importantly, it finally gets driver-assist technology like adaptive cruise control, lane assist, collision warning with automatic braking, and blind-spot detection. The sporty R Line is dropped.
For 2014, VW adds a new R-Line trim to the Touareg family, bringing unique interior and exterior features, 20-inch alloy wheels and a sport suspension. A new 360-degree Area View monitor and hands-free, easy-open tailgate are made available on all but the R-Line and Sport trims.
About Volkswagen Touareg
Is the 2015 Volkswagen Touareg an affordable luxury SUV, or an expensive mainstream SUV? It depends on your point of view, but no matter what, this big 5-passenger SUV offers a blend of German driving dynamics, off-road capability, and day-to-day utility that's tough to find anywhere else. This year, Volkswagen adds a few styling tweaks, plus driver-assist technologies like adaptive cruise control and lane-keeping assist, which are much-needed enhancements in this competitive market. The new tech combines with already proven positives, such as the choice of a gasoline, diesel or hybrid drivetrain, and an all-wheel-drive system that gives the Touareg better-than-expected off-road capability. If you're already considering a $40,000-plus SUV like the Jeep Grand Cherokee Limited, the VW Touareg is worth a look.