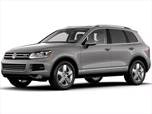 For 2014, VW adds a new R-Line trim to the Touareg family, bringing unique interior and exterior features, 20-inch alloy wheels and a sport suspension. A new 360-degree Area View monitor and hands-free, easy-open tailgate are made available on all but the R-Line and Sport trims.
About Volkswagen Touareg
Unless you know your nomadic North African tribes, the Touareg's name won't mean much to you. However, once you learn what this 5-passenger SUV can do you'll be singing its praises, goofy name and all. A rigid body paired with a sophisticated all-wheel-drive (AWD) system (in this case VW's 4Motion) makes the Touareg a formidable off-road explorer while its broad engine choices offer power, economy and technology unavailable on most domestic competitors. Be it the torque-happy turbodiesel or the lightning-quick hybrid, the Touareg will get you where you want and do it in record time. With six possible trim/model combinations from which to choose, it's hard to imagine anyone willing to drop $40K or more will find much to quibble about in the Touareg.