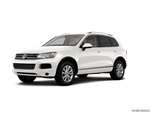 After a full redesign two years ago, the Volkswagen Touareg gets few changes for 2013. Most notable is a bump in horsepower for the TDI engine from 225 to 240. Also there are new LED taillights for the Hybrid, some redesigned wheels and a new shade of wood interior trim.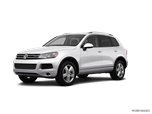 When introduced to the U.S. for the 2004 model year, the VW Touareg aspired to be a do-everything SUV. In its newest iteration, the Touareg has shed 300+ pounds (which included dumping a lo-range transfer case) and is now tailored for on-road, all-season comfort and composure. Rarely will you find a better balance of virtues in something characterized as an SUV.
About Volkswagen Touareg
If a buyer can move beyond this SUV's moniker (derived from the North African Tuareg tribe) he or she is 90 percent of the way there. Behind the 2012 Volkswagen Touareg's badging is one of the more compelling packages in today's 5-door, all-wheel-drive menu. With its rigid body structure, supple suspension, careful assembly and tasteful appointments, VW's Touareg provides an offering similar to that provided by Porsche's Cayenne, but in (perhaps) a 911 vs. 911 Turbo context. VW's package emphasizes competence and (relative) affordability, without diminishing quality or efficiency.