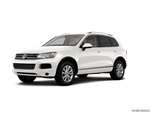 After a full redesign two years ago, the Volkswagen Touareg gets few changes for 2013. Most notable is a bump in horsepower for the TDI engine from 225 to 240. Also there are new LED taillights for the Hybrid, some redesigned wheels and a new shade of wood interior trim.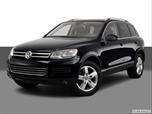 When introduced to the U.S. for the 2004 model year, the VW Touareg aspired to be a do-everything SUV. In its newest iteration, the Touareg has shed 300+ pounds (which included dumping a lo-range transfer case) and is now tailored for on-road, all-season comfort and composure. Rarely will you find a better balance of virtues in something characterized as an SUV.
About Volkswagen Touareg
Volkswagen's first SUV has become an unmitigated success. Savvy consumers have warmed to the idea of getting Porsche technology (the Touareg shares much of its suspension and all-wheel drive components with the Porsche Cayenne) at a Volkswagen price. Combining a luxurious and option-rich interior with one of the most complex and capable four-wheel-drive systems in its class, the five-passenger Touareg continues to broaden its portfolio with a new standard V6 engine and the continuation of the segment's only V10 TDI turbo-diesel engine. Tight emission regulations limit sales to just 45 states, but new low-sulfur diesel makes the V10 TDI much more environmentally friendly. And, with 553 pound-feet of torque on hand, this is the midsize SUV to have if towing is a priority.