2008 Volkswagen Touareg 2 Review
By KBB.com Editors
In a world dominated by SUVs that might look tough but cower when led over challenging terrain, the 2008 Volkswagen Touareg 2 is a rarity. It offers highly competent on-road driving dynamics, but when the pavement ends the Touareg 2 also proves to be an extremely capable off-roader. Part of the Touareg 2's appeal lies in the fact that its underpinnings are shared with the much more expensive Porsche Cayenne. For those willing to forgo the exclusivity of the Porsche nameplate the Touareg 2 represents an opportunity to enjoy a similar driving experience at a lower price point. However, despite its luxuriously-appointed cabin, many buyers will find the Touareg 2's five-passenger design flawed in light of the current trend among SUVs to offer seating for seven or more.
You'll Like This Car If...
If you want the capabilities of an SUV and the handling dynamics of a sport-sedan combined into one vehicle we think you'll like the Touareg 2. Whether on or off-road, its excellent chassis can handle anything you throw at it.
You May Not Like This Car If...
While the Touareg's well-rounded character is a big part of its appeal, and few of its competitors are as capable off-road, there are both softer and sportier options in its price range. Also, even a fully loaded, $70,000+ Touareg has neither a premium badge nor a third row of seats.
What's Significant About This Car?
While not completely new, the 2008 Volkswagen Touareg 2 benefits from more improvements than a typical mid-life refresh. A new front end, revised interior and stronger engines breath life into Volkswagen's SUV.
Driving Impressions The 2008 Volkswagen Touareg 2's on-road manners lean towards the sporting side of things, owing its firm, stable road feel to the suspension it shares with the Porsche Cayenne. The...
optional four-corner air-suspension helps smooth out the taut ride and adds more than three inches of ground clearance when adjusted to the highest level. Though few owners will ever take a Touareg 2 off-road, those who do are likely to be amazed by its abilities, as a standard center locking differential and hill descent assist make crawling up and down the steepest of trails a remarkably uneventful experience. Hard-core off-roaders will also appreciate the Touareg 2's optional locking rear differential, ability to ford 22-inch deep water and anti-lock braking system tuned to shorten braking distances on loose surfaces.
V10 Turbo Diesel
Volkswagen has long been a leader in bringing diesel engines to the American car buyer. With huge amounts of torque and a high level of refinement, the Touareg 2's diesel V10 may be the engine that finally converts American drivers into diesel fans.

4XMotion
The Touareg 2's standard 4XMotion four-wheel drive system delivers the goods for bold and brave off-road enthusiasts. A low-range gear, adaptive torque distribution and locking center differential help take the Touareg 2 over the most intimidating terrain.
2008 Volkswagen Touareg 2 Details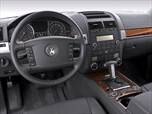 Interior
Step inside the 2008 Volkswagen Touareg 2 and you are treated to a richly-appointed cabin of leather, wood and chrome trim. Based on its quality of materials and level of comfort the interior of the Touareg 2's interior easily rivals the best in the luxury SUV class. Where it can't compete, however, is in seating capacity. Many SUVs now offer a third row of seats, increasing occupant capacity to seven, but the Touareg 2 remains a two-row SUV, thus limiting the number of seats to five. Luggage space, on the other hand, is quite good, thanks to a large, useful, squared-off rear cargo area.
Exterior
Volkswagen is known for its small cars, but, despite its mid-size SUV dimensions, the Touareg 2 looks every bit a member of the VW family, with restyled headlamps and a large chrome grille that echoes the look of the Volkswagen Passat. The Touareg 2's tall, wide stance gives the impression that it's ready to take on the toughest trails, as do short front and rear overhangs that also help improve approach and departure angles.
Standard Equipment
The standard equipment list for the Touareg 2 includes a long list of features designed to enhance its on and off-road abilities, including anti-lock brakes, traction control, stability control, Hill Descent Assist and 4XMotion four-wheel drive. Among the standard comfort and convenience features are dual-zone automatic climate control, an auto-dimming rearview mirror, automatic headlights, heated seats, sunroof and 17-inch alloy wheels. Enhancing the safety of all Touareg 2's are front, front-side and side-curtain airbags, a sensor that can activate the airbags in the event of a rollover and a tire-pressure monitoring system.
Optional Equipment
There are three option packages offered for the 2008 Volkswagen Touareg 2. The Lux Package is available only for the VR6 model and includes leather and wood trim, a 12-way power passenger seat and Bi-Xenon headlamps. The Lux Plus Package adds keyless entry and engine start, a Dynaudio audio system, four-zone automatic climate control and heated rear seats. Included in the Technology Package are DVD-based navigation, a back-up camera, six-disc CD changer and auxiliary audio input. Other available options include a locking rear differential, tow hitch and four-corner air suspension.
The base 3.6-liter VR6 engine provides adequate power and helps the Touareg 2 achieve its $40,000 starting price, but the mid-level 4.2-liter V8 proves much more desirable and delivers the level of power and refinement one might expect from BMW or Land Rover. At the top of the Touareg 2's list of engine choices is a 5.0-liter turbocharged V10 diesel that not only provides the swiftest acceleration but also delivers the best fuel economy. All Touareg 2's are equipped with a six-speed Tiptronic automatic transmission and full-time four-wheel drive.

3.6-liter V6
280 horsepower at 6200 rpm
265 lb.-ft. of torque at 2500 rpm
EPA city/highway fuel economy: 14/19

4.2-liter V8
350 horsepower at 6700 rpm
324 lb.-ft. of torque at 3500 rpm
EPA city/highway fuel economy: 12/17

5.0-liter V10 Turbo Diesel
310 horsepower at 3750 rpm
553 lb.-ft. of torque at 2000 rpm
EPA city/highway fuel economy: 15/20

To compare current market prices, check out KBB.com's car classifieds to view the new and used Volkswagen Touareg 2 vehicles for sale near you.