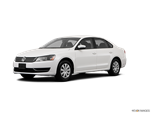 After its thorough remake last year, aimed specifically at attracting more American consumers, Volkswagen's mid-size Passat sedan is little changed for 2013. Some tweaking inside makes the center console's cup holders and storage space more functional, and a rearview camera is now offered on the top SEL trim level.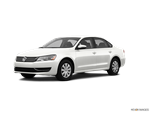 The Volkswagen Passat sedan is not only larger, better equipped and much lower in price for 2012. It's also tailor-made just for North America, in North America.

About Volkswagen Passat
Volkswagen's midsize Passat has moved upstream in both size and price, leaving the new Jetta to do battle in the sub-$20,000 price range. The Passat now competes with the top-of-the-line Accord and Camry models, along with such sporty sedans as Nissan's Maxima. Loaded with features—some unavailable on the competition—and offered in both sedan and wagon forms, the Passat continues to be the most affordable way to enjoy true German engineering without breaking the bank. A smooth and powerful turbocharged four-cylinder that delivers excellent fuel economy and V6-like acceleration powers the base model. Those seeking a bit more power can opt for a potent, but pricy, V6. Toss in an interior fit for an Audi, and you have a compelling reason to go VW.