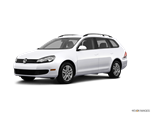 This year marks the debut of the Jetta Hybrid, Volkswagen's second hybrid (after the Touareg) and its first in the compact sedan segment. Other changes to the Jetta lineup include new leather trim in SE and higher versions, and launch control in the GLI models with automatic transmission.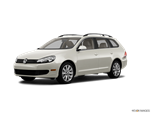 A new SE with Sunroof package is offered on both the gasoline and diesel models, while a Sunroof and Navigation package is available only on diesel-powered Jetta SportWagens.
About Volkswagen Jetta SportWagen
While many people prefer the rugged look and elevated ground clearance of a small SUV, there are still a number of drivers who prefer a traditional car-based wagon. For these few die-hard loyalists, Volkswagen builds the 2012 Jetta SportWagen, a midsize wagon based on the last generation Jetta sedan. As roomy inside as any Honda CR-V or Toyota RAV4, the 2012 SportWagen goes a step further by offering superior ride and handling, as well as the option of a very fuel-efficient 2.0-liter TDI turbodiesel engine. In TDI form, the Jetta SportWagen earns an EPA-estimated 42 mpg highway (although most drivers report getting better mileage over time) with the manual transmission.