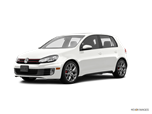 Changes to the 2014 Volkswagen Golf and GTI are limited to two special-edition GTI trims: Wolfsburg and Driver's Edition. The 2-door Golf/GTI body is dropped taking with it the option of a manual transmission on the base 2.5. The Golf R is also no more.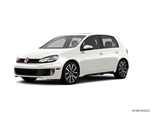 For 2013, the manual transmission is dropped from the base Golf 4-door model, while all cars now have a standard front center armrest and front and rear floor mats. The GTI gets a new golf-ball-style shifter and new wheels.
About Volkswagen GTI
2014 marks the final year for this long-running version of the Golf/GTI; an all-new model is slated to arrive late next year. However, even at the end of its model run, the 2014 VW Golf and GTI remain impressive vehicles. Available only as a 4-door hatchback, the Golf is no longer as body-style diverse as the Hyundai Elantra. However, the Koreans still haven't been able to match the interior materials and feel of the German compacts, especially in the area of seat comfort. Enthusiasts will love the refined power found in the GTI, while those more concerned with a smooth ride and good fuel economy can opt for the diesel-powered Golf TDI.