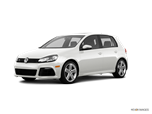 For 2013, the manual transmission is dropped from the base Golf 4-door model, while all cars now have a standard front center armrest and front and rear floor mats. The GTI gets a new golf-ball-style shifter and new wheels.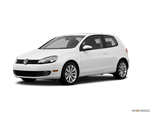 No significant changes to the base car, but option packages have been simplified. Those Golfs equipped with the 2.5-liter 5-cylinder gasoline powertrain are available in Golf, Golf with Convenience, and Golf with Convenience and Sunroof guises. Those consumers opting for the 2.0-liter Clean Diesel can spec their Golfs as Golf TDI, Golf TDI with Sunroof and Navigation, and Golf TDI with Tech Package. Making any of these choices continues to provide you with a high level – for the segment – of standard equipment. Celebrating 35 years as the world's best "hot hatch," VW's GTI receives a new variant - GTI with Convenience and Sunroof - which groups together some of the most popular stand-alone options. And for those with a penchant for spending more to get more, the Golf R, with 256 horsepower, 4Motion all-wheel drive and a $35,000 MSRP should more than satisfy.
About Volkswagen Golf
Volkswagen's perky Golf hatchback, a leader among mass-market compacts, has been through something of an identity crisis. Decades ago it was introduced to this country as the Rabbit, then it was the Golf (in line with its name in other markets), then it spent three years as the Rabbit and now, for 2010, it's once again the Golf. With that comes a fresh, new exterior, a restyled interior and the optional availability of a powerful and efficient turbocharged direct injection (TDI) diesel engine. Versatile by nature, the 2010 Volkswagen Golf arrives in two- or four-door variants and retains its above-par driving dynamics and high level of overall refinement. Yes, it's priced above most other compacts, but it's a simple case of "you get what you pay for."