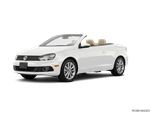 A limited number of 2016 VW Eos Komfort models are being offered. After they're gone, the Eos will be no more.
2015 marks the end for the VW Eos. For its last hurrah there's the appropriately named Final Edition that replaces the mid-trim Sport model. Among its unique features are 18-inch wheels and a 2-tone leather interior.
About Volkswagen Eos
With the 2016 Volkswagen Eos convertible, you'll get two cars for the price of one. That's because with its retractable hardtop in place, the Eos looks and feels like a sporty coupe. The top even has a built-in sunroof. Press a button, and the top automatically disappears into the trunk to create a sporty, 4-passenger open-air convertible. And while it's true that you can find hardtop-convertible versions of the BMW 4 Series, Lexus IS and Infiniti Q60, you won't find a sub-$33,000 price tag on any of the aforementioned cars. You can get into a smaller and less powerful Mazda MX-5 Miata or Mini Cooper convertible for considerably less money, and get a manual-transmission car with better handling and a more youthful attitude.