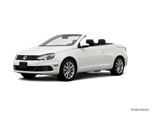 The 2014 Volkswagen Eos convertible tosses the Lux trim, reducing the line up to just the Komfort, Sport and Executive models. VW's Car-Net telematics provides a myriad of services including automatic crash notification, remote vehicle access via smartphone app, and stolen-vehicle location.

About Volkswagen Eos
While most of us would love to own a convertible, the practicality of having one as our only car pretty much kills the dream. However, the 2014 Volkswagen Eos convertible is an exception to the rule, offering seating for more than two passengers, a quiet and comfortable cabin and the security of a hardtop roof. The Eos even includes a huge glass panel sunroof built into the retractable hardtop perfect for those times when you want more air and sun, but don't want to be buffeted on all sides by wind and road noise. Toss in a turbocharged engine that delivers impressive fuel economy, and it's easy to see why the 2014 VW Eos is helping keep the dream alive.