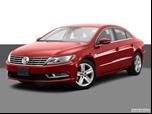 For 2016, VW's CC sports sedan gains an upgraded apps-based audio system supporting Apple CarPlay, Android Auto and MirrorLink. A new, entry-level 2.0T Trend is added, while the R-Line gains an upgraded Executive trim. The V6 model features adaptive cruise control, lane-keep assist and forward-collision warning with autonomous braking.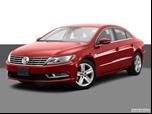 With the exception of new optional 18-inch wheels on the Sport and Executive trims, there are no major changes to VW's CC 4-door coupe for 2015.
About Volkswagen CC
Summing up Volkswagen's 2016 CC 4-door coupe is relatively simple. Take one Passat, massage the body to create a coupe-like profile with frameless door glass, add in more high-end features, then reduce the rear seat as to be comfortable only for kids or adults of average stature. Toss in the option of a V6 engine and 4Motion all-wheel drive and you have a slick 4-door coupe costing tens of thousands less than similar cars from Mercedes-Benz and BMW, yet more exclusive than the Nissan Maxima or Hyundai Azera. Some might say an all-wheel-drive Infiniti Q40 or Buick Regal might be a better comparison car, and we'd be inclined to agree.