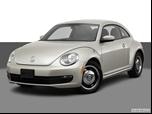 Diesel power comes to the Beetle for 2013. Available in hardtop and convertible models, Volkswagen's 2.0-liter 4-cylinder turbodiesel engine posts some impressive numbers: 236 lb-ft of torque and 28/41 city/highway mpg. Also, the Beetle Fender Edition, a special trim package presented in cooperation with the iconic electric-guitar maker, is currently available through dealer order.
About Volkswagen Beetle
The 2012 Volkswagen Beetle is not the kind of car you buy because you need it, but because you absolutely want it. Its competitors are found in the "boutique" category – cars that deliver heavily on style, image, emotional appeal and ownership that transcends mere transportation. That group could reasonably include the Mini Cooper, Fiat 500, Ford Mustang, Hyundai Veloster, even the sibling VW GTI and a few others. Yet, the 2012 Beetle is an attractive selection in its own right, with all the mechanical, technological and feature benefits you would expect from Volkswagen, powered by a selection of engines that includes a 2.5-liter 5-cylinder, a 2.0-liter turbo powerhouse, and a 2.0-liter turbodiesel, all wrapped in the most familiar shape on the road.