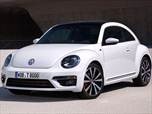 A new 1.8-liter turbo is set to replace the 2.5-liter engine midway through the 2014 product cycle. Also new is an independent rear suspension, a limited-edition GSR trim, VW CarNet and a rearview camera on top-line trims (late availability). For 2014 the Turbo models are renamed R-Line.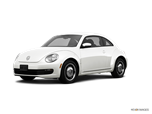 Diesel power comes to the Beetle for 2013. Available in hardtop and convertible models, Volkswagen's 2.0-liter 4-cylinder turbodiesel engine posts some impressive numbers: 236 lb-ft of torque and 28/41 city/highway mpg. Also, the Beetle Fender Edition, a special trim package presented in cooperation with the iconic electric-guitar maker, is currently available through dealer order.
About Volkswagen Beetle
The 2014 Volkswagen Beetle is one of those cars that is more about desire than practicality. People buy it because it's clever and cute and fun. VW understands this, so they've made their latest Bug as livable as possible, giving it a usable back seat, an optional high-mileage diesel engine and even a convertible model for open-air buffs. Based on the Golf, the Beetle rides atop a very capable platform that delivers competent handling as well as impressive safety. Larger than the niche cars it competes with, namely the Mini Cooper and Fiat 500, the 2014 VW Beetle makes living with a small car a bit easier, especially when it comes time to bring along friends and family.