Narrow year range (drag arrows to filter):
See photos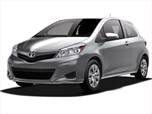 Last year, Toyota gave the Yaris hatchback a complete makeover. The only changes for 2013 involve equipment packaging: The good audio system (AM/FM/CD, six speakers, USB port, Bluetooth) is now standard on all trims including the base L, and cruise control, formerly an LE option, is now standard there.
About Toyota Yaris
The 2014 Yaris is Toyota's least-expensive car. That in itself may be a strong enough proposition for buyers simply seeking cheap, basic, reliable transportation. And in those respects the Yaris continues to succeed. But newer, more exciting and better-equipped subcompact hatchback competitors abound. Rivals like the Chevrolet Sonic, Nissan Versa Note, Ford Fiesta, Hyundai Accent and Kia Rio offer powertrains that are more powerful and/or more fuel-efficient, in addition to creature comforts such as heated seats and navigation that are not available on the Yaris. The Yaris is adequate for those who just want a basic, no-hassle car with Toyota's reputation for quality and good resale value. But even in this price-sensitive segment, more appealing cars are fighting for your consideration.