Narrow year range (drag arrows to filter):
See photos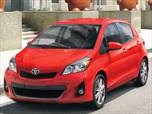 Last year, Toyota gave the Yaris hatchback a complete makeover. The only changes for 2013 involve equipment packaging: The good audio system (AM/FM/CD, six speakers, USB port, Bluetooth) is now standard on all trims including the base L, and cruise control, formerly an LE option, is now standard there.
About Toyota Yaris
With its recent facelift and infusion of new features, Toyota's Yaris subcompact for 2016 shines a little brighter, but still not as brightly as some rivals. For starters, there's no performance variant to compete with the Ford Fiesta ST or turbocharged Chevy Sonic, meaning the Yaris's strongest appeals are its low price and stellar reputation for reliability. Unfortunately, while most cars its size are usually fun to drive, the Yaris doesn't inspire much more than daily commutes and weekend road trips. And, despite its three trim levels, even a fully loaded Yaris won't offer features like heated front seats, a power sunroof or even a telescopic steering wheel. On the flip side, if you're looking for basic, reliable and affordable transportation, the Yaris holds strong appeal.