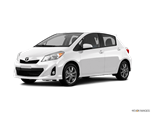 Last year, Toyota gave the Yaris hatchback a complete makeover. The only changes for 2013 involve equipment packaging: The good audio system (AM/FM/CD, six speakers, USB port, Bluetooth) is now standard on all trims including the base L, and cruise control, formerly an LE option, is now standard there.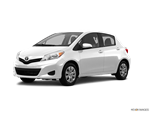 For 2012, Toyota gives the Yaris hatchback a complete makeover, with new sheet metal, a longer wheelbase and a new interior.

About Toyota Yaris
The Toyota Yaris makes its U.S. debut this year after a successful eight-year stint in Japan and Europe. Unlike other vehicles that first launch outside the U.S., Toyota has decided to keep the Yaris name across all global markets. The Yaris replaces the Toyota Echo as the smallest and least expensive vehicle in the Toyota brand lineup. There are two distinctly different Yaris models; the Sedan and the Liftback versions. Of the two, the Liftback's exterior makes the more expressive design statement and, although the sedan is nearly 20 inches longer, both vehicles share the same chassis, engine and drivetrain.