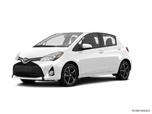 For 2016, the Toyota Yaris subcompact gets two new color combos, pairing Barcelona Red or Crushed Ice with a Black Sand Pearl Roof.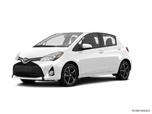 For 2015, the Toyota Yaris gets new front- and rear-end styling, along with an upgraded interior. The new Yaris looks more aggressive than before, and the new interior offers more soft-touch surfaces and more modern technology.
About Toyota Yaris
With its recent facelift and infusion of new features, Toyota's Yaris subcompact for 2016 shines a little brighter, but still not as brightly as some rivals. For starters, there's no performance variant to compete with the Ford Fiesta ST or turbocharged Chevy Sonic, meaning the Yaris's strongest appeals are its low price and stellar reputation for reliability. Unfortunately, while most cars its size are usually fun to drive, the Yaris doesn't inspire much more than daily commutes and weekend road trips. And, despite its three trim levels, even a fully loaded Yaris won't offer features like heated front seats, a power sunroof or even a telescopic steering wheel. On the flip side, if you're looking for basic, reliable and affordable transportation, the Yaris holds strong appeal.