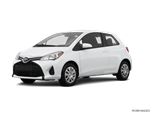 For 2015, the Toyota Yaris gets new front- and rear-end styling, along with an upgraded interior. The new Yaris looks more aggressive than before, and the new interior offers more soft-touch surfaces and more modern technology.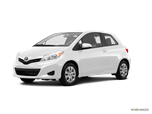 Daytime running lights are now standard on all Yaris models. Other than that, Toyota's small hatchback, available with three doors or five, remains the same for 2014.
About Toyota Yaris
The 2015 Toyota Yaris hatchback looks dramatically different from last year's model. The grille is bigger, the tail sharper, and the new Yaris interior is nicer. It's all part of Toyota's effort to counter the onslaught of superior subcompacts like the Kia Rio, Ford Fiesta and Chevrolet Sonic. However, while the upgrades this year are worthwhile, little was done to fix the fundamental problem facing the Toyota Yaris, namely, that it's sort of a shrug to drive. The engine and transmission are the same, and despite structural changes, the car behaves pretty much the same from behind the wheel. Impeccable Toyota reliability, improved creature comforts, and undeniably better looks are strong selling points, but for those looking for more pizazz, there are more appealing cars.