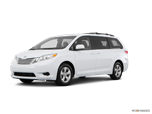 Coming off a freshening just last year, the Toyota Sienna arrives for 2016 with only minor updates that include upgraded multimedia systems that now have Siri Eyes Free mode for use with Apple iPhones and the Scout GPS App link for navigation powered by smartphones.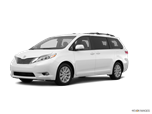 Improved ride and handling, meaningful interior upgrades, and a variety of exterior visual enhancements qualify the 2015 Toyota Sienna as a substantial step up from the 2014 model.
About Toyota Sienna
With its accommodating interior, easy manners and stellar reliability record, the 2016 Toyota Sienna remains at the top of the class among minivans. Just off a freshening last year that granted updates inside and out, the Sienna continues to earn its status as an exemplary choice for growing families. The Sienna's styling remains more conservative than that of the Honda Odyssey and revamped Kia Sedona, but on the inside where it counts, Toyota's minivan boast features pragmatic and entertaining – perfect for keeping kids safe and placated. The Sienna offers seating for seven or eight, and remains the only minivan to offer all-wheel drive (AWD), a boon when driving in foul weather. Add in terrific resale value, and the Sienna's star shines all the brighter.