Narrow year range (drag arrows to filter):
See photos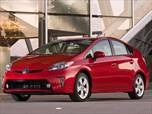 The 2012 Toyota Prius hybrid gains some new styling, with a revised front end, new headlight and taillight designs and new 15-inch wheel covers on the Prius 2. A host of new audio systems is added, including Toyota's Entune. Entune is a subscription infotainment service similar to Ford's SYNC that uses voice-recognition software for many of its functions, and includes apps for Bing, Pandora and Movietickets.com.

The new Prius Plug-in Hybrid uses a lithium-ion battery that can be recharged in 3 hours via a standard power outlet or half that time on a 240-volt line. The car can travel in electric-only mode for 11 miles and at speeds up to 62 mph, then works as a regular Prius hybrid after the battery discharges.
About Toyota Prius
The basic concept that's propelled the Prius to hybrid leadership for two decades worldwide (16 years in the U.S.) is unchanged: an internal-combustion engine augmented on demand by an electric motor, sending power to the front wheels. But as the 4th-generation Prius rolls into showrooms, Toyota's pioneering Hybrid Synergy Drive is more efficient, fuel-economy ratings are highest of "any vehicle without a plug," according to Toyota USA boss Bill Fay, and a plug-in version is on its way. However, there's a lot more to the new Prius than chart-topping fuel economy. Edgy styling. Robust chassis rigidity. Upgraded interior design and furnishings. Improved road manners. Quiet operation. It will be surprising if the Prius doesn't sustain its hybrid-sales leadership.