See photos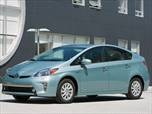 The 2012 Toyota Prius hybrid gains some new styling, with a revised front end, new headlight and taillight designs and new 15-inch wheel covers on the Prius 2. A host of new audio systems is added, including Toyota's Entune. Entune is a subscription infotainment service similar to Ford's SYNC that uses voice-recognition software for many of its functions, and includes apps for Bing, Pandora and Movietickets.com.

The new Prius Plug-in Hybrid uses a lithium-ion battery that can be recharged in 3 hours via a standard power outlet or half that time on a 240-volt line. The car can travel in electric-only mode for 11 miles and at speeds up to 62 mph, then works as a regular Prius hybrid after the battery discharges.
About Toyota Prius Plug-in
As heir to the world's first mass-produced hybrid car, the 2014 Toyota Prius must fill some pretty big shoes. Luckily, the 5-door hatchback has all the help it needs, with brisk sales of the original car and an army of teammates including a plug-in model, a larger wagon variant and a smaller compact. All Prius models use the same powertrain technology that has become the benchmark for Toyota's hybrid cars: a fuel-efficient gas engine teamed to an electric motor. This setup allows the Prius to run solely on electric power for short distances, on gasoline for longer trips and a combination of the two when zipping around town or asking for more power. The result is exceptional fuel economy in an inexpensive, albeit bland, family car.