See photos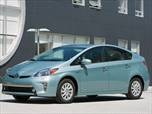 The 2012 Toyota Prius hybrid gains some new styling, with a revised front end, new headlight and taillight designs and new 15-inch wheel covers on the Prius 2. A host of new audio systems is added, including Toyota's Entune. Entune is a subscription infotainment service similar to Ford's SYNC that uses voice-recognition software for many of its functions, and includes apps for Bing, Pandora and Movietickets.com.

The new Prius Plug-in Hybrid uses a lithium-ion battery that can be recharged in 3 hours via a standard power outlet or half that time on a 240-volt line. The car can travel in electric-only mode for 11 miles and at speeds up to 62 mph, then works as a regular Prius hybrid after the battery discharges.
About Toyota Prius Plug-in
As the best-selling hybrid in the world, it's no surprise that the 2015 Toyota Prius is the car most people think of when they hear the word "hybrid." With traditional and plug-in models available, the fuel-efficient 5-door hatchbacks pair a thrifty gasoline engine to an electric motor. Thanks to some very clever drivetrain programming, you'll get excellent fuel economy almost regardless of how heavy you are on the gas pedal. It does this with all the practicality of any hatchback, with a decently sized rear seat and plenty of cargo room. These days, the Toyota Prius faces stiff competition from the more refined Ford C-Max and Chevrolet Volt – both of which are more engaging to drive – but remains the hybrid to beat.