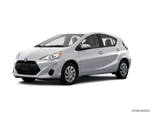 The 2015 Toyota Prius C gets styling updates to the nose and tail, including a larger grille and standard LED headlights. The little hybrid also gets a smattering of updated materials inside, along with Toyota's Entune touch-screen infotainment system.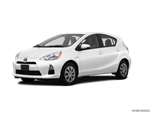 There are no major changes to the 2014 Toyota Prius C.
About Toyota Prius c
The 2015 Toyota Prius C is the entry-level Prius hybrid, putting amazing fuel economy within reach of those on a shoestring budget. With a base price of right about $20,000, the Prius C isn't a big financial stretch, costing notably less than something like a Volkswagen Golf TDI diesel. However, the Prius C still carries five, has plenty of cargo space, and even looks sharp. Best of all is the fuel economy, which averages 53 mpg in the city and 46 mpg on the highway. While not as fun to drive as a Ford Fiesta SFE, its fuel economy is far more accessible on a day-to-day basis, and it can even be driven solely on electric power for short distances, making it the greenest of the subcompact set.