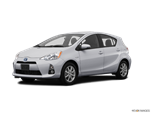 There are no major changes to the 2014 Toyota Prius C.
About Toyota Prius c
As the smallest and least expensive hybrid in the Toyota family, the 2014 Toyota Prius C makes owning a hybrid affordable on almost any budget. With a starting price under $20,000, the Prius C is considerably less expensive than the VW Golf TDI diesel, yet it can still accommodate five passengers, has a spacious cargo area and offers more fluid styling then the Prius liftback. Best of all, the Prius C is supremely miserly, attaining a 50 mpg combined city/highway fuel economy figure. While it's not as fun to drive as the 45-mpg Ford Fiesta, the Prius C can be driven solely on electric power for short distances, making it the greenest of the subcompact set.